Meet Sweetie: The computer-generated child-predator decoy
The controversial "girl" is ensnaring people across the globe. But is she doing real good?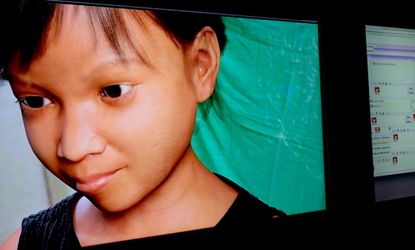 (Image credit: (AP Photo/Peter Dejong))
Sweetie is 10 years old. She's from the Philippines. She has pretty eyes. Some 1,000 men across the globe have reached out to her in a sexual manner. Oh, and she's not real.
Sweetie is a computer-generated girl created by Terre des Hommes, a Dutch child protection service. Though online child sex tourism is banned nationally and abroad, Terres des Hommes decided to target the industry in part because "only six perpetrators have ever been convicted of the crime," said Dragana Jovanovic at ABC.
Over 10 weeks, four researchers from Amsterdam controlled Sweetie's every movement as she conversed with about 20,000 men (and some women). Terre des Hommes was able to trace and identify 999 men and one woman from across the world who were "willing to pay Sweetie to perform sexual acts in front of the webcam," Albert Jaap van Santbrink, the group's director, told Reuters. About 250 of these people were from the U.S., 110 were from the UK, and 103 from India. The Duth group has passed their personal information onto Interpol.
Subscribe to The Week
Escape your echo chamber. Get the facts behind the news, plus analysis from multiple perspectives.
SUBSCRIBE & SAVE
Sign up for The Week's Free Newsletters
From our morning news briefing to a weekly Good News Newsletter, get the best of The Week delivered directly to your inbox.
From our morning news briefing to a weekly Good News Newsletter, get the best of The Week delivered directly to your inbox.
"The perpetrators think they are invisible, but we have proved that they are anything but," Van Santbrink told ABC. "Internet is free, but it is not lawless."
Though clearly well-intentioned, Terres des Hommes' methods raise some ethical queries. Luring predators with decoys is a morally fuzzy area, as shown by the mixed reactions to NBC's Dateline To Catch a Predator, which revolved around entrapping potential pedophiles via conversations with volunteers posing as adolescents, who then invite them to their homes, where they are ambushed by television crews.
Although the decoys often initiated the sexual conversations, NBC justified their behavior because, as Dateline's Stone Phllips wrote, the men "run with it like you wouldn't believe." Moreover, the network itself never punished the men; the show simply handed off the evidence to legal authorities.
Yet, like the actions of Terres des Hommes, exposure is punishment in itself. The vigilante trap produces its own sense of justice, and with it, often unexpected damage. For example, when one man was accosted by To Catch a Predator, he killed himself as they stepped into his home. He felt his life was destroyed before a proper trial could ever occur.
While Terres des Hommes took extra precautions, like never initiating sexual conversations nor hacking into the predators' personal information, there is a fear that these less-than-ethical means persecute people before they've had their day in court. "Internet sting operations such as this are likely to court injustices that can lead to tragedy," wrote Frank Furedi at The Independent. He cited a British man who committed suicide after weathering accusations of pedophilia from another online vigilante group, Letzgo Hunting.
It is incredibly difficult to question any means that may help eradicate child abuse and sexual exploitation. But online bait-and-traps are morally dubious and persecute people before they are even handed over to law enforcement.
And just as importantly for groups like Terres des Hommes, it is not always clear that evidence acquired through these lures will necessarily be welcomed in court. Europol spokesman Soren Pendersen said to Reuters, "We believe that criminal investigations using intrusive surveillance measures should be the exclusive responsibility of law enforcement agencies."
Sweetie may be well intentioned. But helpful? That remains to be seen.

Continue reading for free
We hope you're enjoying The Week's refreshingly open-minded journalism.
Subscribed to The Week? Register your account with the same email as your subscription.