Confessions of a football mom
We're never supposed to go on the field. But sometimes, we must.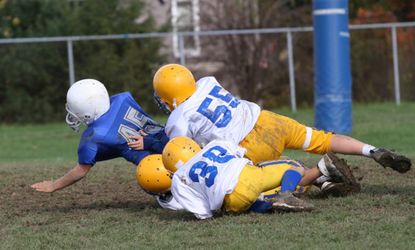 (Image credit: (Thinkstock))
I recently broke an unwritten rule of football leagues nationwide: No Moms on the Field.
I couldn't help it. It was just taking too long for my son to get up.
As my 10-year-old lay on his back, three coaches standing over him, another kneeling at his side, the crowd fell silent. The players knelt reverently across the field — a tradition I have always found oddly touching if not incongruous for a sport so intent on pummeling the other guy.
Subscribe to The Week
Escape your echo chamber. Get the facts behind the news, plus analysis from multiple perspectives.
SUBSCRIBE & SAVE
Sign up for The Week's Free Newsletters
From our morning news briefing to a weekly Good News Newsletter, get the best of The Week delivered directly to your inbox.
From our morning news briefing to a weekly Good News Newsletter, get the best of The Week delivered directly to your inbox.
From my bleacher seat I could not get a read on the situation. One of the men tapped my son's chest, and then waved his hand across his face. That could not be good. Was he conscious? Was he breathing? If he wasn't, maybe the coaches would have appeared more frantic. Then again, it's not like it was their son.
"You have to go down there," I said to my husband. He did not budge.
Bill generally moves about as far under the radar as possible, so I know the thought of calling that much attention to himself took a moment to digest.
"You have to go see. It's taking too long."
No doubt sensing the panic and potential for true hysteria in my voice, he took a deep breath, stood up, and proceeded toward the field with no urgency. As I watched him make his way methodically through the crowd, I refrained from screaming, "Run!"
My husband loves the game. He played in high school — as did his two brothers. When we were dating, I teased him about his macho jock past. I was suspicious of the sport's bravado and unabashed aggression. And after we had kids, I was downright terrified by mounting reports of lasting neurological effects, spinal injuries, and players passing out in soaring temperatures following the lead of overzealous coaches. Like football moms across the country, I have absorbed the media coverage, as well as the dismayed reactions of the non-football mom chorus: "You're really letting him play?!" Even a dubious president weighed in earlier this year: "If I had a son I would have to think long and hard about letting him play football."
I understand his hesitation. I share it myself.
But the pro-football argument my husband makes speaks less to a boy who must follow in his father's footsteps and more to the lessons of teamwork and dedication, the grit and determination the sport's physicality taught him. His coach, "a task master with a heart," remains one of his life's role models, and his teammates are still among his closest friends. And then there is the simple fact that our boys truly love the sport. They love playing, watching, analyzing, and reliving every moment of every game. So unlike President Obama, I do have a son — who wants above all else to play. And like football moms everywhere, I have to weigh his passion for the game against the unassailable evidence that it can be very dangerous.
My eyes returned to my son, who still had not moved. The coaches seemed to be conferring about something — a conversation of which I was certain a parent should be a part. Where was that parent?! I could see him rounding the far end of a long black gate — but he was taking too long.
As the seconds ticked by, the silence and stillness and distance took hold. And suddenly, as if possessed by some crazed maternal time bomb, I felt myself stand up, walk down the metal steps, push open a mid-field entry, and begin to jog and then run to the 10-year-old lying on the field.
His eyes were open. His face flushed. But he was conscious and he was breathing. He said it was his knee. That was all I needed to hear. A knee is not a heart or head. If one of those men had simply stood up and announced, not unlike a ref calling a five-yard penalty, "We're talking knee here," I might not have found myself in the curious position of remembering to breathe while standing in the middle of a football field.
I looked out at the sidelines and up at the stands. I froze for a minute, wondering what should happen next. Looking down at my son, I also wondered when he was going to ask me why I was standing in the middle of the field and could I please leave before anyone noticed. As it turns out, intense pain greatly mitigates adolescent attitude and he said nothing. Before I had a chance to consider exit strategies any further, one of the coaches asked me to put an arm around my son's waist and together we walked him to the sideline.
As we made the uncomfortable journey, it became glaringly obvious that this was definitely not part of league protocol. Moms do not help their boys off the field. We get them to the practices and the games. We make sure they have all the equipment we hope will protect them. We help to secure the chinstrap, fasten the rib pads, and remind them not to forget their mouth guard. We clap and cheer and wave and brace ourselves when they take a hit. Whatever happens we're not supposed to walk on or off the field. We're supposed to trust that they will do that on their own. We football moms have made a silent pact with ourselves, our sons, our husbands — the universe — that it's okay if they get tackled, it's okay if they fall down — as long as they get back up. But, if they don't, at least for this mom, all bets are off. The pact is null and void.

Continue reading for free
We hope you're enjoying The Week's refreshingly open-minded journalism.
Subscribed to The Week? Register your account with the same email as your subscription.