INTERVIEW: Sam Rockwell on his long and eclectic acting career
"The audience is laughing at your tragedy or crying at your tragedy — but in comedy you have to find the tragedy as well"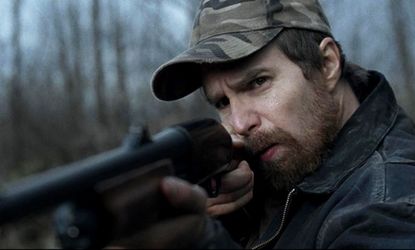 (Image credit: <a href="https://www.facebook.com/photo.php?fbid=316088531847949&amp;set=pb.316075361849266.-2207520000.1379691187.&amp;type=1&amp;theater">(Facebook/A Single Shot)</a><a></a>)
There are few actors with tastes more eclectic than Sam Rockwell. Since his big-screen debut in the 1989 horror film Clownhouse, Rockwell has spent his career ping-ponging unpredictably between roles in every genre imaginable: drama (The Green Mile), comedy (Galaxy Quest), action (Charlie's Angels), western (The Assassination of Jesse James by the Coward Robert Ford), sci-fi (Moon), superhero (Iron Man 2), and even a 3D children's comedy (G-Force, in which he voiced a guinea pig that doubled as a government agent).
Rockwell's latest film, A Single Shot, is a rural noir in the vein of Winter's Bone or A Simple Plan that sees him forging, once again, into new territory as an actor. Rockwell stars as John Moon, a stoic backwoods hunter who accidentally shoots a woman while he's out chasing a deer. When he discovers that the woman was carrying a bag filled with cash, he decides to keep it for himself — a decision that doesn't sit well with the backwater criminals intent on recovering it. (Watch a trailer for A Single Shot below.)
Despite supporting performances from talented actors like William H. Macy and Jeffrey Wright, the entirety of A Single Shot rests on Rockwell's shoulders. Fortunately, he proves more than capable in the role, delivering a nuanced, soulful performance that shows just how versatile an actor he really is.
Subscribe to The Week
Escape your echo chamber. Get the facts behind the news, plus analysis from multiple perspectives.
SUBSCRIBE & SAVE
Sign up for The Week's Free Newsletters
From our morning news briefing to a weekly Good News Newsletter, get the best of The Week delivered directly to your inbox.
From our morning news briefing to a weekly Good News Newsletter, get the best of The Week delivered directly to your inbox.
I recently sat down with Sam Rockwell to discuss his work in A Single Shot. Here's a (slightly edited) transcript of our conversation.
A Single Shot is your first leading role since 2009's Moon. What attracted you to the project?
It came around a couple times, and when [director David M. Rosenthal] was attached, we met. I liked what David had to say about it, and he had put together a compilation of films. Clips from different films similar to the film that he was aspiring to make — There Will Be Blood, some Terrence Malick stuff, and The Deer Hunter. He was talking about what he wanted to do visually, and the fact that we were going to shoot it on real film, and that we got a really good DP. The movie had to have that classic cinematic texture to it. It's mainly a visual story, not a dialogue-driven story, so it had to look really… pretty, you know?
You're playing such a stoic character, and A Single Shot has long stretches of dialogue-free scenes — including the first 10 minutes of the movie, which are totally wordless. How did you approach playing a character as internal as John Moon?
You know, I think a lot of it comes from the book. [Ed: Screenwriter Matthew F. Jones adapted A Single Shot from his 1996 novel of the same name.] Listening to the book, reading the book. I think that really helps — because in a book you know what the character's thinking. It describes what the character's thinking, it spoke to me. The kind of roles that I like watching and doing, like Tender Mercies, and Taxi Driver, and Badlands. Internal performances are what I really enjoy watching.
Part of John Moon's desperation comes from the fact that he's a blue-collar farmer, performing work that's becoming increasingly obsolete. Do you think this kind of person will even exist in a century?
There's a movie called the Lonely Are The Brave with Kirk Douglas. First Blood is sort of a remake of that movie. It's a similar thing: A guy who's kind of on the outs. You're right; it's a dying breed. But there are some guys like this. You're not going to find them on a reality show, that's for sure — and if they are on a reality show, they're not the real deal.
Did you talk to anyone like that in preparation for A Single Shot?
My girlfriend's brother-in-law is a deer hunter, and he's also from West Virginia. He and his buddy came with a tape recorder and gave me some tips about hunting. David hunts. There are specific ways to hold the gun, how to move when you're going through the woods, looking for a deer. I picked up a couple of tips on that. I've shot a lot of guns, but never hunted a live animal. I've eaten a lot of animals, but no. I've eaten a lot of venison.
You've done so many different kinds of movies. What's the difference, as an actor, between starring in a relatively small indie film like A Single Shot and a big-budget film like Iron Man 2?
There's not really a difference at all, except that you have more time [in a Hollywood film]. And sometimes time can be good or bad — it depends. Sometimes it's better to have less time. Sometimes you get creatively stimulated when you're up against the gun a little bit and you stay in the bubble. The longer you shoot, the longer you have to maintain a character, and that can sort of wear you down, so you have to have more endurance.
What's the difference in your approach between playing the lead and playing a supporting character?
There are big pros and cons to both. You still have to prepare the same way, but it's different. In supporting roles, you have to come in and be dynamic in a short amount of time. With lead roles, it's actually… sometimes you don't act as hard as you would. It's tricky, but it's fun to go back and forth, because you learn from both. When you're the the lead, you're main color on the canvas… In A Single Shot, Bill Macy and Jeffrey Wright provide a lot of the colors for you. So I could stay kind of even, if that makes any sense. Sometimes I'm required to come up with the color red, in a movie like Frost/Nixon, or Seven Psychopaths. Sometimes I'm doing a nice purple all the way through. Or a muted brown.
What about the difference between acting in a comedy and acting in a drama?
Comedies can be tough. It's a different challenge, but it's harder to pull off comedy, in some ways. Drama, you really have to commit to the emotional stakes. It's different — and yet it's the same. You're doing the same thing, really. The audience is laughing at your tragedy or crying at your tragedy — but in comedy you have to find the tragedy as well.
A Single Shot is opening in limited release today, but it's already been available on video-on-demand for a month. Did you ever worry that audiences wouldn't be able to find it?
It seems to be the new financial model for a lot of these films. It seems to be working, in a financial respect. But it would be sad if we never went to the theater. It would suck if we never went to the movies at all.
Do you think watching A Single Shot at home, instead of in a theater, will change the viewer's experience?
Sure. Hopefully they have big TVs.

Continue reading for free
We hope you're enjoying The Week's refreshingly open-minded journalism.
Subscribed to The Week? Register your account with the same email as your subscription.