Syria: The end of America's role as global cop?
A war-weary public is increasingly reluctant to get involved in foreign conflicts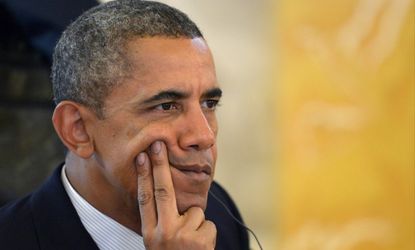 (Image credit: (Sergey Guneev/Host Photo Agency via Getty Images))
With talks on seizing Syria's chemical arsenal in full swing, President Obama has backed away from threats of military action against the regime of Syrian President Bashar al-Assad. Most Americans, however, have made it abundantly clear all along that they have no desire to get more deeply involved in yet another overseas war.
In fact, two new polls indicate that Americans are only too happy to see other countries take the lead, note Aaron Blake and Sean Sullivan at The Washington Post — in Syria's case, the one doing that is Assad's trusty ally, Vladimir Putin. The polls find that only 34 percent of Americans think the U.S. should take the lead role in solving international conflicts, and 72 percent are opposed to trying to overthrow dictators.
Americans are now more resolutely opposed to foreign intervention than they were "even at the height of the unpopularity of the Iraq and Afghanistan efforts," Blake and Sullivan say. Does that mean that the Syrian conflict will mark the point at which people in the U.S., weary after more than a decade of overseas wars, finally rejected their nation's role as the world's policeman?
Subscribe to The Week
Escape your echo chamber. Get the facts behind the news, plus analysis from multiple perspectives.
SUBSCRIBE & SAVE
Sign up for The Week's Free Newsletters
From our morning news briefing to a weekly Good News Newsletter, get the best of The Week delivered directly to your inbox.
From our morning news briefing to a weekly Good News Newsletter, get the best of The Week delivered directly to your inbox.
Commentators this week have pointed out that the U.S., as leader of the free world, has not been swept up in such isolationist fervor since the 1930s, before World War II ushered in a new period in which America became the main protector of international security. The Week's latest print edition examines the pros and cons of this new wave of anti-interventionism:
There are plenty of people who say it's about time. Patrick L. Smith at Salon, for example, says that Americans should be hoping that "the White House's rogue-nation plan to shell Syria" gets scrapped once and for all, because this defeat on the world stage would prevent the U.S. from charging into yet another intervention that will only put "a match to the oil in every Middle Eastern well."
There are, after all, like-minded nations showing an increased willingness to charge into places the U.S. would rather avoid. The Week's Susan Caskie pointed out recently that France — mocked as "cheese-eating surrender monkeys" ahead of the 2003 Iraq invasion — was at the forefront in the international effort against Moammar Gadhafi in Libya, chased Islamic extremists out of Mali, and is leading the call for military action to punish Assad for allegedly gassing his own people.
No matter what happens in Syria, though, there will be other crises that cry out for somebody to step in and restore order. The debate will continue, with anti-interventionists arguing that foreign meddling, like in Libya, often ends in instability that creates new dangers, while others counter that a muscular foreign policy is necessary to keep murderous dictators, some armed with nukes, in check.
Hoyt Hilsman at The Huffington Post says it would be unwise for America to count on some other nation to keep order. One reason, he says, is that even if the U.S. has occasionally messed up overseas, things would be far worse if it stepped aside and let Russia or China, both serial human rights abusers, take over as the global cop.
The bottom line is there are going to be times when Americans will feel compelled to step in to protect their values of freedom and openness, Hilsman says, and the U.S. economy "depends on a stable and safe world where markets can operate freely and peacefully." So, he adds, "Whether or not we decide to be the world's cop, we still want to be part of the police force."

Continue reading for free
We hope you're enjoying The Week's refreshingly open-minded journalism.
Subscribed to The Week? Register your account with the same email as your subscription.