Why 31 million people will remain uninsured under ObamaCare
The law is far from universal health care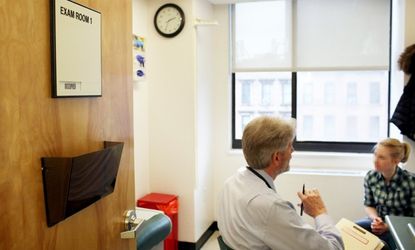 (Image credit: Spencer Platt/Getty Images)
President Obama's signature health-care law is expected to extend coverage to 25 million uninsured people in the U.S. as all of its provisions are implemented over the next decade. But ObamaCare is far from universal — the nonpartisan Congressional Budget Office estimates that 31 million people will still lack insurance by 2023.
Undocumented workers will make up a growing share of the uninsured, say Sarah Kliff and Lena H. Sun in a Monday article in The Washington Post, because they will be ineligible to buy insurance on new exchanges that are scheduled to go online next month and will extend coverage to 24 million people over the next decade, according to CBO estimates.
The Post reporters note that many others will fall through cracks created by discrepancies between state and federal guidelines for who qualifies for assistance. For example, the Post found a 59-year-old unemployed carpenter who makes too little to get subsidized insurance, since ObamaCare assumes people making below 100 percent of the poverty level, or about $11,500, will get Medicaid coverage. However, the carpenter didn't qualify for Medicaid because Virginia only offers it to single men if they are disabled.
Subscribe to The Week
Escape your echo chamber. Get the facts behind the news, plus analysis from multiple perspectives.
SUBSCRIBE & SAVE
Sign up for The Week's Free Newsletters
From our morning news briefing to a weekly Good News Newsletter, get the best of The Week delivered directly to your inbox.
From our morning news briefing to a weekly Good News Newsletter, get the best of The Week delivered directly to your inbox.
Republicans in red states, many of whom have bashed ObamaCare as a federal takeover of the health care system, have chipped away at the law by refusing to launch their own exchanges (in those cases, the federal government will simply do it for them). GOP-led state legislatures in 21 states have also declined to expand Medicaid under the law, potentially leaving out millions who were supposed to be brought under the ObamaCare umbrella. Those states include 11 of the 15 states with the highest uninsured populations (in order, starting at the top: Texas, Florida, Georgia, North Carolina, Ohio, Pennsylvania, New Jersey, Michigan, Arizona, Virginia, Louisiana, South Carolina, Tennessee, Missouri, and Indiana).
Another obstacle is sheer confusion. The Affordable Care Act means different things for different people, depending on whether they are rich or poor, insured or uninsured, and are covered by an employer or purchase their own insurance. The law adds or amends 40 provisions to the federal tax code, and a recent poll by the Kaiser Family Foundation found that 77 percent say they know little or nothing about ObamaCare.
Here, again, the GOP and the Obama administration have clashed in ways that could affect the law's impact. The Obama administration is putting $67 million into efforts to explain the law, largely through grants to groups that will act as "navigators" charged with explaining the law to the uninsured and steering them into the insurance exchanges. Republicans in a dozen GOP-led states have passed laws, however, subjecting would-be navigators to licensing exams, fines, and training requirements tougher than those required by federal law.
Republicans argue that the rules are necessary to protect consumers from shady or poorly informed advisers. Last week, Republicans on the House Energy and Commerce Committee also sent letters to state agencies and nonprofits that had received navigator grants, demanding "an incredibly broad and difficult-to-compile range of information," says Brian Beutler at Salon. "The effort's pretty clearly intended to bog down the navigators ahead of enrollment, which could easily reduce the number of people who end up insured under the law."
Some gray areas are already well known. For example, ObamaCare is intended to give workers the option of leaving their employer's plan if it's inadequate (failing to cover at least 60 percent of health-care costs) or unaffordable (costing more than 9.5 percent of their taxable income). "But there's a catch — known as the 'family glitch,'" says Brett Norman at Politico. "The test of affordability is just for individual coverage — not the whole family. And the family members can't get subsidies in the exchanges if the worker's plan is 'affordable.'"
One way or another, however, the CBO expects seven million uninsured Americans to get coverage under ObamaCare in the first year the exchanges are online. Nearly three million of those people will be young and healthy adults, says Dylan Scott at Talking Points Memo. That means that long before ObamaCare's final scorecard is written, Americans should have an idea of how effective the law is in getting more people insured, and at keeping premiums down by swelling the private health-insurance market.

Continue reading for free
We hope you're enjoying The Week's refreshingly open-minded journalism.
Subscribed to The Week? Register your account with the same email as your subscription.