Obama has a very short list of viable military options in Syria
One widely discussed plan "would not be militarily decisive, but it would commit us decisively to the conflict," warns Gen. Martin Dempsey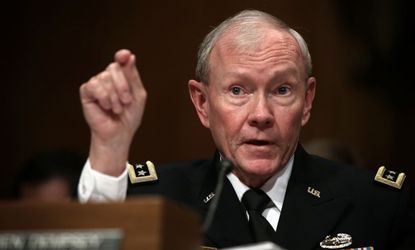 (Image credit: Alex Wong/Getty Images)
President Obama acknowledged to CNN on Friday that this week's alleged chemical-weapons massacre in Syria could speed up the timetable for an escalated response to the country's mushrooming violence, but he said he would not rush to get America involved in a costly new war.
The latest violence in Syria has prompted a high-stakes debate in the Obama administration over U.S. military options, The New York Times reported. After all, if confirmed, President Bashar al-Assad's poison gas attack would be the most blatant violation yet of what Obama has called a "red line" that Syrian forces must not cross.
In a White House meeting on Thursday, representatives from the Pentagon, State Department, and intelligence agencies were reportedly sharply divided. Some senior officials argued that any military response would be reckless, while others argued that Obama must send Assad a powerful message if the attack is verified, according to the Times.
Subscribe to The Week
Escape your echo chamber. Get the facts behind the news, plus analysis from multiple perspectives.
SUBSCRIBE & SAVE
Sign up for The Week's Free Newsletters
From our morning news briefing to a weekly Good News Newsletter, get the best of The Week delivered directly to your inbox.
From our morning news briefing to a weekly Good News Newsletter, get the best of The Week delivered directly to your inbox.
The mildest military option would be simply to speed up a move Obama has already approved — increasing American aid to the Syrians who are already fighting Assad. At the very least, says Juan Cole at Informed Comment, this alleged atrocity "will increase pressure on a reluctant Obama to speed up promised shipments of weapons to the rebels."
After the horrific images that emerged out of Syria this week, however, many people are calling for a much stronger response. The next level of intensity might be launching a volley of cruise missiles at Syrian military targets. Such a campaign, proponents say, could be brief, but would convey an unmistakable warning to Assad. French Foreign Minister Laurent Fabius appeared to be suggesting that something like that — stopping short of sending in ground troops — might be necessary if the United Nations Security Council fails to act.
But that's still not enough for some people. Here's Ed Morrissey at Hot Air:
Then, of course, there is the Libya model — using missiles and fighter jets to neutralize Assad's air force. The Washington Post said in an editorial that the U.S. should promptly find out what happened, and, if Assad's forces did what the rebels say they did, "Obama should deliver on his vow not to tolerate such crimes — by ordering direct U.S. retaliation against the Syrian military forces responsible and by adopting a plan to protect civilians in southern Syria with a no-fly zone."
One problem with all of the above: Gen. Martin Dempsey, chairman of the Joint Chiefs of Staff, wrote this week in a letter to a congressman that none of these actions would make a difference in Syria's "deeply rooted" conflict. "The loss of Assad's air force would negate his ability to attack opposition forces from the air," Dempsey wrote, "but it would also escalate and potentially further commit the United States to the conflict. Stated another way, it would not be militarily decisive, but it would commit us decisively to the conflict."
The danger that any military response could backfire is a common refrain, of course, among those who think the best option is doing nothing. Paul Thomas Chamberlin at The Christian Science Monitor lists a host of examples — from Jimmy Carter's and Ronald Reagan's arming of the Afghan Mujahideen against the Soviet Union in the 1980s, to Reagan's 1982 humanitarian intervention in Lebanon's civil war — to illustrate that our best intentions can wind up compounding problems instead of solving them.

Continue reading for free
We hope you're enjoying The Week's refreshingly open-minded journalism.
Subscribed to The Week? Register your account with the same email as your subscription.