10 celebrities who are actually worth following on Twitter
Sick of selfies, retweeted compliments, and shameless self-promotion? Follow these famous people who are using Twitter the right way.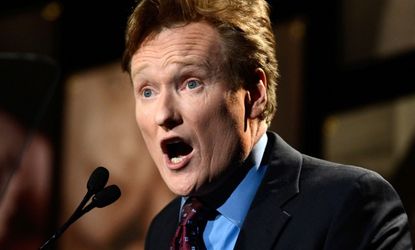 (Image credit: Frazer Harrison/Getty Images)
Don't let their sky-high follower counts fool you: Most celebrities have terrible Twitter accounts. Though plenty of celebrities have recognized the potential of Twitter, the vast majority of accounts are deeply irritating — full of lame selfies, retweeted compliments from fans, and transparently promotional tweets.
But there are some diamonds in the rough. Here, 10 celebrities that are actually worth following on Twitter (and please share your favorites in the comments):
1. Patton Oswalt (@pattonoswalt)
Many modern comedians have embraced Twitter, but none have done it as completely — or as successfully — as Patton Oswalt, whose feed offers a consistently hilarious mix of non-sequiturs and riffs on the news of the day.
2. Alyssa Milano (@AlyssaMilano)
Most celebrities use their Twitter accounts for self-promotion or humor. Not Alyssa Milano. Her feed is packed with a wide range of interesting links from across the internet on anything from Johnny Cash's daily to-do list to the effect caffeine has on your brain to — full disclosure! — some great articles from The Week and our sister site Mental Floss.
3. David Lynch (@DAVID_LYNCH)
David Lynch hasn't directed a feature-length film since 2006's Inland Empire, but anyone whose appetite for Lynch's idiosyncratic worldview hasn't been sated by his forays into music and transcendental meditation would be wise to check out his Twitter feed.
4. Lena Dunham (@LenaDunham)
Girls creator Lena Dunham's ascent to global fame was built, in part, on the strong observational humor of her Twitter feed. (And occasional hints about upcoming story lines on Girls don't hurt either.)
5. Ken Jennings (@kenjennings)
As one of the most surprising breakout celebrities on Twitter, legendary Jeopardy! champion Ken Jennings has built an impressive public profile and second career with his razor-sharp humor. (Bonus: His Twitter feed offers direct access to his weekly Kennections puzzles, which are always worth a click.)
6. Aaron Paul (aaronpaul_8)
Breaking Bad star Aaron Paul is legendarily open-hearted to the show's legions of fans, and that quality extends to his earnest, enthusiastic Twitter feed, where he gamely plays along with requests (and says "bitch" as many times as fans ask him to.)
7. Anna Kendrick (@AnnaKendrick47)
In the first line of her characteristically self-deprecating Twitter feed, Anna Kendrick describes herself as "pale, awkward and very very small." But despite her modesty, the Pitch Perfect star has managed to amass more than 1.5 million followers with her witty day-to-day observations.
8. Damon Lindelof (@DamonLindelof)
With writing credits on everything from Star Trek Into Darkness to World War Z under his belt, Damon Lindelof is one of the most successful and in-demand writers in Hollywood. His Twitter feed is a blend of sarcastic jokes, links, and insights about Hollywood (along with the occasional argument with a disgruntled Lost fan).
9. Conan O'Brien (@ConanOBrien)
Conan O'Brien delivers nightly monologues on his TBS late-night show, but his frequently hilarious Twitter feed offers the same kind of humor in bite-sized chunks all day.
10. Kanye West (@kanyewest)
Kanye West sometimes goes weeks without offering the world a single tweet — but when he does tweet, you don't want to miss it. Unlike most celebrities, West's feed is clearly unfiltered and uncensored by anyone other than himself, and his occasional extended Twitter rants are more than worth the follow.
What do you think? Who are your favorite celebrities to follow on Twitter? Speak up in the comments.

Continue reading for free
We hope you're enjoying The Week's refreshingly open-minded journalism.
Subscribed to The Week? Register your account with the same email as your subscription.