5 revelations on the 'Keyser Soze' of the Edward Snowden saga
Meet Laura Poitras, the Oscar-nominated filmmaker who helped Snowden go public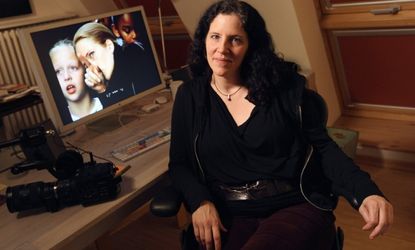 (Image credit: AP Photo/Courtesy of the John D. and Catherine T. MacArthur Foundation, Sean Gallup)
Many people following the NSA drama have never heard of documentary filmmaker Laura Poitras. If it wasn't for her, however, former NSA contractor Edward Snowden might have never shared thousands of classified documents with Glenn Greenwald, the outspoken journalist for The Guardian.
In a long, detailed story for The New York Times Magazine, veteran reporter Peter Maass documents the relationship between the trio, focusing mostly on the lesser-known Poitras.
"I keep calling her the Keyser Soze of the story, because she's at once completely invisible and yet ubiquitous," Greenwald told the Times Magazine.
Subscribe to The Week
Escape your echo chamber. Get the facts behind the news, plus analysis from multiple perspectives.
SUBSCRIBE & SAVE
Sign up for The Week's Free Newsletters
From our morning news briefing to a weekly Good News Newsletter, get the best of The Week delivered directly to your inbox.
From our morning news briefing to a weekly Good News Newsletter, get the best of The Week delivered directly to your inbox.
Despite being widely recognized and respected in the film community — she has won a Peabody Award, a MacArthur Award, and was nominated for an Oscar for My Country, My Country, a documentary about the war in Iraq — the Boston-born Poitras has refused to return to the United States since the Snowden story broke, for fear that her equipment would be searched or seized.
She talked with Maass about being placed on a watch list by the government, encrypting her data, and her first clandestine meeting with Snowden in Hong Kong. Here are the key details from the riveting story on how Poitras helped Snowden share his secrets.
1. Snowden first revealed his secret to Poitras
In January, Poitras received a message from a stranger asking for an encrypted email key so he could send her classified information. She was initially worried that it might be a government agent trying to trick her into sharing information about WikiLeaks editor Julian Assange, who she had been talking to for a documentary.
"I said either you have this information and you are taking huge risks or you are trying to entrap me and the people I know, or you're crazy," she told The New York Times Magazine.
After a few months, she came to trust this person, and vice versa. It turned out to be Edward Snowden. "We came to a point in the verification and vetting process where I discovered Laura was more suspicious of me than I was of her, and I'm famously paranoid," Snowden told The New York Times Magazine. It was then that she contacted Greenwald.
2. Snowden first reached out to Greenwald, but he ignored him
A month before Snowden went to Poitras, he reached out to Greenwald saying that he had encrypted documents he wanted to give the famously combative journalist. Greenwald didn't want to deal with the encryption software because, as he told The New York Times Magazine, it was "really annoying and complicated." So he ignored Snowden's requests.
Snowden expressed his frustration to Maass:
3. Poitras was once flagged on a government watch list... and isn't sure why
While working in Iraq, Poitras was once spotted on a rooftop working on a documentary shortly before a nearby attack on U.S. troops, according to The New York Times Magazine. Some soldiers theorized that she knew about the attack beforehand and wanted to film it. While there was no evidence of this claim, their battalion commander filed a report to his superiors, but never heard back.
Since then, Poitras says she has been stopped more than 40 times by airport security. She recounted this exchange with a security officer:
Poitras has never been told, despite submitting several Freedom of Information Act requests, why she was being stopped and having her equipment searched and, in one instance, confiscated for two weeks.
"I've been told nothing, I've been asked nothing, and I've done nothing," she told The New York Times Magazine. "It's like Kafka. Nobody ever tells you what the accusation is."
Greenwald eventually wrote about her problems at Salon; afterwards, security stopped pulling her aside at airports. She never learned if she was flagged because of what happened in Iraq.
4. Poitras took extreme measures to protect her privacy
Greenwald recalled meeting Poitras in the lobby of a hotel in a New York suburb, telling The New York Times Magazine, "She insisted that I not take my cellphone, because of this ability the government has to remotely listen to cellphones even when they are turned off."
Poitras, who had interviewed several high-level people in the intelligence community, took no chances with her data. She barely used her cellphone because it "betrays not only who you are calling and when, but your location at any given point in time."
She began using software to mask which websites she visited. She encrypted her email and used separate computers for editing film and sending emails. For reading sensitive documents, she used a computer that had never been connected to the internet.
5. She met Snowden for the first time outside of a Hong Kong restaurant
For their first meeting, Snowden told Poitras and Greenwald to look for a man carrying a Rubik's Cube outside of a restaurant in the Kowloon District of Hong Kong. They were reportedly shocked by how young Snowden, 29, looked.
They then went up to a hotel room and, according to The New York Times Magazine, promptly placed their cellphone batteries in the refrigerator, lined pillows against the door to protect them from eavesdropping, and started filming their first interview.
She took such precautions, she told Maass, because she felt responsible for Snowden, saying, "It's not just a scoop. It's someone's life."
Read the entire story in The New York Times Magazine.

Continue reading for free
We hope you're enjoying The Week's refreshingly open-minded journalism.
Subscribed to The Week? Register your account with the same email as your subscription.