The Venture Bros. has more to say about men than Mad Men
The Adult Swim series has quietly grown into the smartest show about masculinity on television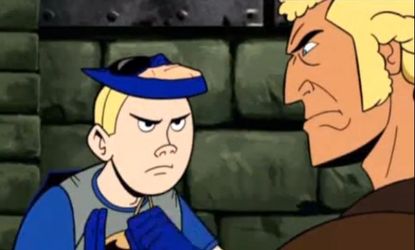 Sign up to our 10 Things You Need to Know Today newsletter
A free daily digest of the biggest news stories of the day - and the best features from our website
Thank you for signing up to TheWeek. You will receive a verification email shortly.
There was a problem. Please refresh the page and try again.
American television is in a perpetual crisis of masculinity. From the stern, strong men of early sitcoms like Father Knows Best, television's obsession with what it means to be the ideal American man has never abated. At worst, this means a romanticized obsession with the past; recent comedies like NBC's short-lived Guys With Kids and Tim Allen's ABC series Last Man Standing asked what happened to the (supposed) American masculine ideal — because it's funny that guys have to take care of kids, and, of course, because there are no men left standing.
But not every show on television offers such a lazy, regressive view of American masculinity. AMC's Mad Men, which concluded its sixth season in June, spends much of its time deconstructing different conceptions of masculinity. At the beginning of the series Don Draper (Jon Hamm) is, superficially, a perfect picture of the American man. He's chiseled, extremely successful professionally, virile, and above all, a man who is literally self-made. Most of the other characters spend the first few seasons of Mad Men trying to approximate that image, even as Don continues to distort it, concluding the sixth season with the apparent loss of his marriage and job, as well as his carefully constructed identity.
Through it all, Mad Men has earned near-universal accolades from critics who regard it as the deepest, most complete show about American masculinity on TV. But while it may be the most high-profile series currently interrogating the assumptions of American malehood, it's not the best. That honor goes to an animated show watched by considerably fewer people: The Venture Bros., which just concluded its fifth season on Adult Swim.
Subscribe to The Week
Escape your echo chamber. Get the facts behind the news, plus analysis from multiple perspectives.
SUBSCRIBE & SAVE
Sign up for The Week's Free Newsletters
From our morning news briefing to a weekly Good News Newsletter, get the best of The Week delivered directly to your inbox.
From our morning news briefing to a weekly Good News Newsletter, get the best of The Week delivered directly to your inbox.
The Venture Bros. offers a loose parody of 1960s cartoon staple Johnny Quest. Protagonist Rusty Venture (voiced by James Urbaniak) is a grown-up Johnny Quest-type who spent his childhood being captured and evading death while adventuring with his ultra-successful, genius father Jonas. Unsurprisingly, a now middle-aged Rusty has subsequently developed numerous pill addictions, terrible parenting skills, and a smattering of crippling insecurities. Though he only occasionally addresses his neuroses, the show's initial primary arc follows Rusty's struggle to right the family business and attain scientific acclaim, all in pursuit of an unattainable ideal set by his father (the leitmotif extends to other areas, as when the show offers a flashback of a young Rusty accidentally seeing his father's enormous penis).
The other characters in the overwhelmingly male cast of The Venture Bros. fare similarly: Trapped in institutions — most notably the supervillain union The Guild Of Calamitous Intent and the spy agency Office Of Secret Intelligence — and relationships that offer a shell of manliness without any real substance.
Unlike Mad Men's meticulous reconstruction of the 1960s, The Venture Bros. is successful at deconstructing masculinity because of its unreality. The super-scientists and villains who populate the show's world spend most of their time trying to avoid any actual adult responsibility by embarking instead on ridiculous adventures in endless, repetitive conflicts, which are explicitly governed by byzantine rules that ensure there are rarely real consequences to their actions. The Venture Bros. takes the archetypes of hyper-masculine pulp heroes, like Doc Savage or Benton Quest, and showcases what would happen if psychologically realistic people engaged in those activities.
And this year, the current season of The Venture Bros. presented a much clearer and more realistic answer to the question of what a real man is than Mad Men. Gary, the nerdiest character on The Venture Bros., takes over the abandoned S.P.H.I.N.X. — a supervillain organization turned black ops superspy agency — and tries to recruit his own team, demonstrating competency as a manager in his attempt to reform as a good guy. Rusty's son Dean appears to be getting out of the game altogether, in favor of something — anything — else. Dean's plot hasn't been resolved yet, but striking out on his own, even as a goth kid with dyed black long hair, comes the closest to a more sustainable idea of masculinity: A version that actually allows for growth and change. By the season's end, Gary appears to be back working under Rusty's father's nemesis, The Monarch, while Dean has tentatively embraced at least part of his superscience origins — but neither character is truly static; instead, they're coming to terms with different aspects of their identities.
It's a story that stands in stark contrast to Mad Men, which has committed its biggest sins in its examination of masculinity. Though that show has taken Don Draper, a seemingly ideal man, and spent six long seasons showing him to be a hollow one, Mad Men presents few alternatives of characters who are healthy, functioning, and masculine men (the exception might be Ken Cosgrove, whose truly creative outlet in fiction and seeming devotion to his family are more concrete versions of what Don wants to be). Mad Men spent the entirety of its most recent season dealing with the emptiness of the life Don had aspired to, and ended on the small, remote chance that just now, six seasons in, he might grow into a better man.
The Venture Bros. might be "just a cartoon," but its unflinching look at a group of dysfunctional manchildren is a constructive and useful guide to what masculinity ought to be.
Continue reading for free
We hope you're enjoying The Week's refreshingly open-minded journalism.
Subscribed to The Week? Register your account with the same email as your subscription.
Sign up to our 10 Things You Need to Know Today newsletter
A free daily digest of the biggest news stories of the day - and the best features from our website
Eric has written about TV, music, and books for The A.V. Club, Jewcy, and This Was TV. He is a third-year undergrad at the University of Chicago majoring in philosophy, where he is one of the Arts & Culture editors for the Political Review. Follow him on Twitter to learn how big a Futurama binge has to be to be lethal.