10 SyFy Channel movies that are just as ridiculous as Sharknado
Wait until you've seen Anonymous Rex, Piranhaconda, or Dinocroc vs. Supergator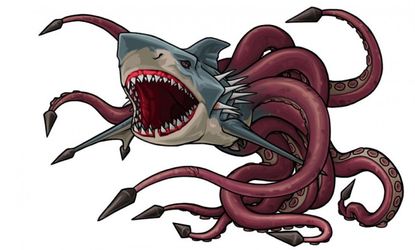 (Image credit: Facebook.com/<a href="https://www.facebook.com/SyfyMovies" target="_blank">SyFyMovies</a>)
Sign up to our 10 Things You Need to Know Today newsletter
A free daily digest of the biggest news stories of the day - and the best features from our website
Thank you for signing up to TheWeek. You will receive a verification email shortly.
There was a problem. Please refresh the page and try again.
Just when you thought it was safe to walk around Los Angeles, Sharknado — a wonderfully preposterous made-for-TV creature feature — premieres on the SyFy Channel, introducing a whole new kind of natural disaster. The film chronicles what happens when a devastating hurricane off the coast of L.A. drives a bunch of man-eating sharks close to shore, then propels them into a killing spree after a series of deadly tornados sends them airborne. There will be blood. There will be bikinis. There will be Beverly Hills 90210's Ian Ziering cutting a flying shark in half with a chainsaw.
Of course, Sharknado is merely the latest in a long, long line of SyFy Channel original movies that features sharks, or giant sharks,or mutant sharks, or prehistoric sharks — not to mention all the other large, aggressive, and/or mutated creatures that have a tendency to wreak havoc on scantily clad women in lush, tropical locales.
In honor of Sharknado, which premieres tonight, we take a look at 10 of the most ridiculous SyFy Channel original movies ever produced:
Subscribe to The Week
Escape your echo chamber. Get the facts behind the news, plus analysis from multiple perspectives.
SUBSCRIBE & SAVE
Sign up for The Week's Free Newsletters
From our morning news briefing to a weekly Good News Newsletter, get the best of The Week delivered directly to your inbox.
From our morning news briefing to a weekly Good News Newsletter, get the best of The Week delivered directly to your inbox.
1. Anonymous Rex (2004)
Anonymous Rex imagines a world where dinosaurs did not become extinct. In fact, they actually faked their own extinction, thrived, and now live among us disguised as humans. The film employs a film noir-style and follows Vincent and Ernie — a Velociraptor and a Triceratops disguised as private investigators — as they look into the murder of Ernie's ex-girlfriend's brother. What they uncover is a vicious plot by a prehistoric radical to spark a revolution that will convince dinosaurs to stop living a lie and take over humanity once and for all. Believe it or not, Academy Award winner Faye Dunaway costars.
Most ridiculous moment: In human form, Velociraptor Vincent interrogates a carnivorous little dinosaur while his noir voiceover explains how "dinos" gave up meat ten million years ago after they discovered fire. It's The Third Man meets Jurassic Park.
2. Sharktopus (2010)
In this Roger Corman-produced creature feature, a U.S. Navy experiment to genetically engineer a half-shark, half-octopus for use in naval combat goes awry. The toothed, tentacled beast escapes and wreaks havoc on many bikini-clad beachgoers off the coast of Santa Monica. Academy Award nominee Eric Roberts stars.
Most ridiculous moment: A beautiful young beachgoer bungee jumps off a seaside cliff, only to be snatched out of mid air by Sharktopus. Land, sea, or air: No one is safe from Sharktopus.
3. Piranhaconda (2012)
In this pseudo-sequel to Sharktopus, a pair of genetically engineered piranha-anaconda hybrids go on a killing spree on a small Hawaiian island after a scientist steals their egg. By some remarkable twist of fate, there's a movie shoot happening on the same island that ends up getting trashed, and a group of kidnappers that hold the cast and crew hostage — but it doesn't really matter because Piranhaconda kills everyone anyway. This time, Michael Madsen — best known as Mr. Blonde from Reservoir Dogs — plays the lead.
Most ridiculous moment: Piranhaconda takes down an entire helicopter mid-flight.
4. Deep Shock (2003)
When the USS Jimmy Carter, a nuclear-powered submarine, is mysteriously attacked by an unknown assailant, the U.N. sends a team to investigate the incident. As it turns out, the assailants are just a bunch of conniving super-intelligent giant electric eels looking to stir up trouble.
Most ridiculous moment: Every time a submarine fires a torpedo at an eel.
5. Dinocroc vs. Supergator (2010)
Another Roger Corman-produced gem. This time, a giant, genetically-engineered "supergator" breaks free of a research lab in Hawaii. Nearby, a different giant creature — the prehistoric "Dinocroc," who has been captured by scientists — also breaks free from a test lab. What happens when an unstoppable force meets an immovable object? This movie.
Most ridiculous moment: A sleazy horror movie producer lures two models into his hot tub to explain the finer points of the perfect damsel-in-distress scream — when the monster shows up and swallows them in a meta moment of blood-soaked glory.
6. Megapython vs. Gatoroid (2011)
80s pop stars Debbie Gibson and Tiffany star in this apocalyptic creature feature in which experimental, anabolic steroid-pumped dead chickens are fed to gators in the Everglades to combat the growing problem of large, aggressive pythons. Fast forward a few months, when an all-out war has begun between the giant pythons and the mutant gators.
Most ridiculous moment: Two hunters come face to face with a Megapython. As the large serpent swallows one of the dim-witted hunters, the other stares it down, accepting the grisly fate that's about to come, when his buddy sets off a sacrificial grenade in the snake's belly and blows it up. When the surviving hunter immediately cracks open a beer to toast his noble friend, a giant gator crushes him.
7. Dinoshark (2010)
Global warming has caused a glacier containing a baby prehistoric-era shark to be knocked loose, thus freeing the titular creature. Over the years, the Dinoshark grows up and — to the great surprise of anyone who's never seen a B-movie before — decides to turn to the waters of a Mexican coastal resort into its new feeding grounds.
Most ridiculous moment: Dinoshark gracefully devours a bunch of surfers in mid surf (briefly shown in this magnificent TV spot).
8. Frankenfish (2004)
One of several made-for-TV films based on Maryland's real-life snakehead fish incident in 2002, Frankenfish pitsseveral scientists against a school of man-eating, genetically engineered snakehead fish in the Bayou.
Most ridiculous moment: A cocky fisherman baits for a Frankenfish who killed his brother, only to have it immediately jump onto the dock and bite his leg. The fisherman manages to blow its brains out with a shotgun and proceeds to grill and eat its heart. Moments later, another Frankenfish jumps out of the water and bites his head off.
9. Jersey Shore Shark Attack (2012)
A cross-pollinated satire of MTV's Jersey Shore wherein a group of man-eating sharks terrorizes and kill the Jersey Shore's scummiest beachgoers — including Gino "The Complication" Moretti and Nicolina "Nooki" Santamaria — as they party on the shore.
Most ridiculous moment: "Joey Fatone just got eaten by a shark!" Yes, really.
10. Hammerhead: Shark Frenzy (2005)
A mad scientist attempts to cure his cancer-ridden son by fusing his DNA with the DNA of a hammerhead shark. Alas, the experiment turns his son into a half-human, half-hammerhead shark monster who goes on a killing spree.
Most ridiculous moment: Every single second of it.
Continue reading for free
We hope you're enjoying The Week's refreshingly open-minded journalism.
Subscribed to The Week? Register your account with the same email as your subscription.
Sign up to our 10 Things You Need to Know Today newsletter
A free daily digest of the biggest news stories of the day - and the best features from our website
Matt is an arts journalist and freelance writer based in Washington, D.C. He has written about film, music, and pop culture for publications including Washington City Paper, The American Interest, Slant Magazine, DCist, and others. He is a member of the Washington D.C. Film Critics Association.