INTERVIEW: The Way, Way Back creators Jim Rash and Nat Faxon
The Oscar-winning screenwriting duo behind 2011's The Descendants is back with a terrific coming-of-age summer comedy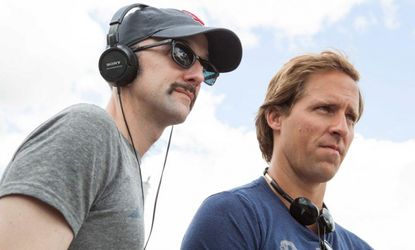 (Image credit: Fox Searchlight)
In the opening scene of The Way, Way Back — the directorial debut from Jim Rash and Nat Faxon, the Oscar-winning co-writers of The Descendants — 14-year-old Duncan (Liam James) is asked by his mom's new boyfriend Trent (Steve Carrell) how highly he thinks of himself on a scale from one to ten. "Six," he sheepishly replies. "I think you're more of a three," counters Trent.
Fortunately, Duncan's summer improves from there. And The Way, Way Back (which opened in limited release last week and expands into more theaters today) is a funny and warm-hearted coming-of-age dramedy with a stacked ensemble cast that includes Sam Rockwell, Toni Collette, Allison Janney, Maya Rudolph, Rob Corddry, and Amanda Peet. And coming from first-time directors Rash and Faxon, it's all the more impressive that The Way, Way Back already feels like a classic of the genre. (Watch a trailer for The Way, Way Back below.)
Last month, I met with Rash, whom you probably recognize as Dean Pelton on NBC's Community, and Faxon, the star of Fox's tragically short-lived sitcom Ben & Kate. We discussed the origins of The Way, Way Back, the future of television, and how winning an Oscar changed their lives. Here's a (slightly edited) transcript:
Subscribe to The Week
Escape your echo chamber. Get the facts behind the news, plus analysis from multiple perspectives.
SUBSCRIBE & SAVE
Sign up for The Week's Free Newsletters
From our morning news briefing to a weekly Good News Newsletter, get the best of The Week delivered directly to your inbox.
From our morning news briefing to a weekly Good News Newsletter, get the best of The Week delivered directly to your inbox.
Where did the idea for The Way, Way Back come from? Was it a completely invented concept, or did you have a personal connection to the story?
Rash: There was a personal connection — well, a bit of both. I think we started with two things. One: A fascination and enjoyment for going to these types of water parks while growing up on the East Coast, with all of these eclectic characters. We definitely wanted to enter that world. And the second piece is that the beginning scene, with the whole conversation about ranking Duncan on a scale from one to ten — that actually happened to me.
Really?
Rash: Yeah, that scene was sort of pulled verbatim from my 14-year-old experience going to our summer vacations in Michigan. I grew up in North Carolina and we'd drive up there. My stepfather at the time actually had that conversation with me.
How did you get a personal project like The Way, Way Back off the page and into movie theaters?
Rash: It's been almost an eight-year journey with this movie, from the initial writing to where we are now. With any sort of indie movie — Little Miss Sunshine is a really good example of one, that took almost six years to get made — when we first wrote it [in 2006], it was out of the gates and was going to happen. Shawn Levy was going to direct it — but then Night At The Museum 2 came up faster than he thought it would, and he couldn't do it anymore. Then we went through a studio change, and then the economy took a bad turn and the studio needed another studio to help them back it. Lionsgate came in with Mandate Pictures, but they would only make it with certain stars that didn't feel right to us. So we said, "Let's just take a step back and wait." We didn't want to make it the wrong way. Those were the hurdles along the way, but we ended up shooting it without a studio. We shot it with independent financing, so it wasn't until [The Sundance Film Festival], when Fox Searchlight saw it, that they came aboard.
How has life changed for both of you since winning the Best Adapted Screenplay Oscar for The Descendants? Do you find it easier to get your projects off the ground?
Faxon: I think the Oscar has certainly helped provide momentum. Movies sort of help each other in a way. The script for The Way, Way Back got us in the door to meet with Alexander Payne's production company and got us the job for The Descendants — and then the momentum from The Descendants provided us the opportunity to finally make The Way, Way Back. They're connected in many ways.
Making a movie is still very difficult in Hollywood, regardless of what you have and what level you're at. It is a house of cards, and things have to perfectly align. When we decided to direct this ourselves, we cleared the decks and started from scratch. We started working with our friend Kevin Walsh, a producer, and just slowly started putting the pieces together, and then got the financing. Luckily, schedules, timelines, and everything aligned last summer and we were able to shoot it. But it did take eight years, and that's not uncommon in Hollywood.
Steve Carrell is known for playing likable, sympathetic characters, so it was fascinating to see him play such an utterly despicable character in The Way, Way Back. How did you get him on board to play this loathsome guy?
Rash: That's basically what we said to him.
Faxon: We said "Do you want to do something where everyone will hate you?" And he said "Absolutely."
Rash: "I'm in."
Faxon: It was exciting to think about him playing against type — and when we were thinking about the role of Trent, you're not only looking for someone who can play the dickish elements to him. You also need a likability, so you buy that Toni Collette's character is attracted to him, and that his friends want to hang out with him and party. I think he's a guy who is sort of done being a father, which is why he says to Duncan that he needs to get out of the house and not hang around there all the time.
He's also tragic, in the sense that he doesn't change from the beginning of the movie to the end of the movie. He says that he wants certain things, but he's never to able to really act on them, so he's sort of stuck in this vicious cycle. I think that was attractive to Steve — and it was really exciting for us that he had the courage to jump into something like this. I think a lot of actors are more timid. They do want that redemption or arc at the end [of the movie] where they learn their lesson.
Jim, do you think your recent successes in film will draw more people to Community?
Rash: [laughs] I hope so! Believe me, I would love for more people to discover Community — and the same with Ben and Kate — we would love for more people to discover these shows.
It's difficult out there, but what's great is that Community has such a core fan base that's consistent. That's the reason we're still around. If we don't improve with "numbers" — he said with air quotes [laughs]... I feel like the strength of it is that we have a show that does well with the DVR, and that's what keeps shows alive. I don't know if there's anything else that can boost it — I hope maybe [original showrunner] Dan [Harmon's] return will do that, because I think there's always interest behind change.
Between the Kickstarter-funded Veronica Mars movie and Netflix's revival of Arrested Development, there's been a lot of talk about the future of television lately. Could something like that be the future of Ben and Kate — or Community, if it's ever canceled?
Faxon: That would be awesome.
Rash: Yeah, that would be awesome. I think that's going to challenge a lot of these networks. I think the networks, in general, have to evaluate what's happening around them. I'm sure they're scared about a lot of things: Amazon, Netflix, Hulu, and all these places that allow people to watch shows in chunks. It's weird. I mean British television already does this in a way — smaller chunks, smaller seasons. I don't think [American] networks will ever do smaller seasons, because advertising-wise, it just doesn't make sense for the money. But then again, cable networks are doing it — smaller chunks of great shows — and maybe networks are embracing it; a lot of them are toying with the idea of half-seasons of new shows. I think that's exciting because it allows TV actors to do stuff for a half-year, and then go do a great TV show.
It's interesting how — even as culture is shifting more toward streaming and binge-watching — networks have no real way of tracking those viewers and incorporating them into ratings.
Faxon: I would love an upgrade from the Nielsen box, it feels so antiquated to me.
Rash: It is. Incredibly.
Faxon: I feel like people don't watch TV like that anymore, and there's no updated version of that, which is astonishing.
What are the differences between working in film and on TV?
Faxon: I enjoy them both for different reasons. There's something about the schedule of working in TV that's attractive. You know exactly what the next six months is going to be like: You'll work Monday through Friday and have the weekends off, and then there's going to be a hiatus here, so you can kind of plan a little bit. Whereas film is always fluctuating. They're both attractive for different reasons, and it's fun to just be a part of the industry in whatever way, in either format. But the benefit of film is that you're shooting something for an intense period of time — and then it's over, and you move on to something else. In TV, you're doing the same thing over and over. They both offer different advantages.
You two have another film in development with Fox Searchlight. Can you say anything about it?
Faxon: We're teaming with the production team from The Descendants again and writing something for Fox Searchlight, which — again — is sort of mining our own personal family dysfunction. We have that, and we're also writing something for Kristen Wiig — whom we know from The Groundlings and have a history with. It's going to be a sort of dark comedy. A dark action/comedy. It will probably be a bit bigger in scale, and a little different tonally for us.

Continue reading for free
We hope you're enjoying The Week's refreshingly open-minded journalism.
Subscribed to The Week? Register your account with the same email as your subscription.