Are for-profit prisons more dangerous than traditional prisons?
For inmates, the answer may well be yes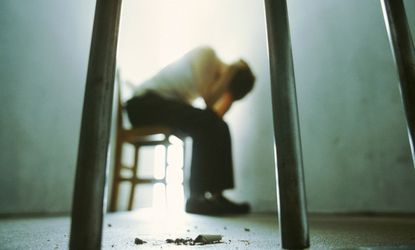 (Image credit: Christian Schmidt/Corbis)
Sign up to our 10 Things You Need to Know Today newsletter
A free daily digest of the biggest news stories of the day - and the best features from our website
Thank you for signing up to TheWeek. You will receive a verification email shortly.
There was a problem. Please refresh the page and try again.
From alleged mistreatment of prisoners to questionable lobbying intentions, private prisons have been making headlines for all the wrong reasons lately. And as a growing number of U.S. inmates are being jailed in private prisons — the number of inmates in private facilities increased by 37 percent between 2002 and 2009 — it's more important than ever to examine the policies and practices carried out in these intuitions.
Consider the East Mississippi Correctional Facility (EMCF), a private prison housing mentally ill prisoners near Meridian, Miss. The prison recently made national news after the American Civil Liberties Union (ACLU) and the Southern Poverty Law Center (SPLC) filed a lawsuit against the Mississippi Department of Corrections — which outsources prison duties to the EMCF — for allowing the prison to operate under allegedly "barbaric", "hyper-violent" and "grotesquely filthy and dangerous" conditions, including rat-infested cells, non-working toilets, and a lack of access to mental health services.
In addition to EMCF being a "cesspool", the lawsuit also alleges that its prisoners are being severely underfed. "All inmates report significant weight loss since arriving at EMCF, from ten to 60 pounds," said physiatrist Terry A. Kupers, who studied the facility in 2011 on behalf of the ACLU. "From my direct observation it is clear that all the men are much thinner, almost emaciated, in comparison to old snapshots I viewed in their charts or on their identity cards showing them much heavier.
Subscribe to The Week
Escape your echo chamber. Get the facts behind the news, plus analysis from multiple perspectives.
SUBSCRIBE & SAVE
Sign up for The Week's Free Newsletters
From our morning news briefing to a weekly Good News Newsletter, get the best of The Week delivered directly to your inbox.
From our morning news briefing to a weekly Good News Newsletter, get the best of The Week delivered directly to your inbox.
For its part, while the ENCF acknowledges the prison has problems, it argues that it has been taking measures to improve conditions. "Do we still have issues? Sure. It's a prison. It's the nature of the business. But we do everything we can to make it better for the offenders and the employees," said then-Warden Frank Show in June.
Similar allegations are made against traditional government-funded prisons all the time. For instance, recently families of two inmates who allegedly died of heat stroke in a state-run Texas prison announced they are bringing a wrongful death lawsuit against the Texas Department of Criminal Justice (TDCJ).
The families of the deceased inmates allege that as many as 13 prisoners have died from heatstroke since 2007. "Like most other TDCJ units, the Gurney Unit inmate living areas are not air conditioned, and apparent indoor temperatures routinely exceed 100 degrees," the lawsuit states. "As the body can no longer cool itself, body systems fail. If there is no immediate intervention, extreme temperatures will cause death."
TDCJ spokesperson Jason Clark said the TDCJ "takes precautions to help reduce heat-related illness such as restricting activity during the hottest part of the day, providing water and ice in work and housing areas and training staff to identify and treat those with heat-related illnesses." Yet Clark acknowledges there are limitations to this strategy. "Many of TDCJ's facilities were built before the time that air conditioning was commonly installed," he explained. "Prisons built in the 1980s and '90s didn't include air conditioning because of the added construction, maintenance and utility costs... Retrofitting facilities with air conditioning would be extremely expensive."
The Atlantic's Andrew Cohen argues these and other recent controversies demonstrate the U.S. prison system is in the midst of "one of the darkest periods on record." But which are worse for inmates: private for-profit prisons or their state-run counterparts?
The answer is relatively simple. As bad as state-run prisons can be, private prisons ultimately pose a greater threat to inmates because of their raison d'être; they exist solely to make a profit off of incarcerated individuals.
Like pretty much all other for-profit enterprises, private prisons make money in part by cutting operating costs wherever possible. In most industries, this can be done by reducing employee hours or buying goods wholesale or any number of other strategies. But when it comes to housing inmates, cutting costs is done in a variety of troubling ways. In the case of the EMCF, the lawsuit alleges the facility offered inmates a Spartan diet, grossly reduced access to health care, and essentially eliminated mental health services — in a facility specifically for patients with mental illness.
Other ways private prisons cut costs are by understaffing guards and other prison employees, leading to increasingly dangerous conditions for both guards and inmates. An unfortunate example: The 2004 riot at the Crowley County Correctional Facility (operated by the for-profit Corrections Corporation of America) in Olney Springs, Colo. What started as a fight between two rival prison gangs quickly morphed into a prison-wide riot in which the inadequately staffed guards quickly lost control. After state law enforcement officials quelled the riot, the Colorado Department of Corrections issued a report blaming the riot on the private prison's high staff turnover rate and inadequate staffing.
But perhaps the greatest threat private prisons pose to inmates is their constant need for inmates. While overall crime — especially violent crime — has rapidly declined in recent years, the U.S. incarcerates more individuals than ever. This is great news for the private prison industry. With private prisons receiving upwards of $200 per inmate per night, the more beds occupied, the more revenue.
Of course, the private prison industry doesn't like to frame it this way. The Correctional Corporation of America — the largest private prison company in the country — claims its motivations are to rehabilitate prisoners, increase public safety, create jobs, and save taxpayers money. Nowhere do they mention that seeking profits for themselves and their shareholders is part of their business plan.
Where things get tricky is the majority of incarcerated individuals in U.S. prisons are non-violent offenders either serving drug sentences or having been arrested for their immigration statuses. While possession of illegal substances and an undocumented immigration status have long been illegal under U.S. law, the kinds of harsh sentences today's offenders receive are a relatively new phenomenon, tracing back to the anti-drug hysteria of the 1980s and the creation of programs such as the Department of Homeland Security's "Operation Streamline," which have both contributed to a 790 percent increase in prison sentences in the last three decades.
So far, the private prison industry has spent $45 million in lobbying to keep these kinds of harsh sentencing laws in place, reports the Associated Press. And the industry freely admits that without these laws, private prisons would no longer be profitable: "The demand for our facilities and services could be adversely affected by the relaxation of enforcement efforts, leniency in conviction or parole standards and sentencing practices or through the decriminalization of certain activities that are currently proscribed by our criminal laws," said a Corrections Corporation of America 2010 Annual Report. "Any changes with respect to drugs and controlled substances or illegal immigration could affect the number of persons arrested, convicted, and sentenced, thereby potentially reducing demand for correctional facilities to house them."
Few would argue the U.S. penal system operates efficiently and ethically 100 percent of the time. And while government-run prisons have more than their fair share of problems, private prisons are creating a whole new set of challenges.
Continue reading for free
We hope you're enjoying The Week's refreshingly open-minded journalism.
Subscribed to The Week? Register your account with the same email as your subscription.
Sign up to our 10 Things You Need to Know Today newsletter
A free daily digest of the biggest news stories of the day - and the best features from our website
Jen Kalaidis is a communications professional and freelance writer. She lives in New York City.