Inheritances, lottery winnings, lucrative sales: How to handle financial windfalls
Right after you come into a ton of cash might be the best time to take a break from making major money decisions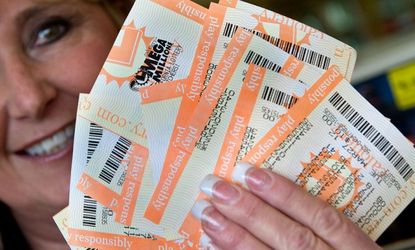 (Image credit: Cindy Yamanaka/ZUMA Press/Corbis)
Sign up to our 10 Things You Need to Know Today newsletter
A free daily digest of the biggest news stories of the day - and the best features from our website
Thank you for signing up to TheWeek. You will receive a verification email shortly.
There was a problem. Please refresh the page and try again.
The winner of the largest single-ticket jackpot has yet to step forward. The Powerball ticket, which was sold at a Publix supermarket near Tampa, Fla., for the May 18 drawing, is worth $590.5 million. If you have that ticket or something similar, you might want to read this story.
But a surprise payday isn't always a longshot. Windfalls can come from more mundane things like an inheritance, a legal settlement or a sale of a small business. "Most of the time an unexpected windfall is from a bonus that someone wasn't expecting or from their relatives doing smart estate planning," says Ellen Derrick, a CFP® with LearnVest Planning Services.
"A lot of emotions can be attached to this sudden wealth depending on where the money comes from," says Robert Pagliarini, a CFP® and president of Pacifica Wealth Advisors in Mission Viejo, Calif. About 70 percent of his practice is focused on clients who have been surprise recipients of large amounts of money. "You need to address the emotions first. Otherwise, you are going to make very bad financial decisions."
Subscribe to The Week
Escape your echo chamber. Get the facts behind the news, plus analysis from multiple perspectives.
SUBSCRIBE & SAVE
Sign up for The Week's Free Newsletters
From our morning news briefing to a weekly Good News Newsletter, get the best of The Week delivered directly to your inbox.
From our morning news briefing to a weekly Good News Newsletter, get the best of The Week delivered directly to your inbox.
Vast sums of money aren't a guarantee for the easy life. Lottery winners tend to file for bankruptcy at double the rate of the general population. A Sports Illustrated investigation found that 78 percent of NFL players file for bankruptcy or experience financial difficulties within two years of retirement. And 70 percent of families lost control of their assets in the first generation following wealth transfer, according to a 2010 survey of more than 2,000 rich families by The Williams Group, a wealth management firm.
If you are lucky enough to gain a windfall, here's how you keep it:
Put your money on pause
Receiving a large sum of money without warning is a stressful situation that can mess up a person's decision-making. "We humans have a cognitive decline when we are stressed. Receiving sudden money is stressful," says Susan Bradley, CFP® and executive director of the Sudden Money Institute, which helps financial advisers deal with clients in these situations.
The experience of a windfall jars the reptilian brain of recipients, says Bradley, who has a neuroscientist on staff at her institute. People typically react in four ways: They want to fight with family and advisers over the money, they want to flee the situation and not deal with their newfound wealth, they freeze by analyzing all the possibilities that the money brings, or they appease all the requests from others about how they should spend it.
These neurological reactions cause people with new money to behave inconsistently, overreact or focus on narrow concerns. For instance, Bradley worked with a recent lottery winner who was so worried that someone would sue her for millions because she owned a pitbull that she couldn't begin the financial planning process. "It's not like you can tell her to buy more liability insurance and move on," Bradley says.
Many people acquire wealth for legal settlements involving the death of a loved one. Pagliarini says often his clients in these cases treat the wealth as "tainted money" and spend it with abandon.
Stress, indecision, and financial recklessness are side effects for most sudden money recipients, regardless of their background. "It's not just lottery winners," Bradley says. "It's people like small business owners who have worked on their businesses for 20 years, sold them and don't know how to reinvent themselves."
Nevertheless, the lucky people with a surprising turn of good fortune don't need to make big money decisions quickly. They require space to figure out what they want first before they revise their financial plans, Bradley says. But it doesn't help that hordes of relatives, salespeople, and lackeys are banging on their doors with suggestions.
"Investment or insurance salespeople will become your new best friends and family members you never knew existed will come out of the woodwork," Derrick says. "Every nonprofit in your town suddenly wants to put you on their board of directors. You may be perfectly willing to invest, buy insurance, give money to family or friends, or donate to charity, but you need time to prioritize."
The newly rich should take a break from making major money decisions, Pagliarini says. That break can range from a couple of months to a year. The important thing is for the newness to wear off, so they can tackle financial planning with a clear head.
"When money changes, life changes," Bradley says. "My advice is to find someone to help manage the life change first, before you deal with the money changes."
Prioritize your wish list
From buying a winery to traveling the world, people have all sorts of things they want to do when they see big dollar signs. The key is to focus on the top three or five items on your wish list.
"If you go after everything on your wish list, that's how you go broke," Pagliarini says.
Bradley likes to divide goals into three buckets for her nouveau riche clients: Now, soon, and later. Many with new wealth have financial problems that need to be addressed immediately, but others can wait until the excitement of the lifestyle change has passed.
"It's about financial triage," Bradley says. People with windfalls should work with a financial planner to figure out what problems or opportunities require rapid action and which ones should be kicked down the road.
Build a moat
Though you may have enough new cash to build an actual moat, you should have a trusted adviser to act as a buffer between you and the legions that want a piece of your wealth.
Ultimately, it takes a team to handle a major fortune. You will need an accountant to help figure out your tax situation and an attorney to protect you from legal risks. "A windfall will make you a target for lawsuits," Pagliarini notes. He recommends a financial planner because a planner will "tell you how much you actually have and how much you can spend without running out of money."
Having a gatekeeper can shield you from all the unwanted requests for money.
Bradley recommends keeping most of the cash in safe investments, like short-term government securities, until life after the windfall settles down.
"The short-term interest rate doesn't matter as much as what you plan to do with your fortune over time," Bradley says. "You have the flexibility to wait for the right moment."
More from LearnVest...
Continue reading for free
We hope you're enjoying The Week's refreshingly open-minded journalism.
Subscribed to The Week? Register your account with the same email as your subscription.