For better or worse, ObamaCare is changing U.S. health care
The question we should ask, over and over, is whether a provision incentivizes the right behavior at the systemic level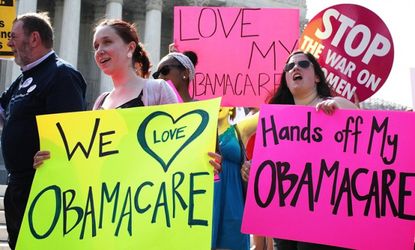 (Image credit: Alex Wong/Getty Images)
Sign up to our 10 Things You Need to Know Today newsletter
A free daily digest of the biggest news stories of the day - and the best features from our website
Thank you for signing up to TheWeek. You will receive a verification email shortly.
There was a problem. Please refresh the page and try again.
No single piece of legislation shines a light on liberal confidence in government the way ObamaCare does.
ObamaCare was sold as an overhaul that would insure 30 million poor people, lower the cost of health care for everyone else, help balance the budget, and not affect your own private plan one iota. Conservatives responded — often not so eloquently or all that thoughtfully — that immense governmental overhauls have unintended consequences, most of which are not welcome.
ObamaCare may yet turn out to be the splendid idea that the president and his supporters always claimed it was, but in recent days, weeks, and months, it has become very, very obvious that conservatives were right when they said the legislation would have unintended and unforeseen consequences. Indeed, for better or for worse, your health insurance — and therefore, your health care — will never be the same.
Subscribe to The Week
Escape your echo chamber. Get the facts behind the news, plus analysis from multiple perspectives.
SUBSCRIBE & SAVE
Sign up for The Week's Free Newsletters
From our morning news briefing to a weekly Good News Newsletter, get the best of The Week delivered directly to your inbox.
From our morning news briefing to a weekly Good News Newsletter, get the best of The Week delivered directly to your inbox.
Two recent articles, one from Monday's New York Times and one from last week's Wall Street Journal, explore this reality. The story in Monday's Times focuses on the fact that, despite repeated claims by the administration to the contrary, your private plan very well may change as a direct result of the health-care legislation, if you work for a company that offered you a high-coverage, low-cost plan as a perk of the job. For many good reasons and some not-so-good ones, ObamaCare targets high-end plans with a pretty hefty tax on the employer.
The idea behind the tax is to discourage health-care plans that do not force patients to spend time and energy dealing directly with the consequences of their health decisions. In a system with a third-party payer (if you have private insurance, then this is the insurance company), there are only so many ways the payer can force the consumer to deal more directly with said consequences without refusing coverage altogether. You can raise deductibles (with the higher deductible serving as a disincentive to seek care that is either unneeded or avoidable by say, going for a run a few times a week) or you can make receiving care for specific maladies contingent on the person taking steps to treat those maladies (forcing overweight individuals to enroll in weight management programs to receive certain kinds of care). This development — forcing consumers to be more accountable for their own health, is an important feature of any workable health-care reform measure because the only way to bring costs in line is to create better incentives for people to make good decisions about their health. But while it may be a sound idea, the poorly named Cadillac Tax is doing what the Obama administration and its allies promised that the health reform law would not do, which is affect the coverage many get from their private employers.
The Journal highlighted a different issue: Implementing the new law involved passing huge amounts of regulations about how insurers can operate. Well, some of those new regulations are being interpreted as applying only to small businesses that purchase coverage in newly created exchanges, which are basically online insurance shops for employers with up to 100 workers or individuals who cannot (or do not wish to) buy their coverage from provide providers. That would all be fine, but the insurance exchanges sell insurance products that cover all sorts of things that employers do not wish to cover and that employers have never had to cover before. Because they cannot customize what they provide (because every lobby in the country saw to it that their product or service was covered by the baseline insurance plan offered by the exchanges), employers are looking for a way to circumvent the exchanges without being penalized.
Enter the law of unintended consequences. Rather than pay more for these plans and without the option to customize, the Journal reports that the way the regulations were written has encouraged employers to purchase what amount to mini-insurance plans that cover extraordinarily basic care but do not cover the kinds of high value items like, say, X-rays or hospital visits, that would, at least conceptually, be the kinds of things that individuals most need to insure for. (The doctor's visit may be expensive, but it won't bankrupt you. Brain surgery, on the other hand...) In essence, as a direct result of ObamaCare, many low-wage earners will actually receive less coverage than they did before the law's onerous regulatory regime passed into law.
These are only two examples of a myriad of changes that the new law will implement. Some will be good, some will be bad. But both underscore what should be the central takeaway from any examination of America's preposterously convoluted and incredibly screwed up health-care "system." Whether we are talking about the insurance companies packaging the product, the hospitals and doctors providing the care, the businesses who often purchase the care, or the individuals using that care, incentives matter. The question we should ask, over and over, about this law as we learn about its individual provisions (we certainly did not during the debate) is whether x provision incentivizes the right behavior at the systemic level. It is a conversation that should have been had before the law was passed, but what is done is done. Now all of our jobs is to do the best we can with what the president and Democratic Congress hath wrought.
Continue reading for free
We hope you're enjoying The Week's refreshingly open-minded journalism.
Subscribed to The Week? Register your account with the same email as your subscription.