Learn Klingon in 6 steps
It's the only honorable thing to do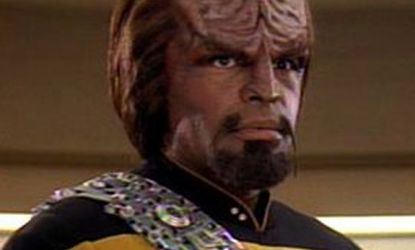 (Image credit: Wikimedia Commons: Collard)
Sign up to our 10 Things You Need to Know Today newsletter
A free daily digest of the biggest news stories of the day - and the best features from our website
Thank you for signing up to TheWeek. You will receive a verification email shortly.
There was a problem. Please refresh the page and try again.
Ha! So you think you have the fortitude to learn Klingon? Yes, yes, go on with your "clever" jokes about "geeks" "wasting time" in their "parents' basements" or whatever the weak and insecure do when they realize they do not have what it takes to master the language of Wil'yam Shex'pir. Do you know what the very first lines of the very first Star Trek movie were? It was back in 1979 and some of you may not have been born yet, so I will tell you. They were "wIy cha'! HaSta! cha yIghuS!" The subtitles read "Tactical… Visual… Tactical, stand by on torpedoes!" But much was lost in the translation.
They may have left us out of the last movie, but this week, the Klingons are back and more fearsome than ever. You can do the feeble, dishonorable thing and read the subtitles when we speak, or you can do the honorable thing and learn Klingon before you see the movie.
1. PRONUNCIATION
Subscribe to The Week
Escape your echo chamber. Get the facts behind the news, plus analysis from multiple perspectives.
SUBSCRIBE & SAVE
Sign up for The Week's Free Newsletters
From our morning news briefing to a weekly Good News Newsletter, get the best of The Week delivered directly to your inbox.
From our morning news briefing to a weekly Good News Newsletter, get the best of The Week delivered directly to your inbox.
This is the word for "no": ghobe'. Try it.
No, no, further back in the throat. The 'gh' should be almost like a gargle. And what is this "beeehhh"? Are you a sheep? The word ends with a glottal stop. The mark is there for a reason. Close the back of throat abruptly as soon as the vowel escapes — be'! Cut it off like a guillotine!
2. PRONUNCIATION, PART II
Shall we try "yes" instead? You people always want to be so positive for some reason. Ok, HIja'.
Again, you have a throat — use it! Don't let so much air through with that "H." Close the opening; make it noisy like the end of "yechhh!" That "I" is just like the vowel in "big," no need to get fancy, but, hey! Again, there's a glottal stop at the end. Don't forget to cut it off!
3. GREETINGS
Greetings? What do you think this is, French class? We don't do greetings in Klingon. If you feel the urge to say hello to someone, say nuqneH. It means, "What do you want?"
4. VOCABULARY
vaQ, to be aggressive; may'morgh, battle array; batlh, honor; 'uH, to have a hangover. That should cover most situations. If you need more look it up yourself! We have taken over the translator at Bing.
5. SENTENCE STRUCTURE
Hab SoSlI' Quch. This is a terrible insult meaning "your mother has a smooth forehead." Use with extreme caution. Word for word it translates as "smooth mother-your forehead." Possession, like most grammatical functions in Klingon, is indicated by a suffix (here, lI'). Hab is a verb, "to be smooth." The subject comes after the verb in Klingon.
6. WORD STRUCTURE
You could waste a lot of time going over each grammatical affix individually, but if you have what it takes, you can learn almost all of them through a single sentence. Many years ago the Klingon Language Institute held a contest to see who could construct the longest three-word sentence in Klingon, and this was the winner:
nobwI''a'pu'qoqvam'e' nuHegh'eghrupqa'moHlaHbe'law'lI'neS SeH'eghtaHghach'a'na'chajmo'.
"The so-called great benefactors are seemingly unable to cause us to prepare to resume honorable suicide (in progress) due to their definite great self-control."
The root words are nob (give), Hegh (kill), and SeH (control). The rest of it is prefixes and suffixes that add additional information: -wI' (-er), -'a' (augmentative), -pu' (plural), -qoq (so-called), -vam (these), -'e' (topic), nu- (third person plural subject, first person plural object), -'egh (self), -rup (ready), -qa' (resume), -moH (cause), -laH (can), -be' (not), -law' (apparently), -lI' (in progress), -neS (honorific), -taH (continue), -ghach (nominalizer), -na' (definite), chaj (their), -mo' (due to).
So, do you have what it takes? I didn't think so. Back to your subtitles then. Watch this until you've got it down.
Continue reading for free
We hope you're enjoying The Week's refreshingly open-minded journalism.
Subscribed to The Week? Register your account with the same email as your subscription.
Sign up to our 10 Things You Need to Know Today newsletter
A free daily digest of the biggest news stories of the day - and the best features from our website
Arika Okrent is editor-at-large at TheWeek.com and a frequent contributor to Mental Floss. She is the author of In the Land of Invented Languages, a history of the attempt to build a better language. She holds a doctorate in linguistics and a first-level certification in Klingon. Follow her on Twitter.