Spitballs, nail files, and other ways pitchers cheat
Steroids aren't the only banned substance in baseball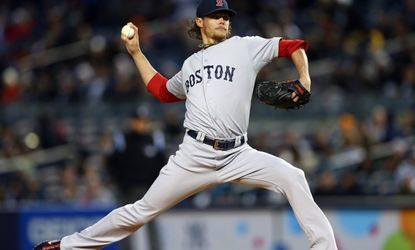 (Image credit: Elsa/Getty Images)
Red Sox pitcher Clay Buchholz came under fire this week for allegedly applying a foreign substance to baseballs to give them extra movement on their way to the plate.
Blue Jays announcers Dirk Hayhurst and Jack Morris, both of them former pitchers, first made that accusation Wednesday, after Buchholz stymied the Jays en route to a Boston win. Buchholz only pitched so well, they claimed, because he appeared to wipe an unidentified substance from his forearm onto baseballs throughout the night.
Though the jury is still out on whether Buchholz cheated — Buchholz claims the mysterious substance was rosin, which is legal — baseball players have used many methods and substances to doctor baseballs through the years.
Subscribe to The Week
Escape your echo chamber. Get the facts behind the news, plus analysis from multiple perspectives.
SUBSCRIBE & SAVE
Sign up for The Week's Free Newsletters
From our morning news briefing to a weekly Good News Newsletter, get the best of The Week delivered directly to your inbox.
From our morning news briefing to a weekly Good News Newsletter, get the best of The Week delivered directly to your inbox.
Here, a brief look at some of the most common ways players have artificially improved their pitches.
Spitballs
Yes, the spitball is a real type of pitch. But despite what the name suggests, it does not necessarily involve saliva, but rather any slippery substance that is applied to the baseball. The added lubrication makes the ball slide off a pitcher's fingers, causing it to move more erratically on its way to the plate like a "mini-knuckleball."
Players have used all sorts of slippery goos to achieve this end, from spit and sweat to more unconventional additives like shaving cream, sunblock, mud, and plain old grease. Such pitches were actually quite common in pro baseball until 1920, when the majors banned them entirely after an errant spitball struck Indians shortstop Ray Chapman in the head, killing him.
Though it's believed some pitchers still sneak in a spitball now and again, they're rarely caught in the act. One noteworthy exception came in 1999, when Diamondbacks hurler Byung-Hyun Kim was ejected after a bandage containing "heat balm" fell out of his shirt.
Emery ball
While adding a substance to a ball works just fine, other pitchers have sought an edge by removing part of the ball itself. Enter the emery board, or nail file, a tool so devious baseball players named a pitch after it.
Invented over a century ago, the pitch involves scuffing the ball's surface to help it dramatically change course mid-air, making it much more difficult to hit. You can see that phenomenon in action with whiffle balls here.
Though less common nowadays, the emery board led to one of baseball's most memorable ejections. In 1987, umpires asked Twins pitcher Joe Niekro to spill the contents of his pockets after he threw a few pitches that seemed to defy physics. Niekro complied, sort of, by trying to quietly toss away a nail file he'd hidden in his back pocket.
"The guy was so blatant," an umpire said after the game. "It was like a guy walking down the street carrying a bottle of booze during Prohibition."
Sandpaper
Sandpaper acts in much the same way as an emery board, as it mars a ball's surface to induce unconventional flight patterns. Former Tigers pitcher Brian Moehler once brazenly stuck sandpaper on his thumb during a game which, when found, immediately resulted in his ejection. "He was like a kid with his hand in the cookie jar," the home plate umpire said of the ejection.
And Niekro, he of emery board fame, was also found to have a piece of sandpaper when umps searched him during that infamous game.
Thumbtacks
When sandpaper is in short supply, why not try a household tack? That's what Mariners pitcher Rick Honeycutt tried in 1980, as he used a thumbtack taped to his finger to cut the ball. An opposing player eventually spotted the tack and Honeycutt was ejected — but not before gashing his own forehead with an errant swipe of his hand.
Pine tar
On the opposite end of the spectrum from the spitball, pitchers will sometimes use pine tar to get a firmer grip on the ball. Though it's unclear if pine tar adds anything to a pitch, its use is still banned, as is the use of any "foreign substance" on baseballs.
Pine tar is, however, permitted for use on bats, which explains why more pitchers have been flagged for that substance than any other. A prime example of this is Rays pitcher Joel Peralta, who last year was ejected from a game when umpires found a "significant amount" of pine tar on the heel of his glove. Peralta's said he didn't not intentionally wipe pine tar on the glove, and that it must have gotten on there because he uses the glove for batting practice.

Continue reading for free
We hope you're enjoying The Week's refreshingly open-minded journalism.
Subscribed to The Week? Register your account with the same email as your subscription.