10 things you need to know today: April 21, 2013
The death toll from a strong earthquake in China rises, Twitter unveils a new music service, and more in our roundup of stories that are making news and driving opinion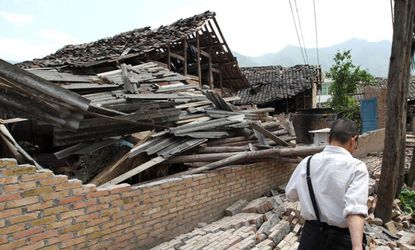 (Image credit: Getty Images)
1. TASK FORCE PREPARES INVESTIGATION INTO TSARNAEVS' MOTIVES
Investigators are vigorously questioning Tamerlan and Dzhokhar Tsarnaev's motives, particularly the significance of an overseas trip that Tamerlan took last year. Federal investigators are hurrying to review a visit that Tamerlan, the older and now-deceased brother, made to Chechnya and Dagestan, predominantly Muslim republics in the north Caucasus region of Russia, for six months in 2012. Both regions have active militant separatist movements, and analysts said that the sojourn might have marked a crucial step in his alleged path toward the bombings. While Dzhokhar became a naturalized American citizen last year, Tamerlan was still seeking citizenship. Their father, Anzor, said Tamerlan had made last year's trip to renew his Russian passport. Dzhokhar Tsarnaev is in custody, but was still too wounded to speak on Saturday, said Gov. Deval Patrick of Massachusetts. According to reports, the younger suspect returned to UMass Dartmouth after the bombings and carried on as usual, including attending campus parties. [New York Times, CNN]
………………………………………………………………………………
Subscribe to The Week
Escape your echo chamber. Get the facts behind the news, plus analysis from multiple perspectives.
SUBSCRIBE & SAVE
Sign up for The Week's Free Newsletters
From our morning news briefing to a weekly Good News Newsletter, get the best of The Week delivered directly to your inbox.
From our morning news briefing to a weekly Good News Newsletter, get the best of The Week delivered directly to your inbox.
2. DEATH TOLL RISES AFTER CHINA EARTHQUAKE
A 6.6-magnitude earthquake struck the southwestern Chinese province of Sichuan on Saturday, killing at least 162 people and injuring about 6,700 others. Xu Mengjia, the Communist Party chief of Ya'an, the city that administers the area where the quake struck, told state broadcaster CCTV that because of landslides and disruption to communications, determining the total number of casualties may take some time. The quake struck just after 8 a.m. local time Saturday, about 115 kilometers (70 miles) away from the provincial capital, Chengdu, and was followed by a series of aftershocks, some of them as strong as magnitude 5.1, the USGS said. The event stirred memories of the devastating earthquake that hit Sichuan in 2008, killing more than 87,000 people. [CNN]
………………………………………………………………………………
3. KERRY ANNOUNCES $123 MILLION AID PACKAGE TO SYRIAN REBELS
Secretary of State John Kerry announced Sunday morning that the U.S. will double its aid to the Syrian opposition, providing $123 million in fresh assistance. Kerry's announcement came at an Istanbul meeting with foreign ministers from 10 other Western and Middle Eastern nations. A portion of the new American aid, officials said, will be used to provide additional "nonlethal" supplies to the military wing of the National Coalition of Syrian Revolutionary and Opposition Forces, an umbrella organization formed in November to unite the various rebel groups that have been trying to overthrow President Bashar al-Assad for two years. These items may include supplies like body armor and night-vision goggles. [New York Times]
………………………………………………………………………………
4. GUNFIRE DISRUPTS DENVER MARIJUANA CELEBRATION
Gunfire erupted at a Denver pot celebration Saturday, injuring two people and scattering a crowd of thousands at a downtown park after they had just marked the first 4/20 counterculture holiday since the state legalized marijuana. The man and woman who were shot were expected to survive, and police were looking for one or two suspects, said Denver Police spokesman Sonny Jackson. The annual pot celebration was expected to draw as many as 80,000 people after recent laws in Colorado and Washington made marijuana legal for recreational use. [Huffington Post]
………………………………………………………………………………
5. BOSTON MAYOR BELIEVES TSARNAEVS ACTED ALONE
Boston Mayor Tom Menino says information he has indicates that the suspects in the Boston Marathon bombing acted alone. Menino told This Week Sunday morning that he agreed with the decision to lock down Boston all day Friday, based on information officials had at the time. He also told This Week that a pipe bomb was found at another location and that another person was taken into custody, but did not elaborate. [ABC News]
………………………………………………………………………………
6. LONDON MARATHON HAS MOMENT OF SILENCE FOR BOSTON BOMBING VICTIMS
The London Marathon held a 30-second silence before the race on Sunday morning to honor the victims of the Boston Marathon bombings. Thousands lined the streets to see the runners set off, many wearing black ribbons on their vests. London had hundreds of extra police officers, and 40 percent more than last year, to reassure runners and spectators; about half a million people were expected to watch the race. Ethiopian Tsegaye Kebede won the men's race, chasing down Kenya's Emmanuel Mutai in the closing stages to cross the line first in front of Buckingham Palace. Kebede also wore a black ribbon in honor of the Boston victims, like most competitors. [BBC, ESPN]
………………………………………………………………………………
7. RESIDENTS OF TEXAS TOWN RETURN HOME AFTER FERTILIZER EXPLOSION
Officials began allowing some residents to return to their homes on Saturday for their first look at the damage from a deadly blast at a Texas fertilizer plant. Authorities set strict rules for those being allowed back inside the evacuated area, including a 7 p.m. curfew for those who chose to stay overnight. "If they want to stay, it's at their own risk," said Steve Vanek, a West City Council member, who warned of broken nails and glass as potential hazards and a limited access to water and electricity. The announcement came on a day when officials released few new details about the explosion on Wednesday night that flattened sections of this central Texas town. The death toll remains at 14. [Reuters]
………………………………………………………………………………
8. AVALANCHE KILLS FIVE SNOWBOARDERS IN COLORADO
Five snowboarders were killed Saturday afternoon in a backcountry avalanche on Colorado's Loveland Pass, located about 60 miles from Denver. Clear Creek County Sheriff Don Krueger said in a statement that six snowboarders were caught in the slide. The condition of the lone survivor was not released, and it was unclear if the victims were still buried. Saturday's deaths bring the total number of avalanche fatalities in the state to 11 this year, according to the Colorado Avalanche Information Center. Spencer Logan, forecaster for the center in Boulder, said there have been weak layers in Colorado's snowpack since early January. [NBC News]
………………………………………………………………………………
9. TWITTER INTRODUCES NEW MUSIC SERVICE
Twitter unveiled a new music app on Saturday. The app is a music discovery service that helps users find new music based on what's popular, what their friends are listening to, and what's trending on Twitter. The songs themselves are supplied by Rdio, Spotify and iTunes, and Rdio and Spotify subscribers can link their services and play full tracks and playlists from the Twitter Music app. Twitter Music is currently available in the U.S., Canada, the U.K., Ireland, Australia and New Zealand, as well as on an iOS app and the Web. [Wired]
………………………………………………………………………………
10. AUTHOR E.L. KONIGSBURG DIES
E.L. Konigsburg, acclaimed author of many books, including From The Mixed-Up Files of Mrs. Basil E. Frankweiler and The View From Saturday, died Saturday at the age of 83. Konigsburg won the Newbery Award for children's literature in 1968 for From The Mixed-Up Files, and she won it again in 1997 for The View From Saturday. [Entertainment Weekly]

Continue reading for free
We hope you're enjoying The Week's refreshingly open-minded journalism.
Subscribed to The Week? Register your account with the same email as your subscription.