Everything you need to know about the Bitcoin boom
Could digital coins be the currency of the future?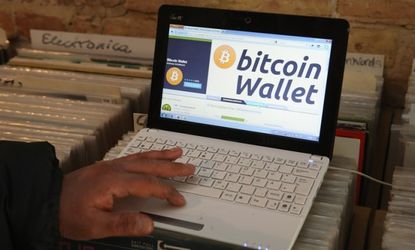 (Image credit: Sean Gallup/Getty Images)
Sign up to our 10 Things You Need to Know Today newsletter
A free daily digest of the biggest news stories of the day - and the best features from our website
Thank you for signing up to TheWeek. You will receive a verification email shortly.
There was a problem. Please refresh the page and try again.
What are Bitcoins?
They're a virtual currency invented in 2009 by a mysterious hacker who adopted the pseudonym Satoshi Nakamoto. Angered by the 2008 financial crash, Nakamoto wanted to create a currency that would be independent of government, so that a person's money could be secure from the machinations of politicians and bankers. The Bitcoins themselves are all bit and no coin — there's nothing solid to hold in your hand, just a series of letters and numbers that you keep in a virtual "wallet." Once you have them, you can exchange them online for actual goods — for falafel from Hell's Kitchen, or a hotel room in California — by going onto a website and typing in the online Bitcoin address of the recipient. Unlike U.S. dollars, euros, or other established currencies, Bitcoins are backed by no government or central bank. With Bitcoins, the transactions are purely peer-to-peer, but the movement of every single Bitcoin is tracked and publicly recorded to avoid fraud and counterfeiting.
How do I get one?
Subscribe to The Week
Escape your echo chamber. Get the facts behind the news, plus analysis from multiple perspectives.
SUBSCRIBE & SAVE
Sign up for The Week's Free Newsletters
From our morning news briefing to a weekly Good News Newsletter, get the best of The Week delivered directly to your inbox.
From our morning news briefing to a weekly Good News Newsletter, get the best of The Week delivered directly to your inbox.
It's not easy. You can "mine" them by using highly sophisticated computers to compete against others to solve complex math problems and win the Bitcoins, released every 10 minutes in a sort of lottery. So far, around 11 million have been mined, and the lottery will stop when 21 million Bitcoins have been generated. A much simpler way to get your hands on a Bitcoin is to just buy one from someone who already has them — usually on a currency exchange website that allows you to swap dollars for Bitcoins. Then when you want to spend the Bitcoin, you send the agreed-on amount to the recipient's online "wallet,'' and off it goes.
Why the sudden interest in this currency?
Two reasons. One is that Bitcoins' value has been soaring because of what many financial experts think is an unsustainable bubble. You used to be able to buy a Bitcoin for less than a cent, but last week they briefly traded at $266 each, before plunging to $55, and seesawing back and forth in the $100 range. The currency as a whole is now valued at between $1 billion and $2 billion, making Bitcoins worth more than the currency stock of 20 separate countries, including the Seychelles, Liberia, and Gambia. That's led some to argue that Bitcoins could be a serious force in the currency market. The soaring value is tied to the second reason for Bitcoins' popularity: They tap into a growing distrust of governments and the global financial system, serving as a kind of utopian currency for young, digitally sophisticated anarchists, libertarian capitalists, and criminals who want untraceable financial transactions. It's no coincidence that Bitcoins' price rose abruptly in March at exactly the same time that the Cypriot government announced that, as part of an EU bailout, it would take money out of savers' deposits. "Cyprus fueled the fire of what people have felt since the financial crisis and the housing bust," said Alan Safahi, a founder of a cash payment processor for Bitcoins. "Mistrust of government, mistrust of banking. It's enough to drive people away from fiat currency."
But how stable is the Bitcoin?
It's not. In fact, some critics are calling Bitcoins the digital equivalent of a Ponzi scheme. Bitcoins' value plummeted 77 percent in just two days last week, due to technical problems with a Bitcoin exchange server, and it has experienced similar crashes in the past when servers or virtual wallets have been hacked. That volatility limits Bitcoins' appeal: How can people depend on a currency whose value can halve from one day to the next? There are also deeper problems over its legality. It's only a matter of time before U.S. officials address two major issues: First, the fact that the Bitcoin effectively competes with the U.S. dollar, thereby violating federal law. Second, that because Bitcoin transactions are anonymous, criminals are spending an estimated $2 million worth of Bitcoins a month on the black market website Silk Road — allowing users to buy and sell heroin, LSD, and other drugs without their purchases being traced. Money launderers have also gotten into the act. At some point, federal law enforcement agencies may try to shut the whole thing down.
So what does the future hold?
Most financial analysts argue that it's best to view Bitcoins as a commodity to gamble on, like pork bellies or wheat futures, not as a serious currency. Investors seem to think the same — which is why so many hoard their Bitcoins rather than choosing to spend them on pizza or iPhones, hoping that they'll be able to take advantage of the wild price swings. At some point, though, that hoarding could render the whole currency meaningless, prompting a serious crash. So, like any speculative investment, people should invest in Bitcoins only what they can afford to lose. "It's a bit like the gold rush in California," said one currency analyst. "Everyone is rushing into it and everyone is overexcited. But that makes it very risky. It should come with significant warnings of buyer beware."
Who is Satoshi Nakamoto?
The elusive computer coder and Bitcoin inventor claims to be a 36-year-old Japanese man, yet in 2009 and 2010 he published hundreds of blog posts written in flawless English and packed full of Britishisms and British spellings. Before the invention of Bitcoin, there was no record of any coder called Satoshi Nakamoto, and the email address and website connected to his name were untraceable. He corresponded with other coders throughout Bitcoin's development, never revealing a single personal detail. Then, in 2011, he wrote that he had "moved on to other things," and has not been heard from since. Some have speculated that Nakamoto's real identity may be Michael Clear, a 20-something Irish cryptography grad student with experience in both currency-trading and peer-to-peer technology. Clear has denied this, but in an extremely evasive way. "I'm not Satoshi," he said. "But even if I was I wouldn't tell you."