10 things you need to know today: April 17, 2013
Investigators hunt for Boston suspects, Margaret Thatcher is laid to rest, and more in our roundup of the stories that are making news and driving opinion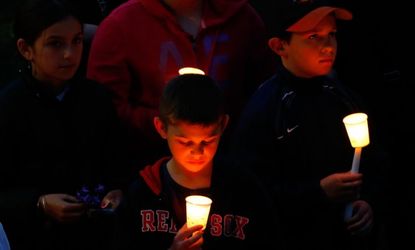 (Image credit: Jared Wickerham/Getty Images)
1. HUNT FOR BOSTON MARATHON BOMBING SUSPECTS NARROWS
Investigators are narrowing their search Wednesday for suspects in the Boston Marathon bombings, which killed three people and wounded 176 others at the finish line of the storied road race on Monday. Based on information gathered Tuesday at or near the scene, the focus is now on a suspect or suspects who may have been seen carrying heavy black bags or backpacks. The bags apparently contained bombs packed with nails, ball bearings, other metal objects, built to maim as many people as possible and timed to go off seconds apart. Terrorism experts say the design is one preferred by al Qaeda, although no group or individuals have claimed responsibility for the attack. Investigators are looking at a "range of suspects and motives." [Reuters, Washington Post, NBC News]
………………………………………………………………………………
Subscribe to The Week
Escape your echo chamber. Get the facts behind the news, plus analysis from multiple perspectives.
SUBSCRIBE & SAVE
Sign up for The Week's Free Newsletters
From our morning news briefing to a weekly Good News Newsletter, get the best of The Week delivered directly to your inbox.
From our morning news briefing to a weekly Good News Newsletter, get the best of The Week delivered directly to your inbox.
2. RICIN DETECTED ON LETTER ADDRESSED TO SENATOR
Preliminary testing of a suspicious letter sent to the Washington office of Sen. Roger Wicker (R-Miss.) showed signs of ricin, a toxic substance. The envelope never reached Wicker's office. It was intercepted at a Senate mail facility in Maryland when someone spotted a white granular substance on the envelope and notified Capitol police. The FBI could not determine definitively that the letter was laced with ricin, so agents have sent it to a lab where further tests are underway. Investigators did not say what message, if any, was found in the envelope, which was postmarked in Memphis, Tenn., in the first week of April. [Politico]
………………………………………………………………………………
3. CROWDS WATCH THATCHER FUNERAL PROCESSION
Crowds lined London streets on Wednesday, watching in silence as a carriage carrying Baroness Margaret Thatcher's coffin made its way to St. Paul's Cathedral for her ceremonial funeral. Queen Elizabeth and other dignitaries — 2,300 people in all, from 170 countries — will attend the service. Four thousand police and 800 soldiers were posted on the procession route and around the city. There were few signs of protests — a few hundred people turned their backs as the procession passed — despite bitterly divided opinions over Thatcher's legacy in three terms as prime minister from 1979 to 1990. Thatcher, the U.K.'s first and only woman prime minister, died April 8 from a stroke at age 87. [BBC News, Bloomberg]
………………………………………………………………………………
4. BOSTON MARATHON VICTIMS HONORED IN VIGILS
Hundreds of people gathered Tuesday night for vigils in Boston honoring the victims of the Boston Marathon bomb blasts, which killed three people and wounded more than 170 more. Seventeen of the injured remained in critical condition early Wednesday, and many of the wounded lost limbs. The dead included Martin Richard, an 8-year-old boy there with his family to watch runners finish the race; Krystle Campbell, 29, whose father described her as a "dream daughter"; and Lu Lingzi, a Chinese national who was a graduate student at Boston University. [FoxNews.com, New York Daily News]
………………………………………………………………………………
5. MARK SANFORD'S EX-WIFE ACCUSES HIM OF TRESPASSING
Former South Carolina governor Mark Sanford's ex-wife, Jenny Sanford, confirmed Tuesday that she had accused him of trespassing at her home in violation of their divorce settlement. A court hearing on the complaint is scheduled for two days after Mark Sanford, a Republican, faces Democrat Elizabeth Colbert Busch in a special election for an open congressional seat. According to the complaint, Jenny Sanford caught her ex-husband, who left office tainted by an extra-marital affair, leaving her home on Feb. 3 by a back door. She said he was using his cell phone as a flashlight. [Associated Press]
………………………………………………………………………………
6. WIFE, DAUGHTERS DIE TRYING TO RESCUE MAN COMMITTING SUICIDE
Police in Quakertown, Pa., say a family of four died Tuesday in a suicide that triggered a deadly rescue attempt. Bucks County District Attorney David Heckler said Tuesday night that a man, Gary Reitnauer, had an argument with his wife, then went into the garage of an adjacent house on the family's property, closed the door, and started the car. His wife, Michelle, tried to rescue him, but succumbed to carbon monoxide fumes in the garage. His daughters — one 16, the other 10 — tried to get into the garage through the kitchen, and were overcome by the fumes there. [USA Today]
………………………………………………………………………………
7. POST-ELECTION VIOLENCE KILLS SEVEN IN VENEZUELA
At least seven people have been killed and 61 injured in post-election violence across Venezuela, the South American nation's top prosecutor said Tuesday. Protests erupted after Nicolas Maduro was declared the winner of Sunday's close vote to replace his mentor Hugo Chavez, who died in March two months into a new six-year term. Maduro's rival, opposition candidate Henrique Capriles Radonski, refused to concede and demanded a recount, claiming fraud. Supporters of both candidates have taken to the streets, and Maduro and Capriles blamed each other for the clashes. Maduro also accused the U.S. of inciting the violence. [CNN]
………………………………………………………………………………
8. THINK TANK CALLS POST-9/11 INTERROGATIONS TORTURE
The U.S. government used torture and other illegal interrogation tactics to get information from suspects in the wake of the Sept. 11, 2001, attacks, according to a report released Tuesday by the Constitution Project, a nonpartisan think tank. The group says it's "indisputable" that the U.S., during the administration of George W. Bush, used torture "in many instances and across a wide range of theaters," and top officials "bear ultimate responsibility." The government has denied that any authorized harsh interrogation techniques qualified as torture. [Christian Science Monitor]
………………………………………………………………………………
9. COMPUTER GLITCH TEMPORARILY HALTS AMERICAN AIRLINES FLIGHTS
American Airlines grounded all of its flights across the U.S. for several hours on Tuesday afternoon due to a computer glitch in its reservation system. More than 400 flights were scratched before the carrier was able to start ramping up operations again. American carries 275,000 passengers and handles 239,000-plus reservation calls daily. CEO Tom Horton apologized to customers, blaming the inconvenience on "a software issue impacting both primary and backup systems." The company is seeking court approval to exit bankruptcy, and plans to merge with US Airways. [CNN]
………………………………………………………………………………
10. NFL BROADCASTER PAT SUMMERALL DIES
Veteran football broadcaster Pat Summerall died Tuesday in Dallas. He was 82. Summerall first gained fame in the NFL as a placekicker for the New York Giants in an era that included three Super Bowl appearances, the first in 1958. Summerall later teamed up with John Madden, a former coach, for 21 years doing network TV play-by-play. He was known for his calm, understated style. "When you listen to Pat, it's comfortable," Madden once said. "It's a big game, you're bringing a gentleman into your house." [New York Times]

Continue reading for free
We hope you're enjoying The Week's refreshingly open-minded journalism.
Subscribed to The Week? Register your account with the same email as your subscription.