10 things you need to know today: April 12, 2013
Kerry tries to reassure South Korea, Obama approves aid for Syrian opposition, and more in our roundup of the stories that are making news and driving opinion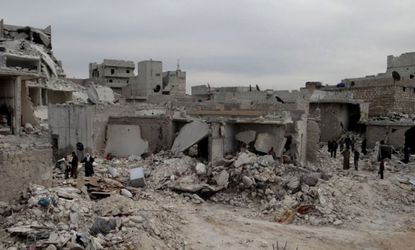 (Image credit: AP Photo/Aleppo Media Center, AMC)
1. KERRY TRIES TO REASSURE SOUTH KOREA
Secretary of State John Kerry is visiting South Korea Friday on a trip aiming to reassure American allies in Asia that the U.S. will help defend them if North Korea starts a war. Kerry's six-day tour, which will include stops in China and Japan, began a day after a Pentagon intelligence assessment suggested that Pyongyang might have developed a nuclear warhead small enough to put on a missile. Other officials quickly downplayed the assessment, saying there was no evidence that North Korea had made the technological leaps necessary to miniaturize a nuclear warhead. [New York Times, Reuters]
………………………………………………………………………………
Subscribe to The Week
Escape your echo chamber. Get the facts behind the news, plus analysis from multiple perspectives.
SUBSCRIBE & SAVE
Sign up for The Week's Free Newsletters
From our morning news briefing to a weekly Good News Newsletter, get the best of The Week delivered directly to your inbox.
From our morning news briefing to a weekly Good News Newsletter, get the best of The Week delivered directly to your inbox.
2. EXPLOSIVES FOUND IN PACKAGE ADDRESSED TO ARIZONA SHERIFF
Arizona authorities on Thursday intercepted a package containing explosives that was addressed to controversial Maricopa County Sheriff Joe Arpaio. U.S. Postal Inspector Andrew Rivas in Flagstaff spotted the suspicious package, evacuated his post office, and alerted the FBI and a bomb squad. Arpaio is best-known for his hard-line policies against illegal immigration. His critics have accused him of human-rights violations and bogus, politically motivated investigations against his critics and opponents. [CNN]
………………………………………………………………………………
3. OBAMA APPROVES $10 MILLION IN FOOD AND MEDICAL AID TO SYRIAN OPPOSITION
The White House announced Thursday that President Obama has decided to send Syrian rebels $10 million in non-military aid, including food and medical kits. The aid is on top of $60 million in assistance that Secretary of State John Kerry announced in Rome in February. The U.S. has also allocated $385 million in humanitarian aid for Syrians and refugees displaced by the country's civil war. Obama said the opposition's fight against Syrian President Bashar al-Assad had reached a "critical juncture," and White House spokesman Jay Carney said the U.S. has been doing what it can to help the rebels and is "steadily increasing that assistance to help the opposition become stronger, more cohesive and more organized." [Bloomberg]
………………………………………………………………………………
4. KOREAN WAR ARMY CHAPLAIN RECEIVES POSTHUMOUS MEDAL OF HONOR
Capt. Emil Kapaun, a Catholic Army chaplain who died nearly 62 years ago as a prisoner of war, was posthumously awarded a Medal of Honor on Thursday for his heroism during combat in the Korean War. Kapaun, armed only with a Bible, "calmly walked through withering enemy fire" to provide medical aid and minister to the wounded, the citation said. He also stopped a Chinese soldier from executing a wounded soldier, Sgt. First Class Herbert A. Miller, now 86, who attended the White House ceremony with other veterans. "This is the valor we honor today," Mr. Obama said. "An American soldier who didn't fire a gun, but who wielded the mightiest weapon of all, a love for his brothers so pure that he was willing to die so that they might live." [New York Times]
………………………………………………………………………………
5. CHARTER BUS ACCIDENT KILLS TWO
Two people were killed and dozens injured Thursday when a chartered bus overturned near Dallas. The bus was taking passengers to an Oklahoma casino when it went off the right side of the road, struck a barrier, swerved across two lanes of traffic, and slid along a concrete median before toppling on its side. "People were on top of people, screaming, hollering, yelling for help," said passenger Daniel Risik, 73, of Fort Worth. The driver survived. The National Transportation Safety Board has sent an investigation team to figure out what caused the wreck. [CNN]
………………………………………………………………………………
6. STORM, TORNADO LEAVES MIDWEST AND SLAMS THE SOUTH
A fierce storm barreled through the South on Thursday and early Friday after ravaging parts of the Midwest a day earlier. A tornado killed one person and injured at least five in Kemper County, Miss., the Mississippi Emergency Management Agency reported. A tornado also destroyed some mobile homes, uprooted trees, and overturned an 18-wheel truck in Noxubee County, Miss. Gov. Phil Bryant declared states of emergency in both counties. Another twister downed trees and knocked out power in Slidell, La. The storm system headed east into Georgia early Thursday. [ABC News]
………………………………………………………………………………
7. TEENS FACE RAPE CHARGES LINKED TO GIRL'S SUICIDE
After a seven-month investigation, police in Saratoga, Calif., arrested three teenage boys on Thursday and charged them with sexually assaulting a 15-year-old girl, Audrie Pott, who hanged herself eight days after the attack. The victim was intoxicated and unconscious during the alleged rape, but students at her high school used cell phones to share photos of what happened and the images "spread like wildfire," said Robert Allard, the family's attorney. "Poor Audrie was terrorized by cyberbullying," Allard said. Pott committed suicide after posting on Facebook that her life was ruined and she had just experienced "the worst day ever." [Mercury News, CBS News]
………………………………………………………………………………
8. FORMER KPMG PARTNER FACES INSIDER TRADING CHARGES
Federal authorities filed insider trading charges Thursday against Scott London, a former partner at accounting firm KPMG who was fired for allegedly giving a friend confidential information about five clients, including Herbalife and Skechers. Investigators say London, who personally oversaw audits for Herbalife and Skechers, tipped off close friend Bryan Shaw several days before the information was made public, in exchange for tens of thousands of dollars and valuable gifts, including a Rolex watch and Bruce Springsteen concert tickets. Shaw, who was also charged, allegedly made more than $1.27 million over several years on stock trades ahead of earnings or merger announcements. [USA Today]
………………………………………………………………………………
9. GAY MARRIAGE CLEARS LAST BIG HURDLE IN FRANCE
The upper house of France's parliament voted to allow same-sex marriage on Friday, clearing the way for the law to take effect by mid-year. Hundreds of thousands of demonstrators have rallied both for and against the measure, which is opposed by social conservatives but was one of socialist President Francois Hollande's key campaign promises. The gay-marriage law now faces only a May final approval vote in the lower house, where Hollande's ruling Socialists have an absolute majority. France will join 11 other countries where same-sex marriage is permitted. [Reuters]
………………………………………………………………………………
10. WHITE HOUSE SAYS IT HAD NOTHING TO DO WITH JAY-Z'S CUBA TRIP
The White House has jumped into the controversy over the recent trip to Havana by musical power couple Jay-Z and Beyonce. After two Cuban-American lawmakers questioned whether the trip violated laws restricting travel to communist Cuba, the Treasury Department confirmed that it had approved the trip as an educational exchange. On Thursday, Jay-Z released "Open Letter," a rap song in which he says, he's being threatened with "jail time and a fine," but, "Boy from the hood got White House clearance." White House spokesman Jay Carney said nobody at the White House, from President Obama down, had anything to do with clearing the trip. "I guess nothing rhymes with Treasury," he joked. [USA Today]

Continue reading for free
We hope you're enjoying The Week's refreshingly open-minded journalism.
Subscribed to The Week? Register your account with the same email as your subscription.