Why I like guns but hate the NRA
The gun-rights lobby shamelessly continues to peddle piles and piles of big fat lies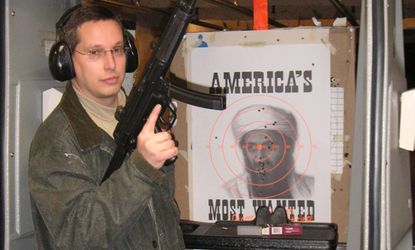 (Image credit: Courtesy of Paul Brandus)
As someone who supports the Second Amendment — and enjoys shooting firearms — I was struck by something President Obama said at Monday's Connecticut event on reducing gun violence. He spoke of how the National Rifle Association and its lapdogs in Congress have turned guns into a wedge issue to divide Americans, and make us think we have to choose between the Constitution and public safety.
"Surely, we can reconcile those two things," the president said. "Surely, America doesn't have to be divided between rural and urban, and Democrat and Republican when it comes to something like this."
But is America really divided? Obama also mentioned overwhelming majorities of Americans who support background checks before all gun purchases — including large majorities of Republicans and large majorities of NRA members. Consider these surveys:
Subscribe to The Week
Escape your echo chamber. Get the facts behind the news, plus analysis from multiple perspectives.
SUBSCRIBE & SAVE
Sign up for The Week's Free Newsletters
From our morning news briefing to a weekly Good News Newsletter, get the best of The Week delivered directly to your inbox.
From our morning news briefing to a weekly Good News Newsletter, get the best of The Week delivered directly to your inbox.
* Pew Research Center poll, January: 85 percent of gun owners support making private gun sales and sales at gun shows subject to background checks.
* Fox News survey, March: "85 percent of voters favor requiring checks on all gun buyers, including at gun shows and private sales. That includes most Democrats (90 percent), Republicans (83 percent), and independents (82 percent), as well as most of those living in a gun-owner household (81 percent)."
* CBS/New York Times poll, January: 85 percent of respondents living in a household with an NRA member support universal background checks.
Folks eager (or desperate) to support their view can, uh, shoot down any one poll and claim it's flawed in some way. But when a series of reputable surveys show the very same thing — vast majorities of gun owners and vast majorities of NRA members support expanded background checks — there's no room for denial.
I wonder why these huge majorities of NRA members are even members to begin with, since their opinion is completely dismissed and disrespected by the NRA's leaders. That's why I would never be a member of the NRA, incidentally.
But dissing the wishes of its own members pales in comparison to the flat-out lies that the NRA is feeding fellow gun-rights supporters. Perhaps the biggest falsehood is that "the government" is plotting to take your guns away. Never mind that "the government" consists of three separate but equal branches, only one of which is controlled by President Obama. (The other two for those of you who skipped Government 101, are Congress and the Supreme Court, which upheld gun ownership as recently as 2008 with its landmark Heller v. District of Columbia ruling). What is Obama's secret plan, according to the NRA and its congressional fearmongers? In an email to supporters earlier this year, Jesse Benton, a campaign aide to Senate Minority Leader Mitch McConnell, described it as
The real brazenness here is Benton's audacity in making such a claim. What, specifically, has Obama proposed? Extending the Brady rule on background checks (supported by Ronald Reagan) to all firearm sales, "with limited, common-sense exceptions for cases like certain transfers between family members and temporary transfers for hunting and sporting purposes." Where's the part about "taking your gun?" I can't seem to find it.
In fact, an appropriations bill that passed in 2011 prohibits the National Instant Criminal Background Check System (NICS) from creating a federal firearms registry. When a gun buyer's name is run through the NICS database, his personal information is destroyed by the FBI within 24 hours. It is the law.
Another government agency, the Bureau of Alcohol, Tobacco, Firearms and Explosives (called "jackbooted thugs" two decades ago by the NRA's Wayne LaPierre, which caused former President George H.W. Bush to quit the gun group in protest), is also forbidden to use any funds to create a database with your personal information. This too, is the law — the law of the very government that the NRA and its fearmonger friends claim is out to get you.
Benton, the subject of a withering takedown by the fact checkers at the Washington Post back in January, ignored these facts. As the Post noted, Benton should know better. His boss, Sen. McConnell, served on the very committee that wrote the FBI and ATFE language into the bill, and was one of 17 Republican senators to vote for the final bill.
The NRA has also spread the false notion that the Second Amendment was designed to protect you against government tyrants. Unless you're a constitutional scholar, you've probably bought this one hook, line, and sinker. Someone who is a constitutional scholar, Professor Robert Spitzer of the State University of New York College at Cortland, points out that Article I of the Constitution allows militias to "suppress Insurrections," not cause them. If you think the Constitution allows you to rebel against the government, guess what? The Constitution says you're a traitor. Writes Spitzer: "The Constitution defines treason as 'levying War' against the government in Article III and the states can ask the federal government for assistance 'against domestic Violence' under Article IV."
It's not your fault that you don't know this. How would you know to wade through a giant appropriations bill from 2011, or to sift through the Constitution's fine print? And it is this — your lack of knowledge — that the NRA and its toadies on the Hill are banking on. One of my favorite quotes from the father of our Constitution, James Madison, comes to mind: "Knowledge will forever govern ignorance."

Continue reading for free
We hope you're enjoying The Week's refreshingly open-minded journalism.
Subscribed to The Week? Register your account with the same email as your subscription.