6 rejected Disney theme park rides
Dick Tracy, the Muppets, and Mel Brooks all almost had their very own rides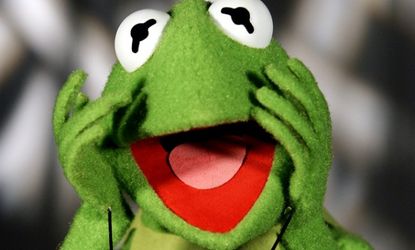 (Image credit: Mike Segar/Reuters/Corbis)
The Walt Disney Co. is reportedly considering a plan to build an entire world dedicated to Star Wars at Disneyland. But sci-fi fans and Disney aficionados shouldn't get too excited. The history of Disney's theme park development is full of unfinished rides that were once high on the engineering team's "to-build" list. Here, 6 rejected Disney theme-park rides:
1. Hotel Mel
When it opened in 1989, Walt Disney World's Disney-MGM Studios, now known as Hollywood Studios, in Orlando, was meant to compete head-to-head with the Universal Studios theme park. Disney's new park needed a star attraction, and the "Imagineers" thought a ride based on horror movies would bring in the crowds. However, Disney prided itself on being family-friendly, so the company concocted a less frightening theme that starred comedy actor, writer, and director Mel Brooks. The ride would have taken guests through an old hotel that Brooks had supposedly taken over to shoot his next picture. They would then discover that the hotel was crowded with ghosts, ghouls, and monsters. Riders would board golf carts that took them through various rooms that showcased comedic setups. One room contained a vampire who keeps cutting himself as he shaves because he can't see himself in the mirror. Another featured a closed bathroom stall with Frankenstein reaching for some toilet paper, only to grab one of the Mummy's bandages instead. The project ran into problems when developers couldn't come up with a cohesive story for the ride, and Brooks left the project to star in and direct the movie Life Stinks. The hotel, however, was revamped and turned into the wildly popular elevator drop ride "The Twilight Zone Tower of Terror."
Subscribe to The Week
Escape your echo chamber. Get the facts behind the news, plus analysis from multiple perspectives.
SUBSCRIBE & SAVE
Sign up for The Week's Free Newsletters
From our morning news briefing to a weekly Good News Newsletter, get the best of The Week delivered directly to your inbox.
From our morning news briefing to a weekly Good News Newsletter, get the best of The Week delivered directly to your inbox.
2. The Great Muppet Movie Ride
Disney also wanted a Muppet attraction for its new park, and developers brainstormed an entire Muppet-themed ride. It would have taken riders through movie sets for Frankenstein and Peter Pan with Muppets characters composing the cast. The Frankenstein section featured a mad scientist's laboratory, with Dr. Bunsen Honeydew conducting an experiment gone awry on his long-suffering apprentice Beaker. The Peter Pan remake had the Muppets knocking over set pieces and scenery while suspended from cables and tossed around the room. The ride was to have been part of a special Muppet-themed area of the park, replete with a Muppetvision 3-D show. But only the 3-D attraction came to fruition.
3. Beastly Kingdom
WDW's Animal Kingdom park brought wildlife into Disney's vast array of attractions. But one planned section that was scrapped would have taken visitors on rides populated by wildlife that didn't actually exist. The canceled Beastly Kingdom was to have explored "animals of myth and legend," such as dragons and unicorns. Some of the proposed rides included a Fantasia-themed boat ride with characters from the iconic film, a suspended roller coaster called "Dragon's Tower" that brought riders face to face with a massive, fire-breathing dragon, and a medieval labyrinth called "Quest of the Unicorn." However, money problems prevented Disney from building such a massive attraction. Instead, the company built the mountain roller coaster Expedition Everest, in which riders are chased and almost captured by a massive, snarling Yeti.
4. Museum of the Weird
The original Haunted Mansion at Disneyland in Anaheim, Calif., is one of the most beloved and hallowed of all the Disney rides. And it almost had an adjoining attraction. Imagineer Rolly Crump came up with a novel way of keeping the guests entertained while they waited in one of Disneyland's notoriously long lines, devising several props and sketches for a Museum of the Weird that would have served as a preshow to the main attraction. It was to have been filled with strange collectibles, such as wallpaper that seemed to stare back at guests, a grandfather clock decorated with human bones, and a haunted organ played by a ghostly skeleton. The project folded after Walt Disney's death, and several of the museum's ideas became part of the Haunted Mansion instead.
5. The Enchanted Snow Palace
One of Disneyland's original rides would have taken its guests out of the hot California sun and into a cold, snowy wonderland. Guests would have boarded boats and sailed through an "arctic Jungle Cruise" teeming with robotic animals, such as giant walruses, polar bears, and wolves. Then, as the boats traveled under the northern lights, they would enter the more fantastic part of the ride: The lair of the Snow Queen, complete with mythical arctic creatures like fairies and giants. The queen would proceed to greet the guests and thank them for visiting by making it snow. The plans were scrapped after park planners learned that guests wanted rides that had more thrills and less chills.
6. Dick Tracy's Crimestoppers
In what would have become one of the park's first interactive rides, Disney-MGM Studios based an attraction on the film adaptation of the comic strip Dick Tracy. Guests would have been taken through the gritty, crime-ridden streets of Chicago, where they would shoot it out with gangsters and members of Big Boy Caprice's oddball collection of henchmen. Unfortunately, Dick Tracy performed poorly at the box office, and a planned sequel never materialized, so Disney had no real reason to build the ride.

Continue reading for free
We hope you're enjoying The Week's refreshingly open-minded journalism.
Subscribed to The Week? Register your account with the same email as your subscription.