How were Beyonce and Jay-Z able to visit Cuba?
Tourism is prohibited by the aging U.S. embargo. And a pair of Republican lawmakers are demanding answers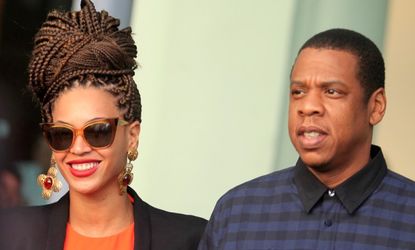 (Image credit: REUTERS/Enrique De La Osa)
Last week, Mr. and Mrs. Shawn Carter celebrated their fifth anniversary by visiting Cuba, along with their mothers and a small entourage of bodyguards. The power couple better known as Beyoncé and Jay-Z did what you'd expect of tourists to the historic capital of a tropical island: Walked around Old Havana in summer clothes, taking pictures (her) and smoking cigars (him); dined out in restaurants (even though, less typically, police had to be called to keep crowds of fans at bay) and on rooftop terraces; and danced to some of Cuba's famous music. (See video below)
Tourism, of course, is prohibited under America's 50-year-old trade embargo against communist Cuba. And Cuban-Americans were the first to criticize the Carters' trip to Havana. "The Castro dictatorship is overjoyed by the trip," says anti-Castro activist Mauricio Claver-Carone at Capitol Hill Cubans. "Castro's state media was the first to post pictures of the trip and to tip off foreign news bureaus on the island about the star's presence and whereabouts," because — as even Cuban diplomats implicitly admit — Beyoncé is better "propaganda" for Cuba's image than traveling dissident Cuban blogger Yoani Sanchez.
Indeed, living it up on "Cuba or, as the informed refer to it, 'the island prison,'" makes Beyoncé and Jay-Z "useful idiots extraordinaire," says A.J. Delgado at Mediaite. "While dining, partying, and enjoying the best Havana has to offer, Beyoncé and Jay-Z not only legitimize and support the repressive regime, with both their presence and their cash, but turn a blind eye, cruelly, to the perils and languishing of the Cuban people." This is especially galling because they are "proud African-Americans," and Cuba is "notorious for relegating its black population to second-class status, or worse."
Subscribe to The Week
Escape your echo chamber. Get the facts behind the news, plus analysis from multiple perspectives.
SUBSCRIBE & SAVE
Sign up for The Week's Free Newsletters
From our morning news briefing to a weekly Good News Newsletter, get the best of The Week delivered directly to your inbox.
From our morning news briefing to a weekly Good News Newsletter, get the best of The Week delivered directly to your inbox.
On Friday, two Florida lawmakers jumped in, demanding to know who allowed Beyoncé and Jay-Z to take the trip. "Despite the clear prohibition against tourism in Cuba, numerous press reports described the couple's trip as tourism, and the Castro regime touted it as such in its propaganda," Reps. Ileana Ros-Lehtinen (R) and Mario Diaz-Balart (R) wrote to Adam Szubin, the director of the Treasury Department office in charge of enforcing the Cuba embargo. "We would like to respectfully request, within all applicable rules and guidelines, information regarding the type of license that Beyoncé and Jay-Z received, for what purpose, and who approved such travel."
President Obama eased the travel restrictions on Americans traveling to Cuba in 2012, but you still need a special permit to visit, for cultural, religious, academic reasons, or — as Ros-Lehtinen and Diaz-Balart note — "educational exchange activities that will result in meaningful interaction between the travelers and individuals in Cuba." Beyoncé and Jay-Z did visit a school and interacted with locals, but the State Department says it had no prior knowledge of the trip, the U.S. Interest Section in Havana says it doesn't know if they got permits, and neither the Carters nor their representatives have explained how they traveled to Cuba.
It's certainly possible that, like lots of Americans, Beyoncé and Jay-Z simply flew to Havana from a brief stopover in Mexico or the Bahamas. "Cuban customs officials are familiar enough with the practice to not stamp American passports when they cross their desks," notes Kevin Liptak at CNN. They wouldn't be the first celebrities to visit, one way or another: One restaurant they dined at, Havana's famous La Guarida, "displays photos of famous visitors, such as Will Smith, Jack Nicholson, Kevin Spacey, Naomi Campbell, Jodie Foster, Danny Glover, the queen of Spain, and Spanish actor Javier Bardem," says Juan O. Tomayo at the Miami Herald.
So why single out the Carters? "Both Beyoncé and Jay-Z have been outspoken in their support for Obama, making them easy targets for Republicans," says Hayes Brown at Think Progress. "The couple hosted a star-studded fundraiser for the Obama campaign in 2012, and both have performed for the president on numerous occasions."
What happens if the two stars did flout the law? The Miami Herald's Tomayo wonders whether the Cuba trip will hurt Beyoncé's July performance in Miami or Jay-Z's show in August. But there's not much chance it will affect either musician's overall popularity — the embargo itself is increasingly unpopular, and even the younger generation of Florida's Cuban-Americans are progressively more open to easing travel and trade restrictions.
And on the rare occasion the U.S. does catch and punish Americans, the offending citizens usually get off with just a small fine. In December, New York resident Zachary Sanders agreed to pay $6,500 related to his 1998 visit to Cuba — after a long legal fight — but most Americans who get dinged pay about $1,000, pocket change for the Carters. The top civil fine is $7,500 for the first trip. "To my knowledge, only two people have actually been fined for illegal travel to Cuba," says Cuba travel expert Christopher Baker.
Have a look at some footage of their visit:

Continue reading for free
We hope you're enjoying The Week's refreshingly open-minded journalism.
Subscribed to The Week? Register your account with the same email as your subscription.