Why Ukrainian 'killer' dolphins probably aren't on the rampage
Armed, lethal dolphins have escaped into the wild? Sometimes thinly sourced stories are too good to be true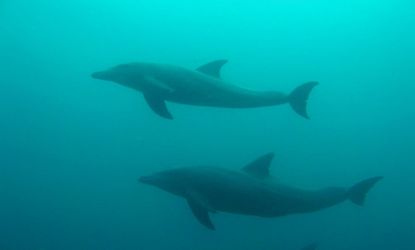 (Image credit: <a href="http://shutr.bz/ZlQLbn" target="_blank">Shutterstock</a>)
The Russian news agency RIA Novosti had quite a scoop Tuesday: "Three of the Ukrainian navy's 'killer' dolphins" have escaped their handlers during a training exercise, probably to go look for a mate. The source for this news of escaped military dolphins was "Ukrainian media," and RIA Novosti dutifully reports that "Ukraine's Defense Ministry denied the reports," but the dolphins-on-the-prowl story was mostly a set-up for the kicker: A reminder of RIA Novosti's sensational article from last fall that the Ukrainian navy's dolphins have been "trained to attack enemy combat swimmers using special knives or pistols fixed to their heads."
The American and British media ran with it. "Killer secret-agent dolphins go AWOL in Ukraine," said the New York Daily News. "3 commando dolphins go AWOL in Crimea," reported USA Today. "Ukrainian 'killer' dolphins escape training base, one is armed," warned Nature World News. Britain's The Register captured the general sentiment the best, though: "HEAVILY ARMED SEX CRAZED DOLPHINS on RAMPAGE in Black Sea."
In other words, what's not to love about this story? And there are many plausible elements: The Ukraine really did inherit a pod of military-trained dolphins when the Soviet Union broke up, and the U.S. Navy has its own active (but phasing-out) dolphin program; RIA Novosti even quoted a named source, former Soviet navy officer Yury Plyachenko, confirming the existence of the old Russian program and assuring us that losing a few military dolphins isn't that big a deal: "If a male dolphin saw a female dolphin during the mating season, then he would immediately set off after her. But they came back in a week or so."
Subscribe to The Week
Escape your echo chamber. Get the facts behind the news, plus analysis from multiple perspectives.
SUBSCRIBE & SAVE
Sign up for The Week's Free Newsletters
From our morning news briefing to a weekly Good News Newsletter, get the best of The Week delivered directly to your inbox.
From our morning news briefing to a weekly Good News Newsletter, get the best of The Week delivered directly to your inbox.
"But before you start having nightmares about dolphins shooting out of the ocean with weapons jutting out of their snouts, consider this," says Uri Friedman at Foreign Policy: The RIA Novosti report "is based on unconfirmed speculation from one expert — and there's no indication that the dolphins were armed even if they did escape earlier this month." In fact, all the "hysteria about Ukraine's killer dolphins" started with RIA Novosti in the first place, and what is it based on? "An anonymous 'military source.'"
If you look closely, you'll note that RIA Novosti even puts "killer" in quotation marks in its own story. It's not that dolphins aren't dangerous — the adorable marine mammals can be deadly, and even organize themselves into mafia-like warring clans — but arming them seems a little far-fetched. The U.S. and Soviet navies reportedly experimented with outfitting dolphins with lethal C02-loaded syringes, but as Wired's Robert Beckhusen pointed out last October, armed dolphins "could easily become a danger to your own side." He digs up this explainer from a U.S. Navy FAQ:
On top of all that, Ukraine's military dolphins may not even be missing. The Ukrainian reports — which do include the detail that the escaped dolphins were wearing firearm-equipped kits strapped to their heads — are apparently based on a document that its purported signer, Sevastopol oceanarium director Anatoly Gorbachev, dismisses as a cheap forgery. All the dolphins are present and accounted for, Gorbachev tells Interfax.
Well, even if this report is all sorts of wrong, "who would not want to watch the film adaptation of this story?" says Alexis Madrigal at The Atlantic.
If reality is more your cup of tea, here is a fascinating 45-minute documentary on the real military dolphins that the Ukraine inherited from the Soviets (via Justin Gregg, the "dolphin scientist guy"):

Continue reading for free
We hope you're enjoying The Week's refreshingly open-minded journalism.
Subscribed to The Week? Register your account with the same email as your subscription.