8 famous people who accidentally shot themselves
From Al Capone to Plaxico Burress, the A-List of self-inflicted gunshot wounds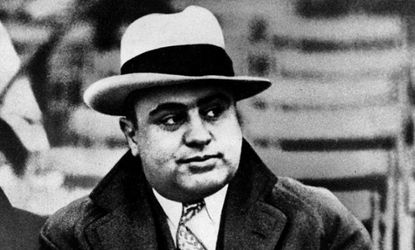 (Image credit: AP Photo)
Boston Red Sox prospect Bryce Brentz recently had a minor setback in his pursuit of making it to the big leagues: He accidentally shot himself. The 24-year-old was reportedly cleaning a handgun last month when the trigger went off, leaving a bullet lodged in his leg. Brentz is expected to make a full physical recovery in time for spring training, but there's no recovering from the shame of his embarrassing self-inflicted wound.
Of course, Brentz isn't the first person to accidentally shoot himself. Here's a look back at 8 famous people who suffered the pain, shame, and in one tragic situation, death, of an unwanted quick trigger finger:
1. Plaxico Burress
Subscribe to The Week
Escape your echo chamber. Get the facts behind the news, plus analysis from multiple perspectives.
SUBSCRIBE & SAVE
Sign up for The Week's Free Newsletters
From our morning news briefing to a weekly Good News Newsletter, get the best of The Week delivered directly to your inbox.
From our morning news briefing to a weekly Good News Newsletter, get the best of The Week delivered directly to your inbox.
The former Giants receiver was partying at a nightclub in 2008 when he accidentally shot himself in the right thigh when the gun slid down the waistband of his pants. Burress was suspended for the last four games of the season for conduct detrimental to the team, and he later spent 20 months behind bars. Eventually, Burress made his way back to the NFL, where he had renewed success, although the accidental shooting is surely still the most talked-about aspect of Burress' public life.
2. Al Capone
Twelve bodyguards apparently weren't enough to keep the mobster safe from bullets — his own. In 1928, Capone actually shot himself in both legs and the groin. According to reports at the time, Capone had just finished a round of golf with a friend and was entering the car to head home when his gun discharged accidentally. But more recent reports tell a different story. As Capone rummaged through his bag for a club, a revolver in the bag reportedly fired. Either way, the lesson is clear: When hitting the links, it's probably better to leave the firearms at home.
3. Lil' Wayne
When he was just 12, and still known Dwayne Carter Jr., the boy who would grow up to be a world-famous rapper nearly bled to death after he accidentally shot himself in the chest while playing with a 9-mm handgun. The pistol belonged to a visitor to his childhood home. Carter had the good mind and strength to call 911, and an off-duty officer responded. He kicked down the door and escorted Carter to the hospital. Years later, the officer was eating at a restaurant when he was summoned to come meet a fellow diner who turned out to be Lil' Wayne. "I almost died, and this man saved my life. I'll never forget him," said Lil' Wayne.
4. Curly Howard
Born Jerome Horwitz, "Curly" was the youngest of the Stooge brothers. When Curly was 12, he accidentally shot himself in the foot while cleaning a rifle. His older brother Moe got him to the hospital in time to save Curly's life, but it left him with what would be a recognizable lifelong limp. His fear of surgery kept him from rectifying it, and Curly wound up incorporating his handicap into his act. If you ever wondered why Curly had that exaggerated walk, now you know: It stems from a self-inflicted gunshot wound.
5. Peter Fonda
The Easy Rider star nearly died on his 11th birthday when he accidentally shot himself in the chest while cleaning his father's gun. Doctors initially thought that the bullet had hit Fonda's heart, but miraculously it passed through his heart and settled just underneath the vital organ. They say that had his heart not beat at the exact moment the bullet pierced his skin, Fonda would have lost his life.
6. Alan Ladd
In 1962, the This Gun For Hire actor accidentally fired while cleaning his gun, wounding himself in the shoulder. Other reports, however, tell a different story: Ladd was investigating a suspicious noise inside his home. While searching for a prowler in the dark, he tripped and fell, causing the revolver in his hand to go off unexpectedly.
7. Terry Kath
This one is quite sad: The founding member and lead guitarist of the band Chicago died in 1978 at a party where he reportedly picked up an unloaded revolver and aimed it at his head. Joking about playing Russian Roulette, he pulled the trigger, and nothing happened. So he tried the same trick with a semiautomatic pistol that turned out to have a bullet in the chamber. Kath died on the spot. His last words to his wife were reportedly, "Don't worry, it's not loaded."
8. Jennifer O'Neill
The actress and model for CoverGirl cosmetics in the 1970s accidentally shot herself in the abdomen in 1982 when she was trying to determine if the gun was loaded. O'Neill and her then-husband John Lederer were charged with weapons violations because the gun was unregistered, and she was given a conditional discharge as part of a settlement on the condition that she stay out of criminal trouble for a year. If that scare wasn't enough, just weeks after the accident, Lederer accidentally stabbed himself with a knife.

Continue reading for free
We hope you're enjoying The Week's refreshingly open-minded journalism.
Subscribed to The Week? Register your account with the same email as your subscription.