10 things you need to know today: February 5, 2013
Alabama hostage standoff ends, Iran's Ahmadinejad makes historic visit to Egypt, and more in our roundup of the stories that are making news and driving opinion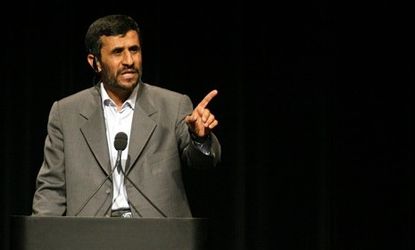 (Image credit: Creative Commons)
Sign up to our 10 Things You Need to Know Today newsletter
A free daily digest of the biggest news stories of the day - and the best features from our website
Thank you for signing up to TheWeek. You will receive a verification email shortly.
There was a problem. Please refresh the page and try again.
1. ALABAMA HOSTAGE STANDOFF ENDS; BOY FREED, KIDNAPPER KILLED
A 5-year-old Alabama boy who had been held hostage by a gunman in an underground bunker for nearly a week was rescued Monday after FBI agents stormed the bunker, killing the kidnapper, 65-year-old Jimmy Lee Dykes. Negotiations with the gunman had deteriorated over the previous 24 hours, according to FBI Special Agent Stephen E. Richardson, prompting agents to storm the bunker Monday afternoon. Dykes had boarded a school bus on Jan. 29, shot the driver to death, and abducted the boy, who has only been identified as Ethan. The child was reunited with his mother at a nearby hospital once the siege was complete. [Los Angeles Times]
………………………………………………………………………………
Subscribe to The Week
Escape your echo chamber. Get the facts behind the news, plus analysis from multiple perspectives.
SUBSCRIBE & SAVE
Sign up for The Week's Free Newsletters
From our morning news briefing to a weekly Good News Newsletter, get the best of The Week delivered directly to your inbox.
From our morning news briefing to a weekly Good News Newsletter, get the best of The Week delivered directly to your inbox.
2. SOUTH KOREA WARNS OF MULTIPLE NORTH KOREAN NUKE TESTS
South Korean President Lee Myung-bak has warned that North Korea could be planning more than one nuclear test. North Korea said in January that it is planning a "high-level nuclear test." But Lee says that Pyongyang could be prepping for "multiple nuclear tests at two places or more." The North has previously completed two nuclear tests, in 2006 and 2009. Pyongyang has given no timeframe for the test, but analysts say satellite imagery indicates preparations at the test site in Punggye-ri are almost complete. In a call with South Korea on Monday, newly sworn in Secretary of State John Kerry said there would be consequences if North Korea continues its "provocative behavior." [BBC]
………………………………………………………………………………
3. LEAKED JUSTICE DEPT. MEMO SHOWS RULES FOR KILLING AMERICANS
NBC News obtained a copy of a leaked Justice Department memo that explains that the U.S. government can order the killing of American citizens if they are believed to be "senior operational leaders" of al Qaeda or "an associated force" — even if there is no intelligence indicating they are engaged in an active plot to attack the U.S. The 16-page memo provides new details about one of the Obama administration's most secretive and controversial policies: The use of drone strikes against al Qaeda suspects, including those aimed at U.S. citizens. The memo was provided to members of the Senate Intelligence and Judiciary committees in June by administration officials on the condition that it be kept confidential. [NBC News]
………………………………………………………………………………
4. TOUR BUS HAD POOR SAFETY RECORD BEFORE FATAL CRASH
A tour bus that crashed in Southern California on Sunday, leaving seven people dead and several people injured, had been found to have faulty axles, brakes, and other safety violations. The company that owned the bus, Scapadas Magicas in San Diego, had been placed on a federal watch list that flagged its buses for increased roadside inspections. The Scapadas bus left Tijuana early Sunday with 38 passengers, including children, and was descending California 38 from the ski resort town of Big Bear Lake when the driver apparently lost control. The tour bus was operating under a contract with InterBus Tours and Charters, based in Tijuana, which closed its office Monday. The Scapadas office was also closed Monday. [Los Angeles Times]
………………………………………………………………………………
5. IRAN'S AHMADINEJAD MAKES HISTORIC VISIT TO EGYPT
Iranian President Mahmoud Ahmadinejad arrived in Egypt Tuesday on a historic visit, the first trip to the country by an Iranian president since the 1979 revolution. The visit, some say, underlines a thaw in relations since Egypt elected Islamist President Mohamed Morsi. Morsi kissed Ahmadinejad as he disembarked from his plane at Cairo airport. The two leaders discussed ways of boosting relations between their countries and resolving the Syrian crisis "without resorting to military intervention," Egyptian state media reported. Egypt is concerned by Iran's support of Syrian President Bashar al-Assad, who has led a nearly two-year crackdown on anti-government opposition. [Reuters]
………………………………………………………………………………
6. NEW DELHI GANG RAPE TRIAL BEGINS
The trial against five men accused of raping and murdering a 23-year-old woman on a bus in New Delhi began on Tuesday. The victim's 28-year-old male companion, who was on the bus with the woman and also beaten, is to begin giving evidence today, his father said. A sixth man, who is underage, will be tried in juvenile court for his suspected involvement in the attack. Police say the alleged attackers lured the woman onto the bus, where they allegedly raped her repeatedly and assaulted her with a metal bar before throwing her naked from the vehicle. The woman died of her injuries two weeks later. The trial will be held before a judge and no jury. No media will be allowed in the courtroom. [ABC Online]
………………………………………………………………………………
7. JUSTICE DEPARTMENT MULLS CHARGES AGAINST S&P
Standard & Poor's on Monday announced that the Justice Department and several states were considering slapping the credit rating agency with civil charges over its alleged role in facilitating the 2008 financial crisis. The government is reportedly thinking about taking the company to court after S&P balked at a settlement in the $1 billion range — which would be enough to wipe out parent company McGraw-Hill's entire profit from 2012. If the case were to go to court, it would be one of the most significant legal actions the government has taken against any company involved in the crisis. The big three credit-rating agencies — S&P, Moody's, and Fitch — have all been heavily criticized for the role they played in the business of buying and selling mortgage-backed securities during the financial meltdown. [The Week]
………………………………………………………………………………
8. TUBERCULOSIS VACCINE PROVES INEFFECTIVE
In a study published online by Lancet, researchers have found that the first test in decades of a new tuberculosis vaccine is useless in preventing new infections in infants as well as in stopping the progression of existing ones. The trial was conducted on 2,800 South African infants. Tom Evans, a physician who heads Aeras, the nonprofit biotechnology company that developed the vaccine, noted that "we can't necessarily say this kind of vaccine is not going to be efficacious in another population." [Washington Post]
………………………………………………………………………………
9. BARCLAYS SETS ASIDE $1.6 BILLION MORE FOR LEGAL COSTS
British bank Barclays said Tuesday that it has set aside an additional $1.6 billion to cover legal costs stemming from its inappropriate selling of complex financial products to customers. The bank was the first to reach a settlement with American and British authorities last year related to the manipulation of the London interbank offered rate, or Libor. The benchmark rate underpins trillions of dollars' worth of financial products worldwide, including complex derivatives and mortgages. [New York Times]
………………………………………………………………………………
10. BRUNO MARS, RIHANNA, STING JOIN LIST OF GRAMMY PERFORMERS
The producers of the Grammy's telecast, which will air on Feb. 10, announced Monday that Bruno Mars, Rihanna, and Sting would join forces to perform a set at the awards ceremony. The trio joins a list of performers that includes Frank Ocean, Taylor Swift, Maroon 5, and Kelly Clarkson. [Huffington Post]
Continue reading for free
We hope you're enjoying The Week's refreshingly open-minded journalism.
Subscribed to The Week? Register your account with the same email as your subscription.
Sign up to our 10 Things You Need to Know Today newsletter
A free daily digest of the biggest news stories of the day - and the best features from our website
Frances is a senior editor at TheWeek.com, managing the website on the early morning shift and editing stories on everything from politics to entertainment to science and tech. She's a graduate of Yale and the University of Missouri journalism school, and has previously worked at TIME and Real Simple. You can follow her on Twitter and on Tumblr.