Frankenstorm: What we know about Hurricane Sandy
The storm churning toward the northeastern U.S. could clash with wintry blasts from the west and Canada to create a "perfect storm." How bad could it get?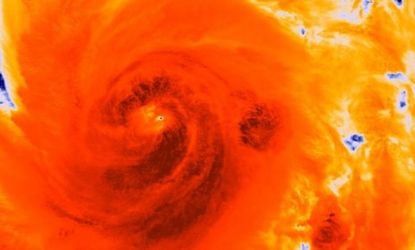 (Image credit: REUTERS/NOAA Environmental Visualization Laboratory)
Hurricane Sandy is barreling up the Atlantic Ocean toward America's East Coast on a collision course with an early wintry storm from the west and a frigid blast of air from the north, which forecasters warn could create a "perfect storm." Sandy has already killed at least 31 people in the Caribbean, and could hit the Northeast on the day before Halloween next week as a "Frankenstorm" worse than anything the region has seen in 100 years. "It really could be an extremely significant, historic storm," says University of Miami researcher Brian McNoldy. How bad will it get? Here's a brief guide:
Are forecasters certain the Frankenstorm will hit?
Hurricanes are tricky, and Sandy still has plenty of time to weaken or turn out to sea. Even if it weakens, it could still hit with tree-toppling winds of, say, 60 miles per hour, and a mix of heavy rain and high tides that could cause coastal flooding. That's the good news. The bad news is that there's a 90 percent chance the storm will crash into the U.S., says CNN meteorologist Pedram Javaheri. If it takes the most likely path, it could graze North Carolina early Monday, then turn sharply and slam into the Eastern Seaboard somewhere between Delaware and Boston a day later with a mix of high winds, heavy rain, and even snow, along with coastal flooding.
Subscribe to The Week
Escape your echo chamber. Get the facts behind the news, plus analysis from multiple perspectives.
SUBSCRIBE & SAVE
Sign up for The Week's Free Newsletters
From our morning news briefing to a weekly Good News Newsletter, get the best of The Week delivered directly to your inbox.
From our morning news briefing to a weekly Good News Newsletter, get the best of The Week delivered directly to your inbox.
How bad will it be?
Meteorologists say conditions are similar to those that produced 1991's "perfect storm," which inspired a book and blockbuster movie. Despite its force, that storm, in which Hurricane Grace combined with a high pressure system and a cold front, caused only about $200 million in damage because it hit a relatively sparsely populated part of New England. Current forecasts suggest that Hurricane Sandy is most likely to slam into New Jersey and New York before pressing on toward Ohio, meaning it will hit some of the most densely populated pockets of the country. Making matters worse, it will hit during a full moon, when tides are highest, increasing chances of major flooding. If that happens, damages could reach $5 billion or more.
When was the last time a storm that bad hit?
It would be the worst storm in decades. "What we're seeing in some of our models is a storm at an intensity that we have not seen in this part of the country in the past century," says National Weather Service meteorologist Paul Kocin. "We're not trying to hype it, [but] this is what we're seeing in some of our models." The storm most closely comparable is the New England hurricane of 1938.
What was that storm like?
Violent and deadly. The hurricane hit Long Island a few hours before another unusually high tide, boosted by a new moon and the autumnal equinox, pushing storm tides as high as 18 feet. The storm surge, bringing waves as high as 50 feet, slammed into shore, washing houses and the people in them out to sea. Winds gusted to 180 miles per hour. Downtown Providence, R.I., was swamped in 20 feet of water. By the time it was over, 500 people were dead. Back then, though, many coastal residents were caught with little or no warning. This time, everyone knows what could be coming, and although Sandy hit Cuba with winds exceeding 100 miles per hour, its force has died down some, with its top sustained winds around 80 mph as it crossed the Bahamas on Friday.
How should people in the storm's path prepare?
Even though there's a chance the dreaded Frankenstorm won't materialize, "our worst fears may be realized," Kocin said. "If we were seeing what we're seeing today one day out, we would really be shouting the alarms." Federal officials are urging everyone who could be impacted to stock up on supplies. Governments in the projected target zone are already getting prepared. New York Gov. Andrew Cuomo has directed state agencies to monitor the storm, Massachusetts' Emergency Management Agency is warning people to plan for the worst, and New York City Mayor Michael Bloomberg is urging residents, especially those in low-lying areas, to be ready to evacuate, just in case. "A good message to everybody," he said, "is you should always have a 'go' plan."
Sources: Bloomberg, CNN, New York Times, Newsday, SUNY Suffolk, TIME

Continue reading for free
We hope you're enjoying The Week's refreshingly open-minded journalism.
Subscribed to The Week? Register your account with the same email as your subscription.