What really happened in Benghazi? A guide
What was first reported as a Libyan protest turned violent may have been a carefully staged attack on the U.S. Consulate — on the anniversary of 9/11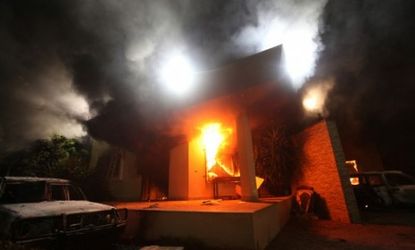 (Image credit: REUTERS/Esam Al-Fetori)
Sign up to our 10 Things You Need to Know Today newsletter
A free daily digest of the biggest news stories of the day - and the best features from our website
Thank you for signing up to TheWeek. You will receive a verification email shortly.
There was a problem. Please refresh the page and try again.
The first accounts of the attack on the U.S. Consulate in Benghazi, Libya, which killed Ambassador Christopher Stevens and three other Americans, blamed the violence on a mob enraged over an anti-Islam video posted online. But just about every early detail reported about the assault turned out to be wrong, and now the Obama administration is looking into whether this was a planned attack by Islamist militants, not simply a riot that spun out of control. What do we know so far about what really happened in Benghazi? Here, a brief guide:
Was there, or wasn't there, a protest?
There was. As happened in Egypt on Tuesday — and in Yemen and Tunisia on Thursday — civilians gathered outside the U.S. Consulate in Benghazi to vent their rage over a viral YouTube video, ostensibly the trailer for an American-made movie insulting Islam's Prophet Mohammad. Eventually, though, a group of heavily armed militants "infiltrated the march," according to Libyan Deputy Interior Minister Wanis al-Sharif, and used it as cover to launch an attack on the Consulate compound.
Subscribe to The Week
Escape your echo chamber. Get the facts behind the news, plus analysis from multiple perspectives.
SUBSCRIBE & SAVE
Sign up for The Week's Free Newsletters
From our morning news briefing to a weekly Good News Newsletter, get the best of The Week delivered directly to your inbox.
From our morning news briefing to a weekly Good News Newsletter, get the best of The Week delivered directly to your inbox.
Didn't the U.S. have security?
Yes, but it didn't have a contingent of Marines like the ones assigned to protect embassies. An undisclosed number of State Department security officers were stationed inside the compound, and a detail of private Libyan guards patrolled outside its walls. Together, they weren't enough to repel the assault.
How long did the attack last?
The battle went on for four hours. It started around 4 p.m. Washington time (10 p.m. local time), when attackers fired small arms at the Consulate, with Stevens, information officer Sean Smith, and another American seeking safety inside. Then the attackers unleashed more powerful weapons, blasting a hole in the building's exterior with a rocket-propelled grenade and hurling homemade bombs. Thick, black smoke from the fire quickly filled the building, with Stevens and the other two officials still inside.
Did anyone get out?
At least one — reportedly a security officer — did, then returned about 45 minutes later with reinforcements to rescue anyone still there. By then, Smith had choked to death on smoke. Stevens was nowhere to be found. The battle raged for another three hours, with nobody knowing what had happened to Stevens. Finally, a sympathetic local militia helped the security detail regain control of the main Consulate building and get the staff of 25 to 30 people to an annex. That building soon came under fire, and that's where the remaining two Americans, one a former Navy SEAL and member of Stevens' security detail — Glen Doherty, 42 — were killed. It wasn't until the next morning that Stevens' death was confirmed — Libyans had managed to get him to a nearby hospital, but he died from smoke inhalation.
Why does the administration think the attack was planned?
For one thing, it took place on the 11th anniversary of the Sept. 11 terrorist attacks, and al Qaeda sympathizers have long wanted to stage an attack to mark the day. Also, it was a "military-style attack" with all the hallmarks of a "planned, targeted event," says Rep. Mike Rogers (R-Mich), chairman of the House intelligence committee. "You can't have this many coincidences on the same day." Al Qaeda is an obvious suspect, as "the weapons were somewhat sophisticated," says Sen. Dianne Feinstein (D-Calif.), who heads the Senate intelligence panel.
Does this mean Libyans don't want the U.S. in Benghazi?
Actually, the U.S., which helped rebels overthrow Moammar Gadhafi, is well-liked in eastern Libya, says Juan Cole at Informed Comment. It has a 60 percent favorability rating, compared to 28 percent for the hardline Muslims who are the prime suspects in the attack. And many Libyans especially "lionize" Stevens, who was liaison to the transitional national council during the revolution. Still, Cole says, "why in the world he was in an insecure minor consulate in a provincial city on Sept. 11," far from his Marine guards, "is a mystery to me."
Sources: Bloomberg, CBS News, CNN, Informed Comment, Wired
Continue reading for free
We hope you're enjoying The Week's refreshingly open-minded journalism.
Subscribed to The Week? Register your account with the same email as your subscription.
Sign up to our 10 Things You Need to Know Today newsletter
A free daily digest of the biggest news stories of the day - and the best features from our website