What my father gave me
Sometimes, I think my dad is nuts, says Joel Stein, but his belligerence had a purpose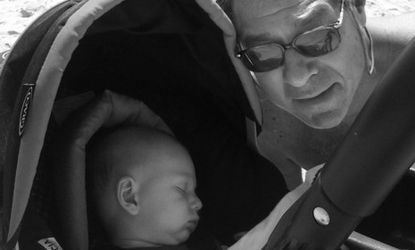 (Image credit: Courtesy Joel Stein)
MY FATHER HAS scars on his knuckles, one of which is permanently bent. This is not something you would think is easy to work into conversation. Yet I have been told many, many times how he got them: As a teenager in the Bronx, he took on the duty of protecting smaller Jews from large, anti-Semitic Italians. I figured, despite the physical evidence, that the number and severity of these fights — some of which involved knives — were exaggerated. It's not that my dad lies; it's that he never tells stories in which he doesn't come out looking really good. I am deeply suspicious of this, since I do not have any stories in which I come out looking even moderately good.
But he wasn't exaggerating. When my dad and I went to visit my 89-year-old grandmother, Mama Ann, in her condo in Fort Lauderdale, I asked her what my dad was like as a kid. "As soon as he learned to walk, he only walked one way," she said. When I asked Mama Ann what that meant, she explained that my dad was not conflict-avoidant: "Your father would walk up to kids and hit them. He'd get in trouble. Then he learned. He'd say, 'They hit me first.'" My father's aggression was so severe that — and this is back in the 1940s — his pediatrician recommended putting him on drugs to calm him. Which my grandmother had to talk my calm, patient grandfather out of doing. While Mama Ann told this story, my 70-year-old father kept interrupting her with: "You mess with me, I'm going to mess with you." I now believe there are a lot of knuckle-scarred 70-year-old Italians from the Bronx talking about the violent, racist Jew.
THE DAY AFTER seeing Mama Ann, I took my dad and sister to the South Beach Wine & Food Festival in Miami. We were waiting in a long, slow line for crepes when a guy and two women cut to the front. My dad told the guy, in his early 30s, to get to the back of the line. Line vigilantism is something I deal with a lot, and not just with my dad. My wife, Cassandra, is often telling people to get to the back of the line — people who, she then discovers, have been in line a lot longer than us and she just didn't notice them. I do not understand the obsession with line justice. People are born in war-torn countries where they starve to death while others get free passes to food and wine festivals, and line order is where people demand fairness? I'm more than willing to put in 30 extra line seconds in exchange for not having to serve as a line border patrol agent. But once people form a single file they are suddenly fully committed to the ideal of equal treatment for all sisters and brothers. I honestly believe that the civil-rights movement would have happened years earlier if instead of sending black people to the back of the bus, they made them wait at the end of the line.
Subscribe to The Week
Escape your echo chamber. Get the facts behind the news, plus analysis from multiple perspectives.
SUBSCRIBE & SAVE
Sign up for The Week's Free Newsletters
From our morning news briefing to a weekly Good News Newsletter, get the best of The Week delivered directly to your inbox.
From our morning news briefing to a weekly Good News Newsletter, get the best of The Week delivered directly to your inbox.
When my dad told the guy at the food and wine festival to go to the back of the line, the guy and his two female friends boldly refused, standing there with their plates out, crepe-expectant. My sister and I had already decided that 30 minutes for a crepe wasn't worth it, but my dad wouldn't leave. When we returned with lobster rolls and conch chowder, my dad, to our surprise, was not only still in this endless line, but also still in a feud with the line-cutter. In fact, he was in the line-cutter's face, calling him "buddy." When Buddy ignored him, my dad asked Buddy to "take this outside" and fight. Let me remind you that my dad was 70. And at a food and wine festival. And waiting for a crepe. Not a savory crepe, but a chocolate crepe with whipped cream.
Buddy, in response to the challenge to fight a 70-year-old man with glasses dangling from a rope around his neck, said he was a lawyer, and would sue if my dad hit him. My dad got a few inches from Buddy's face and told him that he was a partner at one of the biggest law firms in Manhattan, which is not at all true. My dad then repeated his offer to "take this outside." Buddy did not move, but my dad blocked him from any hopes of a getting a crepe, thus becoming the hero of the crepe line. My father handed crepes to several people behind us before taking our crepes and departing to everyone's approval. It was one of the finest moments of civil rights the crepe line at the South Beach Wine & Food Festival would ever witness.
My dad will work pretty hard to get his justice. He has spent the last 10 years exacting revenge on his local Waldbaum's supermarket because they scanned a half gallon of Breyers ice cream at three dollars instead of the posted sale price of two dollars. He takes dairy items that have passed their expiration dates and returns them so they're put back on the supermarket shelves. These rancid products, he hopes, will be purchased by customers who will complain. This is his method of recruiting for his army. Sure, it's a sickly army doubled over with food poisoning, but it is an army nonetheless.
MY FATHER, I'VE started to realize, might actually be a psycho. He volunteered in the National Guard when he was 24, during the Vietnam War, right after getting a letter telling him to report to his Army recruiter because he was being drafted. After basic training, when he was training to be a tanker, he got in a fight with his sergeant. He was writing a letter home to his parents and his sergeant grabbed it and started reading it out loud, making fun of it. So my dad grabbed it back, the sergeant pushed my dad, and my dad punched the sergeant in the face. This part of the story always seemed a bit extreme to me, since it involved punching someone in the face. No one I talked to had ever heard of a private punching a sergeant. Punching a sergeant in the face is as insane as being a Soviet citizen in a May Day parade and punching Joseph Stalin in the face.
"I felt I was superior to all these sergeants who were yelling at people," my dad told me. "They were misfits, basically. I would laugh. It was funny to me. These were a bunch of low-life hillbillies yelling at me to eat fast. Yeah, I'm going to eat fast. You know when there's a real threat and when there's a bunch of guys trying to act tough. You didn't have a bunch of Harvard graduates yelling at you." This is where my father and I see life differently. If a bunch of Harvard grads were yelling at me to eat faster, I wouldn't be scared. Harvard grads, for the most part, are not known as a face-hitting bunch. They're more likely to mock me years later in a brief reference on The Simpsons. Morons, however, are face hitters.
My dad was given Article 15 from the Uniform Code of Military Justice, in which he had to sign a piece of paper and let his commander decide his fate, which is typically 14 days of punishment and restrictions, and a loss of one week of pay. But my dad refused to sign the paper. Which meant he'd get a court-martial trial. "I said, 'Fine. Court-martial me.' I knew I could make a monkey of these guys on the stand."
They didn't want to deal with the hassle of a court-martial, so instead the drill sergeant just made my dad spend his nights moving sand from one pile to another with a spoon for a week. Which my dad pretended to like. "When the guys would sit down to rest, I would stand. Because I wanted to give it to the sergeants. They would hand me water, I would say that I didn't need water. They would call me 'New Yorker,' which was code for 'Jew.' They had images in their mind I wanted to change."
THERE WAS AN image of myself in my dad's mind that I've always wanted to change too.
All my father ever wants for his birthday is a letter. For this last one, his 70th birthday, I wrote, "It must have been frustrating that I didn't know how to fight, or stick up for myself, or be aggressive." I wanted him to know that I realize my man deficiencies and have worked hard to fix them so I won't pass them down to my 3-year-old son, Laszlo. Nearly every time I've talked to my dad since, he has brought that sentence up, flummoxed that he could be so misunderstood. He didn't care if I was like him. He was proud of me for all the ways I'm not like him. He calls me the more polished version of him. Though it's not all that hard to seem polished when the original version challenges people to fisticuffs at food and wine shows.
When I asked my dad why he never taught me any man stuff, he mentioned my mom, the 1970s, feminism, and my mom again. "I should have been more assertive on this, and many more things. It was not her fault, but my lack of courage," he said. But while he wishes he'd introduced me to a few more manly activities, he doesn't regret not pushing them on me: "Trying to get your son interested in what you're interested in might be good for your ego, but it's not good for the child. You see what he likes, what he doesn't like. You can certainly tell with Laszlo by now. You pay more attention to him than anything in your life. You see what lights up his face, and what he wants to do."
When my mom decided to leave my dad, she went to a therapist and told a story about being impressed with my father when they first met. "I was 17 years old and I was a little spacey, as I still am," she said. "I'll never forget being at his house and seeing that he had a file cabinet. I said, 'What do you put in there?' He asked, 'Where do you put your papers?' I said, 'My purses.'" My mom told her therapist that what she loved about my dad was that he made her feel safe in the world. And the therapist made her realize that he didn't. She took care of lots of things herself. She made herself feel safe.
The therapist was wrong, though. My dad does make people feel safe. It's the very best thing about him. My dad still pays for every meal we have together. Sure, he could make me feel successful by letting me pay, which would be generous, too, but instead he's created this unshakable relationship where he is the provider. It makes me know that if I ever need help, he will be the first one there.
My dad gave me the very manliest gift: feeling safe. Because once you feel safe, you can take risks. I want to make Laszlo feel that way. And now I think I might be capable of doing that. Just like my dad did.
From the book Man Made by Joel Stein. ©2012 by Joel Stein. Reprinted by permission of Grand Central Publishing, New York, NY. All rights reserved.

Continue reading for free
We hope you're enjoying The Week's refreshingly open-minded journalism.
Subscribed to The Week? Register your account with the same email as your subscription.