'Call Me Maybe': The viral video showdown
Carly Rae Jepsen's inescapable pop hit inspires lip-synched homages from unlikely culprits including Jimmy Fallon, Harvard's baseball team, and Colin Powell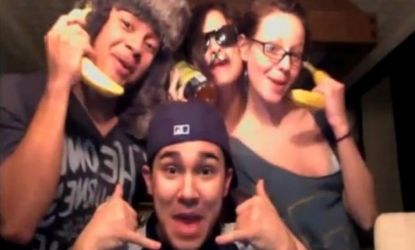 (Image credit: YouTube)
It's safe to say that "Call Me Maybe," the frothy earworm from Canadian pop star Carly Rae Jepsen, will be this summer's most inescapable song. The infectious track about a girl with a crush was labeled the "perfect pop song" by Emma Carmichael at Gawker, who calls it "maddeningly addicting." (Watch the music video here.) Already, it's inspired a host of lip-synched viral video covers — starring unlikely crooners ranging from the Harvard varsity baseball team to James Franco — and has inspired unique clips starring the likes of Jimmy Fallon and President Obama. Whose "Call Me Maybe" is the best? Here, critics weigh in on the viral video craze:
1. Colin Powell
The statesman's rendition, which came during an interview on CBS' This Morning, is both incredibly surprising and "kind of cute," says Jacqueline Burt at The Stir. "In a painful sort of way." Powell sure can't sing like Obama can, but you have to give the 75-year-old credit for his verve and enthusiasm. But now that this "Call Me Maybe" meme has become so widespread that it's reached the former Secretary of State, it may be time to call it expired, says Alexander Abad-Santos and Jen Doll at The Atlantic.
Subscribe to The Week
Escape your echo chamber. Get the facts behind the news, plus analysis from multiple perspectives.
SUBSCRIBE & SAVE
Sign up for The Week's Free Newsletters
From our morning news briefing to a weekly Good News Newsletter, get the best of The Week delivered directly to your inbox.
From our morning news briefing to a weekly Good News Newsletter, get the best of The Week delivered directly to your inbox.
2. "Chocolate Rain" singer Tay Zonday
More than five years ago, Tay Zonday became a YouTube sensation with his hypnotically awkward video of the cheesy song "Chocolate Rain," highlighted by the bespectacled crooner's unbelievably deep voice. The clip has since racked up more than 80 million views, and now Zonday is reentering the meme market with his own cover of "Call Me Maybe." For those nauseated from a binge of sugary-sweet "Call Me Maybe" covers, Zonday's deep bass cover "should prove a useful palate cleanser," says Eric Limer at Geekosystem. It should also satisfy anyone "wondering roughly what 'Call Me Maybe' would sound like if sung by a frog."
3. Barack Obama
"OK, so it's not actually the president singing," says Louis Pietzman at Gawker. "But it's definitely the next best thing." Fadi Saleh, 19, expertly and painstakingly edited together clips of Barack Obama at various speaking engagements so that, one word at a time, it sounds like he's singing his own version of "Call Me Maybe." "What do you think the chances are that Obama uses 'Call Me Maybe' as his 2012 campaign song?" says Erika Brooks Adickman at Idolator.
4. Jimmy Fallon, The Roots, and Carly Rae Jepsen
After appearing as a guest on Late Night with Jimmy Fallon, Jepsen joined Fallon and The Roots for a cover of "Call Me Maybe" backed entirely by instruments typically found in an elementary school music classroom: A toy xylophone, tone block, triangle, and bongo drums. Fallon may have conjured up the "cutest version yet of the viral sensation," says Kurt Schlosser at MSNBC. The clip doesn't just highlight the late-night funnyman's surprising musical chops, but exemplifies "just how much fun this guy is having on a daily basis."
5. Ted "Golden Voice" Williams
"It's the meeting of memes, says Nick Carbone at TIME. Ted Williams is the formerly-homeless man with the "Golden Voice" who was thrust into the viral video limelight after his radio-perfect baritone became a YouTube hit last January. More than a year after his breakout moment, Williams sat down with TIME to talk about his new memoir, and the site shrewdly had him read the catchy lyrics to "Call Me Maybe" in his unmistakable voice.
6. Harvard's baseball team
"It's not how you picture varsity Harvard athletes in their downtime," says Jim Armstrong at CBS News. Frequently idle during a spring break road tour, the Crimson baseball team choreographed a dance — heavy on militaristic arm moves— to "Call Me Maybe" in their van. "I think it's funny because it's just a group of normal guys having a good time to kind of a girly song," says Harvard senior Conner Huse, who choreographed the clip, which has millions of hits on YouTube. After their winningly deadpan delivery, says Samantha Grossman at TIME, "Harvard's baseball team is batting 1.000 in our hearts." It's not the most complicated or creative dance, says The Hollywood Gossip, but their range of motion was limited in the van, "so we'll give them a pass." Bonus points to the guy in the back row who sleeps through the whole thing.
7. SMU women's rowing team
With their direct response to the Harvard boys, the Southern Methodist University women's rowing team lived up to the old dance maxim, says Aylin Zafar at TIME: "Ginger Rogers… did everything Fred Astaire could do — except she could do it backwards and in high heels." The SMU team flipped Harvard's choreography by performing it upside down with their legs in the air; a side-by-side comparison of the two dances "reveals they're nearly flawless mirrors of each other." It was cute and fun, says Madeleine Davis at Jezebel. But when Today drafted both teams to perform a dance-off on the morning show earlier this week, it was pure overkill — "embarrassing for everybody involved."
8. The Today show hosts
"It seems the Today show staff has fully endorsed 'Call Me Maybe' as their choice for 2012's Song of Summer," says Sarah Frank at New York. After featuring both the Harvard baseball team and SMU rowing team's in-vehicle dance-offs, hosts Al Roker, Natalie Morales, Savannah Guthrie, and Tamron Hall showed off their own versions of the Harvard moves — a lackluster performance until Matt Lauer "popped up from behind the couch, Whac-A-Mole-style." Kathie Lee Gifford and Hoda Kotb saved the day, however, opening the fourth hour of Today by recreating the SMU girls' legs-crisscrossing-in-the-air routine.
9. Justin Bieber, Selena Gomez, and company
The very first "Call Me Maybe" parody was also "the most commercially important," says Ann Powers at NPR, since it both introduced Jepsen's song to American ears and launched the craze of lip-synched videos. Recorded in February, before the song took off in the U.S., it starred teen idols Justin Bieber, Selena Gomez, and Ashley Tisdale. The famous friends seem like they're "genuinely having a blast in the video," says The Huffington Post. They don fake mustaches, dance joyously, and Bieber and Gomez even tease their fans with a near-liplock. It must have been surreal for a relatively unknown singer like Jepsen to see her song suddenly become "Justin Bieber and Selena Gomez's favorite new jam."
10. Katy Perry
Following the Biebs' lead, Katy Perry and her friends performed their own poolside version of "Call Me Maybe" while at the Coachella music festival in April. It's "hilariously similar to the one made by Bieber and [his] pals," says Sarah Maloy at Billboard. Indeed, Perry coos, "We love you Justin Beiber!" at the end of the clip, suggesting she's a fan of his parody, which has tens of millions of YouTube hits. With infectious videos like these, says Michelle Profis at Entertainment Weekly, "Call Me Maybe" is "a gift that keeps on giving."
11. James Franco
James Franco also "hopped on the Carly Rae Jepsen bandwagon" in April with a low-rent video that finds him singing along to the track while in a car with a friend, says Jessica Sager at Pop Crush. The two have a shaky grasp on the lyrics, but the amusing video demonstrates that Franco is at least "very self-aware and sees the irony and humor in his whack covers." The most endearing moment: Franco puts a fake hand-phone to his ear when he sings the title line, says Andrew Unterberger at Pop Dust.
This article — originally published on May 18, 2012 — was last updated on June 15, 2012.

Continue reading for free
We hope you're enjoying The Week's refreshingly open-minded journalism.
Subscribed to The Week? Register your account with the same email as your subscription.