Scientology's 'real-world Hogwarts' boarding school: 7 talking points
A guide to the key revelations in The Daily's exposé of Delphian School, a "secretive and secluded" campus based on the teachings of L. Ron Hubbard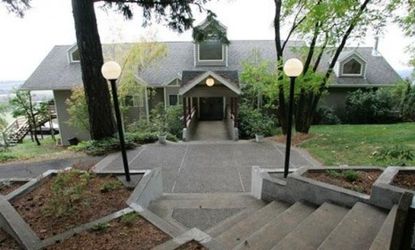 (Image credit: Facebook/Delphian School)
Situated high in the mountains of western Oregon, Delphian School is a "secretive and secluded" K-12 campus for budding Scientologists. The subject of a surprising, in-depth report by Benjamin Carlson at The Daily, the school likens itself to a "real-world Hogwarts" to woo potential students whose parents are willing to pay $42,000 a year in tuition. Here, seven of The Daily expose's most bizarre takeaways:
1. It's very much a Scientology school
Delphian was founded in the 1970s by Scientologists, reports Carlson. Roughly 250 students attend the boarding school, which, at $42,000 a year, is more expensive than the prestigious Phillips Exeter Academy. It runs from kindergarten to the equivalent of senior year (known as Form 8). The Daily estimates that at least half the students are Scientologists, and "the structure of the school, its ethical code, and its language all reflect the influence and precepts of Scientology." Tom Cruise and Nicole Kidman's daughter is a former student.
Subscribe to The Week
Escape your echo chamber. Get the facts behind the news, plus analysis from multiple perspectives.
SUBSCRIBE & SAVE
Sign up for The Week's Free Newsletters
From our morning news briefing to a weekly Good News Newsletter, get the best of The Week delivered directly to your inbox.
From our morning news briefing to a weekly Good News Newsletter, get the best of The Week delivered directly to your inbox.
2. It markets itself as a "real-world Hogwarts"
In promotional materials, the school openly compares itself to Hogwarts, the fictional boarding school for witches and wizards attended by Harry Potter. "You know, it's on a hill, and I'm a big Harry Potter fan…You've got the Forbidden Forest out there, it's like, awesome," beams one student in a promotional video released by the school. (Watch it below.) The video cuts to an aerial shot of the school's castle-like architecture as another student enthuses that Delphian is "kinda magical." Students who are not Scientologists are called "wogs." Says one student, "It's similar to Harry Potter calling the non-wizard people 'muggles.'"
3. Its curriculum is… unconventional
Though it's historically lacked academic accreditation, Delphian is in the final stages of becoming an accredited member of the Pacific Northwest Association of Independent Schools. The school's curriculum is shaped by a concept invented by Scientology founder L. Ron Hubbard called "study technology," or StudyTech. Three basic ideas comprise StudyTech: "All educational problems arise from misunderstood words (including words as basic as "the" or "it"); abstract ideas need to be shown in pictures or clay to be grasped; and students should not progress in a subject until they master every single step." Conventional subjects are studied, typically one course at a time, and independently, "with little or no classroom discussion."
4. Students participate in "training routines"
Beyond their classes, students perform drills called "training routines," or "TRs." For example, students are required to sit for two hours staring into another student's face, or, in an exercise called "bull baiting," sit without twitching or laughing while being teased, shouted at, and berated by other students. For many students, it's a highlight. "It's the funniest thing in the world when you watch people do it," says one former Delphian student, adding that the taunts often focus on "sex and boyfriends, things like that." A more advanced drill, TR-7, teaches students how to make others do what they're told, even if physical force is necessary.
5. A strict set of rules prevails
Delphian is governed by a stringent set of rules, prohibiting facial hair, sex, drugs, and PDA of all forms, among other things. There are student watchdogs called "rovers," and schoolmates are encouraged to turn in those caught misbehaving. Being a snitch is considered "cool." Rulebreakers' names are listed on a sheet called the "Golden Rod," which hangs outside the ethics' officer's door.
6. Most graduates enter the Scientology organization, Sea Org
Many students who graduate from Delphian enlist in Sea Org, Scientology's controversial labor corps that pays so poorly past participants have equated it to "human slavery." In a February article, The New Yorker reported that the FBI was investigating Sea Org based on accusations of human trafficking and slavery. One former employee claims to have worked 15-hour days as a teenager, seeing her parents just twice between ages 12 and 18. Another says he never earned more than $17 a week for his work, and lived in a room so barren it lacked a door knob. Past Delphian graduates who endured Sea Org and have since left Scientology tell The Daily they find it "heartwrenching" when they hear of students enlisting in the organization.
7. Some graduates have trouble reacclimating to normal society
Several students interviewed by The Daily say they joined Sea Org because it was too hard to handle the "culture shock" of the real world outside of Delphian's walls. As one admits, "Once you've been in the system for a couple years, most people find any other system a little odd." Graduates who went on to university after Delphian report falling behind in their coursework, even flunking out. As Max Read at Gawker writes, "Why wouldn't you suffer from culture shock, when the 'Delphi experience' is so bizarre?" That's not to say that the school doesn't produce successful students. Sky Dayton, the founder of Earthlink and Boingo, is an alumnus. Other alumni include filmmakers, designers, and computer programmers.

Continue reading for free
We hope you're enjoying The Week's refreshingly open-minded journalism.
Subscribed to The Week? Register your account with the same email as your subscription.