The next 'biblical' bug invasion: Stink bugs
There's a new annoying insect on the rise — one congressman calls it a "terrorist bug" — and it is causing quite a stink in the mid-Atlantic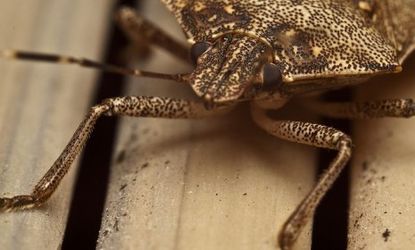 (Image credit: CC BY: Stephen Klein)
Cities across the U.S. are in the throes of bedbug hysteria, but the mid-Atlantic is bracing for a different infestation: Stink bugs. This year, the population of these pests has exploded, wreaking havoc on farms throughout the region. And, with the weather getting cooler, the bugs are seeking warmth, crawling into urban office buildings and suburban homes. "I have never seen anything like this in my career," Tracy Leskey, a USDA scientist, tells the Washington Post. Here is a concise guide to America's infestation du jour:
Are they really smelly?
Yes, when the bugs feel threatened, or when they're squished, they emit an unpleasant, musty odor, though some says it is not that bad. "I don't find them unpleasant, but a lot do," Mike Raupp, a University of Maryland entomologist, tells ABC News. "Some people say they smell like cilantro. Then, I say, put some salt on them."
Subscribe to The Week
Escape your echo chamber. Get the facts behind the news, plus analysis from multiple perspectives.
SUBSCRIBE & SAVE
Sign up for The Week's Free Newsletters
From our morning news briefing to a weekly Good News Newsletter, get the best of The Week delivered directly to your inbox.
From our morning news briefing to a weekly Good News Newsletter, get the best of The Week delivered directly to your inbox.
How did the bugs get here?
Native to Southeast Asia, stink bugs were first spotted on American soil in 2001 in Allentown, PA. They probably traveled as stowaways on a container ship from the East. They have since spread to 29 states, and this year, "the population... absolutely exploded," according to Joe Fiola, a University of Maryland fruit specialist. His colleague Mike Raupp describes this year's problem as "biblical."
Why are they multiplying so fast?
It's unclear. Some entomologists think last winter's heavy snowstorms coupled with the hot summer provided ideal conditions for the bugs. Others attribute the growing numbers to a decrease in the use of heavy agricultural pesticides and an increase in imports from far-off lands.
Do they bite?
No. These harmless bugs neither sting nor bite, and they don't transmit disease — at least none that health officials have discovered so far. (Watch an expert discuss stink bugs.)
Then what's the big deal?
The bugs may be nothing more than a pungent nuisance for homowners — but they are causing real economic hardship for farmers. Pest experts say the pests are wreaking havoc on Maryland's vegetable and fruit crops this year, with some farms losing everything they planted. "If you wanted to design a terrorist bug, it would have the features of the brown marmorated stink bug," says Rep. Roscoe Bartlett (R-MD), who is asking for $3 million in federal funds for pest control.
How hard is it to deal with an infestation of the bugs?
Very. The bugs are resistant to many man-made pesticides, and they have no natural predators in America. Congress is currently rallying federal authorities to allow farmers to fight stink bugs with pesticides not currently approved for the use. "If we fail to take action," says a letter 15 members of Congress sent Friday to Agriculture Secretary Tom Vilsack and EPA Administrator Lisa P. Jackson, "damage from this insect could prove to be a national crisis." These agricultural pesticides, of course, are not suited for use in homes, where the best options are glue traps and sealing up holes to prevent the bugs from coming inside in the first place.
Sources: The Washington Post, ABC News, The Baltimore Sun (2), WTOP.com

Continue reading for free
We hope you're enjoying The Week's refreshingly open-minded journalism.
Subscribed to The Week? Register your account with the same email as your subscription.