The media's risky paywall experiment: A timeline
The Times of London is just the latest high-profile publication to experiment with putting content behind a "paywall." Here, a history the strategy's mixed record of success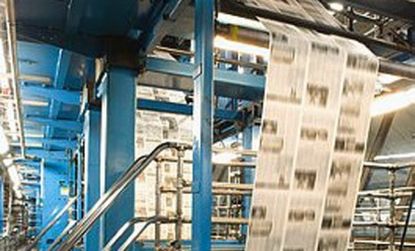 (Image credit: Corbis)
Facing the most difficult business environment in living memory, the news media is struggling to find ways to turn a profit with online content. One of the most straightforward solutions is to put articles behind a "paywall" — but that strategy has a decidely mixed track record. For every notable success like the Wall Street Journal's website (with more than 1 million online subscribers), there have been high-profile failures. British newspaper The Times — owned, like WSJ.com, by Rupert Murdoch's News Corporation — is just the latest example, after its recently erected paywall reportedly led to a sizable fall-off in online readership. Here's a timeline of how paywalls have fared in the past 14 years:
June 1996
Microsoft launches Slate, an online magazine, with plans to soon start charging readers a $19.95 annual subscription fee.
Subscribe to The Week
Escape your echo chamber. Get the facts behind the news, plus analysis from multiple perspectives.
SUBSCRIBE & SAVE
Sign up for The Week's Free Newsletters
From our morning news briefing to a weekly Good News Newsletter, get the best of The Week delivered directly to your inbox.
From our morning news briefing to a weekly Good News Newsletter, get the best of The Week delivered directly to your inbox.
January 1997
The Wall Street Journal becomes one of the first national newspapers to install a paywall, charging $50 a year for access to WSJ.com, just one year after launching the site.
February 1998
After deliberating for almost a year, Slate asks its 140,000 monthly readers to start paying for its content.
April 1998
WSJ.com surpasses 200,000 online subscribers.
July 1998
The New York Times lifts a $35 monthly fee for overseas readers to boost online advertising revenue.
October 1998
Salon, another online magazine, opens a membership area where, for $25 a year, readers gain access to exclusive material as well as a host of benefits.
February 1999
Citing "sluggish" growth in online subscriptions, Slate drops its paywall and allows the public access to its entire site. About 20,000 people had agreed to pay, while the site's free "front porch" was seeing on the order of 400,000 monthly visitors.
March 2001
Salon launches "Salon Premium," a dedicated stream of exclusive news and comment — with no ads — for which readers must pay a $30 annual fee.
October 2001
Salon tells its readers "virtually all of its news and politics articles" will be published in its Premium section. "Only readers can keep the independent press alive," implores editor David Talbot.
November 2002
Although 45,000 paying subscribers have signed up for its premium service, Salon introduces a system whereby non-paying readers can access articles after sitting through a commercial.
August 2003
The Los Angeles Times begins charging $4.95 a month for access to its online entertainment section.
May 2005
The L.A. Times paywall is dismantled "with little fanfare," after a reported 97 percent drop in readership of affected content.
September 2005
The New York Times introduces TimesSelect, placing its entire archive and articles written by its roster of columnists behind a $50-annual-fee paywall. Has anyone noticed that all those restricted columns can also be found on the web "for free?," asked Gothamist's Jen Chung.
October 2007
The Financial Times, which began charging for content in 2001, is the first to adopt a "metered model" paywall. Readers get 10 articles for free before being asked to register, then are awarded with a further 30. After that, they are asked to pay an annual subscription of up to $325.
May 2007
WSJ.com celebrates its millionth online subscriber.
September 2007
After much internal wrangling, The New York Times drops TimesSelect, and opens its archives to all readers. Rumors spread that the Gray Lady's award-winning roster of columnists was irritated that no one could read their articles online. The newspaper says TimesSelect was a success, with 227,000 subscribers generating $10 million a year in revenue, but that it could make more money by relying on online advertisers.
October 2009
Long Island-based newspaper Newsday introduces a paywall for its revamped website. Subscribers are asked to pay $5 a week, or $260 a year.
November 2009
Salon redesigns its website and finally abandons its subscription model.
January 2010
The New York Times announces it will begin charging for online content from January 2011, using a "metered model" similar to that of the Financial Times. The newspaper does not detail what it will charge for access. Meanwhile, it emerges that Newsday has attracted a total of 35 online subscribers in the three months since it erected its paywall.
June 2010
The Times of London puts its content behind a $3-a-week paywall, and promptly loses a large share of its online readership (competitor The Guardian puts the figure at an astonishing 90 percent). This "could be indicative of what the rest of the newspaper industry can expect to undergo in the coming years," says Alla Goldman in the Bivings Report.
Sources: CNet, New York Observer, Guardian, Reuters, Slate

Continue reading for free
We hope you're enjoying The Week's refreshingly open-minded journalism.
Subscribed to The Week? Register your account with the same email as your subscription.