Who is Fabrice 'Fabulous Fab' Tourre?
The Goldman Sachs financial whiz is accused of defrauding clients, and helping bring down the world economy. Who is he?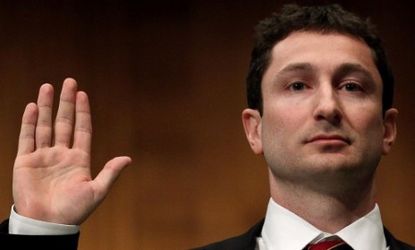 (Image credit: Getty.)
Tarnished Goldman Sachs star Fabrice Tourre testified before a Senate panel Tuesday, along with several top executives at the Wall Street bank, declaring his innocence against allegations he defrauded his own clients. The SEC accuses Tourre of creating and selling a series of complex mortgage-backed bonds — dubbed Abacus 2007-AC1 — that were designed to fail, costing some investors large sums of money. (Watch Fabrice Tourre testify before Congress.) Here's a brief introduction to "Fabulous Fab" Tourre:
Who is "Fabulous Fab"?
Fabrice Pierre Tourre, 31, is a 2000 graduate of France's prestigious engineering school the École Centrale Paris, where he majored in math. He went on to earn a Masters in management science and engineering at Stanford, and joined Goldman Sachs in 2001. He was a Goldman vice president, at the firm's New York headquarters, in 2007 when, according to the SEC, he set up the shady Abacus deal. He's now an executive director at Goldman's London office.
Subscribe to The Week
Escape your echo chamber. Get the facts behind the news, plus analysis from multiple perspectives.
SUBSCRIBE & SAVE
Sign up for The Week's Free Newsletters
From our morning news briefing to a weekly Good News Newsletter, get the best of The Week delivered directly to your inbox.
From our morning news briefing to a weekly Good News Newsletter, get the best of The Week delivered directly to your inbox.
Where did his nickname come from?
Tourre says a fellow Goldman employee dubbed him "Fabulous Fab," but he used the nickname himself, most notoriously in a 2007 email to a friend: "The whole building is about to collapse anytime now...Only potential survivor, the fabulous Fab...standing in the middle of all these complex, highly leveraged, exotic trades he created without necessarily understanding all of the implications of those monstruosities!!!"
Is Tourre still working?
He's on indefinite paid leave, and was de-registered with Britain's banking regulator for the duration of his time off.
How much does he earn?
According to The Wall Street Journal, Goldman paid Tourre more than $2 million in 2007, the year of the Abacus deal.
How did he spend it?
In New York, he lived in a $4,500-a-month apartment and reportedly was known at Goldman for his expensive tastes. However, the superintendent of his building says Tourre didn't decorate his apartment lavishly, telling the New York Post: "He was cheap. He didn't spend much money." He did, however, throw "a lot of loud parties" that made him unpopular with his neighbors.
Why is Tourre "the poster boy of the financial crisis"?
He is the only person named in the SEC's civil lawsuit against Goldman. Also, his released emails make him sound a bit callous — in one, he told of selling some doomed Abacus bonds to "widows and orphans that I ran into at the airport" in Belgium; in another, he wrote, in French, that poor little subprime borrowers won't last long; a third described his "Frankenstein" CDOs as "a product of pure intellectual masturbation" that "has no purpose...is absolutely conceptual and highly theoretical and which nobody knows how to price."
Does he deserve the rap?
Some people think he's taking the fall for his higher-ups at Goldman. "Wall Street's offering up, essentially, a 31-year-old kid," says investment adviser Bill Bartmann, a former Goldman client. Some other Wall Street players say the SEC's case is flimsy. Tourre himself, at Tuesday's Senate hearing, said, "I deny categorically the SEC's allegations."
How did his Senate testimony go?
He didn't win many sympathy points. "Fab's arrogance," says Washington Post columnist Dana Milbank, "bested previous displays of hubris by the automotive, oil, and tobacco industries." The NY Daily News' Joanna Molloy says Tourre "came across like a weenie" with a "high-pitched voice" and tasteless "Roman emperor minibangs, like those of Joaquin Phoenix in Gladiator." Slate's Christopher Beam says the testimony boiled down to a question of whether Tourre and his colleagues are "criminals or merely a big bunch of jerks."
Sources: CNNMoney, LA Times, ABC News, Daily Mail (2), Washington Post, New York Times, NY Daily News, Wall St. Journal, NY Post, Slate

Continue reading for free
We hope you're enjoying The Week's refreshingly open-minded journalism.
Subscribed to The Week? Register your account with the same email as your subscription.