The Charlie Hebdo attacks show that not all blasphemies are equal
Islam cannot be lumped with Christianity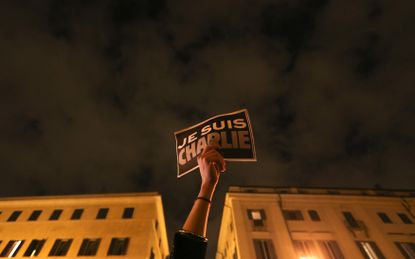 (Image credit: (REUTERS/Alessandro Bianchi))
After the murder of Charlie Hebdo's cartoonists, pundits have tried to suss out where blasphemy fits into the social life of the West. Is it a necessary project for shocking Bronze Age fanatics into modernity? Is it a way of defending a free-wheeling liberal culture from the censorship of violent men? Or is it abusively uncivil? When directed at a minority religion, is it racist? Is it an abuse of freedom of speech, the equivalent of a constant harassment that invites a punch in the nose?
We have been told that Charlie Hebdo is an "equal opportunity offender." And in one sense that is obviously true. It drew unflattering pictures of Jesus, of Jews, and of the Prophet Muhammad. The spirit of the magazine was anarchic, atheistic, and left-wing. As Pascal-Emmanuel Gobry points out, it was a very French thing, anti-clerical and Rabelaisian.
But not all blasphemies are equal, because religions are not analogous. A gesture aimed at one can cause an eruption of outrage, but when offered to another it produces a shrug. The intensity of reaction may be determined by the religion's comfort with modernity, or by the history of its adherents. Western Christians are raised in pluralist, tolerant, and diverse cultures, and in powerful nations. Muslims experience the bad side of discrimination as immigrants, and come from cultures that have been humiliated by colonialism, autocracy, and Western incursion. But that doesn't explain all of it.
Subscribe to The Week
Escape your echo chamber. Get the facts behind the news, plus analysis from multiple perspectives.
SUBSCRIBE & SAVE
Sign up for The Week's Free Newsletters
From our morning news briefing to a weekly Good News Newsletter, get the best of The Week delivered directly to your inbox.
From our morning news briefing to a weekly Good News Newsletter, get the best of The Week delivered directly to your inbox.
Pissing on a Bible is similar to pissing on a Koran only as a chemical reaction of urea and pulp. As gestures of desecration they mean entirely different things. The challah bread eaten in Jewish homes on the Sabbath and the Catholic Eucharist both have a symbolic relation to the manna from heaven in the book of Exodus, but trampling on one is not the same as the other, and would inspire very different reactions. Likewise, Charlie Hebdo's images are offered from an anarchic and particularly French anti-clerical spirit, but they are received entirely differently as blasphemies by Christianity and Islam.
After the Charlie Hebdo massacre, I tried to think of what kind of blasphemy aimed at my own faith would bring out illiberal reactions in me. The infamous Piss Christ of Andres Serrano barely raises my pulse. Although the pictured crucifix reminds me of one I would kiss in worship on Good Friday, I agree with the artist Maureen Mullarkey that it is trivially easy to avoid taking the publicity-and-money-and-status-generating offense it so desperately sought.
But a Black Mass — a satanic parody of the Catholic Mass, in which a consecrated host stolen from a Catholic Church is ritually desecrated — would touch something else in me. I followed the news about proposed Black Masses at Harvard and Oklahoma City intensely in 2014. I monitored the reactions of local bishops. And I thought more highly of Tulsa's Bishop Slattery for his tougher posture. I admired even more the renegade Traditionalist Society of St. Pius X, which organized a march and produced a beautiful video explaining the offense of a Black Mass, and why Catholics would seek to make reparation before God for the offense given by others.
Freddie deBoer says that those defending the practice of blasphemy are arguing against a shadow and doing brave poses against a null threat: "None of them think that, in response to this attack, we or France or any other industrialized nation is going to pass a bill declaring criticism of Islam illegal."
Not only does this ignore the chilling effect violence has on free speech, it is also just wrong. In 2006, the British government of Tony Blair asked for a vote on a law "against incitement to religious hatred." It was a law whose political support came overwhelmingly from Muslims.
Labour MP Khalid Mahmood argued that one of the virtues of the law was that it would have allowed the government to edit Salman Rushdie's work. Luckily, the House of Lords insisted on a revision that would exempt "discussion, criticism, or expressions of antipathy, dislike, ridicule, insult, or abuse of particular religions or the beliefs or practices of their adherents" from the law, rendering it toothless.
But if I thought about it, I understood the MP's reaction. He hoped that a law against incitement could function as a de facto blasphemy law. I hoped last year that laws against the petty theft of "bread" from a Church could be enforced to prevent the Black Masses.
It often seems the debate over the value of blasphemy is determined by what people fear the most. Do they fear the growth of an Islamic sub-culture within the West that threatens the gains of secularism, religious toleration, feminism, and gay rights? Then blast away. Or do they fear that the majority culture, like Western imperialism itself, is driving Muslims into poverty, despair, and a cultural isolation that encourages fundamentalism? Well, then be careful, circumspect, and polite.
Last week, I suggested that Europe's secularism was aimed at Christianity, and that in some respects secularism was a kind of genetic mutation within the body of Christendom. Charlie Hebdo's kind of blasphemy was a Christian kind of blasphemy. Christianity makes icons, and Hebdo draws mustaches and testicles across them. It pokes at the pretension of religious leaders. This is a kind of blasphemy that Matt Taibbi identifies with "our way of life."
But what if drawing a cartoon of Muhammad is not, theologically speaking, like drawing a parody of Jesus? What if it is more like desecrating the Eucharist, something I think Charlie Hebdo's editors would never do?
Obviously there are debates within Islam about what God demands from believers, unbelievers, and earthly authorities. Just as there are debates about what the Eucharist is within Christianity. And, yes, sometimes state pressure can effect a religious revolution. (Look to the Mormon church and the United States). But Western pressure seems to push Muslims away from liberality.
Fazlur Rahman and other Islamic scholars point out that when Islam was an ascendant and powerful world force it often found the intellectual resources to "Islamicize" the philosophies and cultures it encountered outside its Arabian cradle. But once Islam was humiliated and reduced on the geopolitical stage, these more daring and expansive medieval projects were abandoned. Other modernizing and liberal efforts of jurists like Muhammad Abduh have proven unpopular. Instead, the great modernist projects of Wahhabist and Salafist fundamentalism is what colors movements from the Taliban to the Islamic State.
When Westerners read the editorial from radical cleric Anjem Choudary, they are tempted to think he is stupid for asking why "why in this case did the French government allow the magazine Charlie Hebdo to continue to provoke Muslims...?"
"That's not how it works here," we want to reply. But Choudary's view that the state authority is responsible for the moral and spiritual condition of the nation is quintessentially Islamic. It is a reflection of the fact that Islam's great debates are centered on jurisprudence, on the right order of the ummah. This is very different from Christianity where the primary debates center around orthodox faith and morals withing the Church. In an odd way, Choudary's complaint against France is a sign of assimilation. He expects France to assimilate to this vision of Islam. He offers France's leaders the same complaint radical Muslim reformers always offer to lax Sultans and Caliphs.
To ask Muslims to respond peacefully to Charlie Hebdo's provocations makes absolute sense to me, because I want to continue to live by the norms set by a detente between secularism and Christian churches. I suspect many (perhaps most) Muslims want the same. But those Muslims who are faithful to a religious tradition concerned primarily with restoring fidelity to sources from the first three centuries of Islam were not a party to the secularist bargain. And we ought to be aware that we are asking them to live as Christians, and to be insulted like them, too.

Continue reading for free
We hope you're enjoying The Week's refreshingly open-minded journalism.
Subscribed to The Week? Register your account with the same email as your subscription.