The Catholic atheism of Eugene O'Neill's The Iceman Cometh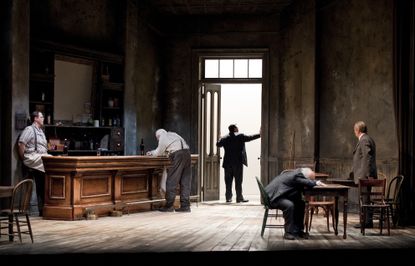 (Image credit: (Goodman Theater/Liz Lauren))
On a late summer Sunday morning in New London, Connecticut, in 1903, the 14-year-old Eugene O'Neill informed his father James that he would no longer accompany his family to Mass. Eugene had been struggling for some time with his Catholic faith. Two years earlier, while home on vacation from boarding school, he had stumbled on his mother giving herself an injection. Confused by what he had seen, he began praying for her recovery from whatever mysterious ailment afflicted her.
By the fateful summer of 1903, Eugene had come to understand that his mother was severely addicted to morphine. Overcome with anguish about his mother's condition, furious at his father for allowing her addiction to take root in the first place, despairing at the impotence of his unanswered prayers for divine intervention on his mother's behalf, Eugene rejected God and remained estranged from the church for the rest of his life.
In his plays, O'Neill developed a distinctive style of atheism, though it can be a challenge for us to recognize it today. Our bestselling atheists insist almost without exception that godlessness is unambiguously good news — a liberation from ignorance and fear, and a gateway to intellectual fulfillment. O'Neill's reflections on humanity's struggle for spiritual meaning were, by contrast, haunted by the palpable absence of God and shot through with tragedy, peopled by characters marooned in a twilit world longing for a redemption and forgiveness that never comes. Those eager for an alternative to the superficial, insouciant godlessness so prevalent in our time will find one in the deeper, darker atheism explored in O'Neill's greatest plays.
Subscribe to The Week
Escape your echo chamber. Get the facts behind the news, plus analysis from multiple perspectives.
SUBSCRIBE & SAVE
Sign up for The Week's Free Newsletters
From our morning news briefing to a weekly Good News Newsletter, get the best of The Week delivered directly to your inbox.
From our morning news briefing to a weekly Good News Newsletter, get the best of The Week delivered directly to your inbox.
None of those plays is deeper, darker, or greater than The Iceman Cometh — the nearly five-hour marathon of existential desolation that will be performed at the Brooklyn Academy of Music's Harvey Theater from Feb. 5 to March 15. As the play builds toward its electrifying climax, it grants theatergoers a glimpse into the abyss of a uniquely Catholic form of atheism.
O'Neill's guide to a life without God, almost from the beginning, was Friedrich Nietzsche, whose Thus Spoke Zarathustra he discovered in a bookshop at age 18. Many years later, O'Neill would confess that it "influenced me more than any book I've ever read" — and that he re-read it every year or so of his life.
What O'Neill found in the work of the man who pronounced the "death of God" was a uniquely tortured vision of godlessness: "Unconditional, honest atheism," Nietzsche wrote, is an "awe-inspiring catastrophe" that amounts to denying oneself "the lie involved in belief in God." Human beings need lies to live, Nietzsche suggested, and atheism is the catastrophic act of substituting truth — the truth that the universe in itself is a meaningless chaos indifferent to human hopes — for the most essential of these life-giving lies.
That O'Neill was driven in his writing to explore themes wrapped up with the loss of his faith and subsequent embrace of Nietzschean godlessness was recognized very early by none other than the Catholic social activist Dorothy Day, who spent a few intense months with the young playwright in the winter of 1917-18 when he was 29 years old. "If ever a man had the tragic sense of life it was Eugene O'Neill," she stated in an interview years later. "To me, he portrayed more than any other what life without God is like."
O'Neill himself confirmed Day's impression of his aims and ambitions in a 1934 letter: "All of my past plays, even when most materialistic, are…in their spiritual implications a search and a cry in the Wilderness protesting against the fate of their own faithlessness."
The theme of man's spiritual struggles runs through nearly all of O'Neill's work, but it was in The Iceman Cometh that he most fully and subtly explored a tragic form of atheism inspired by Nietzsche and decisively shaped by the youthful loss of his Catholic faith.
Written in 1939 and first performed in 1946, the Iceman is set in 1912 in a rotgut saloon at the foot of Manhattan, where a dozen washed-up losers spend their days drinking themselves into oblivion while telling lies about their pasts and futures that grant them an eternal present of fragile peace and joviality. These pipe dreams — the term is invoked over and over again throughout the play, almost as an incantation — allow the characters to avoid facing unbearably ugly truths about the world and themselves.
This is the human situation, according to O'Neill: we are all liars, clinging to illusions that make it possible to get through the day, deceiving ourselves about something, or many things, we can't bear to face — failure at romantic love, humiliating anxieties, thwarted ambitions, unexpiated guilt, political disappointments, religious disillusionment, fear of our own finitude.
As the curtain rises and we are introduced one by one to the denizens of the bar, we learn that they subsist in a stable equilibrium. Each recognizes the others are telling lies but denies his own; each tacitly agrees not to puncture the self-deception of his companions in return for being left undisturbed in the fog of his own self-protective fantasies.
Standing somewhat apart from and above the others is a former anarchist named Larry Slade (Brian Dennehy in the BAM production). Dubbed a "foolosopher" who sits in the "grandstand" observing his comrades from a position of bemused detachment, Larry pronounces that "the lie of a pipe dream is what gives life to the whole misbegotten mad lot of us, drunk or sober." Yet like a Platonic philosopher who believes he has escaped the cave of illusion to gaze on reality in the light of the sun, Larry claims to have transcended the lies that ensnare everyone else — and to have reconciled himself to the certain annihilation that awaits him in death. His pipe dreams are "all dead and buried behind me," Larry insists. "What's before me is the comforting fact that death is a fine, long sleep, and I'm damned tired, and it can't come too soon for me."
Relative calm prevails in the bar until traveling salesman Theodore Hickman (nicknamed Hickey) arrives near the close of Act 1. Hickey (played by Nathan Lane at BAM) has a history of coming around the bar from time to time with a wad of cash to blow on a multi-day bender with his friends. But when he arrives this time, he's changed. Acting like an evangelist, he refuses to drink, claims to have dispelled the pipe dreams at the core of his life, and appears uninterested in anything besides spreading a gospel of truthfulness: man must face his lies, renounce them, and at long last resolve to live in the glaring light of reality.
From that point on, the nerve of the play is a rivalry between Larry and Hickey over which of them more fully grasps the truth of existence. Larry's philosophic wisdom and pity for his fellow drunks persuades him that they are better off left sunk in their own delusions. Hickey, by contrast, wants to turn them into converts who embrace the truth, no matter how ugly, and find happiness in doing so. Each man claims to be the sole person in the bar who has liberated himself from illusion.
By the middle of Act 3, it looks like Hickey has prevailed. That's when he finally succeeds in provoking Larry to face the fact that he clings to one last hidden illusion: that he's indifferent to his own death.
LARRY: I'm afraid to live, am I? — and even more afraid to die! So I sit here, with my pride drowned on the bottom of a bottle, keeping drunk so I won't see myself shaking in my britches with fright, or hear myself whining and praying: Beloved Christ, let me live a little longer at any price! If it's only for a few days more, or a few hours even, have mercy, Almighty God, and let me still clutch greedily to my yellow heart this sweet treasure, this jewel beyond price, this dirty, stinking bit of withered old flesh which is my beautiful little life!
But Hickey's victory is short-lived.
Like any good missionary, he promises his friends in the bar that they will enjoy supreme happiness once they have faced their lies and chosen to live, instead, in the light of the truth. But rather than producing a rebirth, Hickey's relentless proselytizing spreads the pallor of death throughout the bar. As Nietzsche would have predicted, exposure to the truth leads the patrons into despair and lethargy. Eventually they even lose the ability to enjoy the ersatz happiness of getting drunk.
As the play approaches its chilling conclusion, the audience (like the increasingly agitated Hickey himself) begins to wonder: Why is it that Hickey alone finds peace and solace in having dispelled his pipe dreams? Is he some kind of Nietzschean Übermensch — the one person who can withstand living in the light of the truth, while everyone else is crushed by it? Or might he instead, like Larry before him, remain in thrall to one last pipe dream that even he cannot bear to acknowledge and dispel?
Without giving away the ghastly details from the Iceman's culminating Act 4, it's possible to say that the play reaches its climax when Hickey reveals to his friends in the bar, as well as to himself, the absolutely decisive role that his saintly wife Evelyn has played in his life.
Like the Christian God, Evelyn loves and forgives Hickey unconditionally. Even when he treats her badly. Even when he cheats on her with prostitutes. Even when he picks up a venereal disease and passes it on to her. Even when he disappears for days and weeks at a time on drinking binges and then returns home a drunken slob. Even when he promises never to do it again, and then does it again anyway. Over and over and over.
Despite Hickey's perennially broken promises and repeated failure to improve, Evelyn shows him nothing but "sweetness and love and pity and forgiveness."
Catholicism teaches that Christ's gratuitous love for humanity is the power that will redeem the world. O'Neill's Catholic atheism, inspired by Nietzsche, teaches a very different lesson: that unearned unconditional love and forgiveness can curdle into toxic guilt and self-loathing. And that this self-hatred can rebound outward toward the source of that love in an act of almost demonic fury. "I…caught myself hating her for making me hate myself so much," Hickey confesses about his Christ-like wife. "There's a limit to the guilt you can feel and the forgiveness and the pity you can take!"
Atheism, for O'Neill, is not a function of the advance of scientific knowledge or the spread of modern skepticism. It is a consequence of Western humanity's refusal to endure any longer the misery and degradation that's bred by belief in a God who forgives us in an unmerited act of grace. "God is dead, and we have killed him," Nietzsche wrote. To which O'Neill implicitly adds: because we hated Him for loving us so much.
But what becomes of our guilty conscience once the source of our psychic agony has been dispensed with? Is the burden at long last lifted from our shoulders? Or does it weigh more heavily than ever?
Those are the questions posed in the final haunting minutes of the play. Suffice it to say that unlike the happy-talk unbelievers of our historical moment, O'Neill thought an enormous struggle remained once one had embraced godlessness — and not merely because it can be a challenge to live without transcendent guidance. Even more difficult is learning how to cope with, make sense of, and endure the often painful moral longings and experiences that led Western civilization to conjure its dominant theological pipe dream in the first place.
There are no easy answers, but there is an abundance of hard-won, wrenching human wisdom, in the plays of Eugene O'Neill — and above all in The Iceman Cometh.

Continue reading for free
We hope you're enjoying The Week's refreshingly open-minded journalism.
Subscribed to The Week? Register your account with the same email as your subscription.