Confessions of a college fixer
When college athletes needed extra academic credits quickly, they called on Mr. White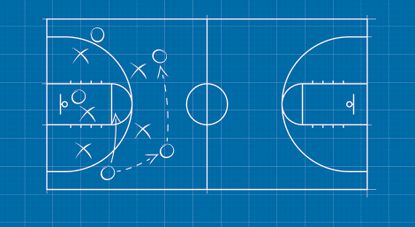 (Image credit: (iStock))
Sign up to our 10 Things You Need to Know Today newsletter
A free daily digest of the biggest news stories of the day - and the best features from our website
Thank you for signing up to TheWeek. You will receive a verification email shortly.
There was a problem. Please refresh the page and try again.
Fifteen miles from his home, tucked in a corner of a 10-by-10 storage unit, is a gray filing cabinet. Locked inside he keeps the test answers for more than a dozen online courses.
Among his files is a pink steno pad of names, covering the front and back of 80 pages, that includes some of the biggest stars in college sports. Next to the names are credit card numbers and PINs, log-ins, passwords, Social Security numbers, and addresses.
The handwritten notes, by a onetime academic adviser and college-basketball coach, are part of an elaborate scheme. Over the past 14 years, he says, he has used test keys to cheat for hundreds of athletes, helping them meet the eligibility requirements of the National Collegiate Athletic Association.
Subscribe to The Week
Escape your echo chamber. Get the facts behind the news, plus analysis from multiple perspectives.
SUBSCRIBE & SAVE
Sign up for The Week's Free Newsletters
From our morning news briefing to a weekly Good News Newsletter, get the best of The Week delivered directly to your inbox.
From our morning news briefing to a weekly Good News Newsletter, get the best of The Week delivered directly to your inbox.
For some players, he says, he did their work outright. For others, he provided homework answers and papers that the students would submit themselves. At exam time, he lined up proctors and conspired with them to lie on behalf of students.
Many times, he says, the players' coaches directed athletes his way. Sometimes, players' parents or handlers arranged the details.
He did most of his work in college basketball, but he has also helped football players, baseball players, and golfers, among others. The vast majority of his clients never made it big. But, according to his records, his fraud reached the highest levels. A handful of the players listed in his notes were drafted to play in the NBA. At least two are the children of former professional athletes. One is a backup catcher in Major League Baseball.
The fixer's name is Mr. White. He spoke to The Chronicle on the condition that his first name not be used, for fear of retribution. He is a married, 42-year-old father of two. Over a nearly 20-year career, he worked for four colleges, from the mid-Atlantic region to the South.
His side business was lucrative. One year, he says, he made more than $40,000 arranging classes. But he says money wasn't his motive. Part of it was about the players. He believes that many would not have earned a major-college scholarship without his help.
The other part was about his career. He wanted a big-time coaching job, and he figured this could give him exposure to many programs.
He has met plenty of Division I coaches; he has three phones filled with their numbers. He thought he was their friend, that they would return the favors. They gave him VIP tickets, he says, and paid him back through camp appearances. But when it came time to hire, they didn't want him in their club.
Two years ago, the NCAA investigated White and five colleges that had recruited his students. Former NCAA investigators say they knew his players' classes were a sham. But because the NCAA could find no wrongdoing by the colleges themselves, the investigation fizzled.
For White, the ordeal drove home the reality that he could be exposed. It also helped him realize the error of his ways, he says, and made him want to atone for his mistakes. Among his regrets is that many students he set out to help were the ones most hurt. He agreed to tell his story in part to expose flaws in the system.
The Chronicle contacted more than two dozen people with alleged connections to the fraud, including coaches, players, parents, and proctors. Many would not talk on the record, for fear of losing their jobs or harming their reputations. But many corroborated key details on which this article is based.
White may be an extreme example, but his breaches illustrate the ease with which intercollegiate athletics can be exploited, its rules manipulated, and the inability of colleges and regulators to control it.
As for White, he says he is largely out of the business. But several months ago, he got a call from a high-profile basketball coach. A player needed nine credits in one week. Could he help?
That's how it started: Someone needed a favor. In the early 2000s, White was working in student services at a community college and serving as an assistant coach and tutor for the basketball team.
During the 2001-02 season, he says, he mentioned his tutoring job to an opposing team's coach, who asked him for an assist. Among the more than 100,000 athletes who land NCAA scholarships every year, many need help meeting the association's academic requirements. The NCAA requires athletes to have certain test scores and high school grades, in part to ensure that players can do college-level work.
White's first client, who was being recruited by top Division I programs, was having trouble with an online mathematics class. White says he spent several days with the player, completing homework assignments and quizzes for an independent-study class at Brigham Young University.
They finished about half the course that week. White wrote down the player's online log-in and password and completed the rest by himself.
The setup was so simple, White decided to use it again. Later that season, he helped many of his own players pick up easy BYU credits. He began to wonder: If he could do this for one team, why not more?
By the summer of 2002, he was showing up at tournaments with a roster full of players for whom he had completed work. He was making a name for himself, says one longtime Division I assistant. If your kids' classes needed fixing, White was your man.
Before long, he got his first big-time referral: A coach in the Atlantic Coast Conference was recruiting one of the top junior-college players in the country, but the player was short on credits. The coach called White to "get him done."
When someone finds an academic shortcut in college sports, word spreads fast. By his second year, White's records show, he was helping more than two dozen players. His main pipeline for referrals was the Amateur Athletic Union, a popular grassroots league.
From the start, he says, he tried to keep in mind how easily his con could unravel. To protect himself, he established clear ground rules with players. "You fail the course by telling anyone I helped you," he says he warned the students. "You fail the course by ever mentioning my name. You fail by not doing exactly what I say."
His fear of being discovered, he says, led him to do much of the coursework himself, sometimes not even telling the players. He made some students believe they were completing the classes, handing them packets of practice problems he had picked up from the math lab at his community college and making sure they logged time in study halls as if they had done the work. After they finished the packets, he would toss them in the trash. Then he would log in to BYU's website to complete the real assignments.
That's how some coaches preferred it, he says, as it assured them there wouldn't be any slip-ups. That also meant that the coaches didn't have to worry about retaliation. If the players had no knowledge of the fraud, White says, they couldn't hold it against anyone.
To pay for the classes, White often used prepaid credit cards. He purchased them with cash he had received from players' coaches. His fee depended on how quickly the players needed the credits. A simple setup — three credit hours, six to eight weeks — ran a couple of hundred dollars. A more elaborate job could cost five times as much.
Those first few years, he did almost everything online, unaware of how easily his movements could be monitored. He arranged students' work on his employer-issued computer and proctored many of the classes himself. But after reading about other coaches who were caught helping players take online classes, he began enrolling students in correspondence courses, figuring he could hide his fraud more easily through the mail.
When he started out, White says, he saw his fraud as a way to gain a competitive advantage in the job market. But it became his calling card. He eventually realized his dream of coaching in Division I. But he had far more success doing the dirty work for big-time programs from the outside.
As his reputation grew, he had a hard time saying no. In one 18-month stretch from 2003 to 2005, he says, he helped more than 75 players. For White, a self-described "fat, bald white guy" who didn't play much competitive basketball beyond high school, the attention was alluring.
"Basically, I'm like a drug addict," he says. "I get off on the excitement, about being able to get it done."
About five years ago, White says, he started to wind down his business. His twin sons, who were in kindergarten at the time, were asking questions about his work, and he didn't want them to know about his shady dealings. He had also run into legal troubles that forced him to rethink the risks he was taking.
In 2004, while working as the head basketball coach at a community college, he was caught misappropriating money intended for players' meals. Then, in 2012, while serving as an academic adviser at a different community college, he got a call from an NCAA investigator. A player he had helped was having trouble transferring to a Division I program, and the player's mother claimed that White had misrepresented work that she believed her son had done.
Figuring that the NCAA wouldn't be calling about a single incident, White says, he went online and dropped several players out of their classes. Days later, White says, an NCAA investigator showed up in his office and interviewed him for more than an hour.
The NCAA found no links between five athletics departments under investigation and White, a former enforcement official said. As a result, the universities faced no penalties. But investigators turned over White's name to the National Junior College Athletic Association, alerting the group to his fraud.
Several months later, in early 2013, White was forced out of his community-​college job.
Since then, he has patched together a series of odd jobs and volunteer positions, including scouting players, helping a friend in the construction industry, and coaching Little League baseball. He has three numbers for his state's unemployment services saved on his phone.
He has tried to reinvent himself as a consultant who can help players understand NCAA eligibility requirements at a younger age so they won't have to cheat. But other than work for a few friends, whose sons and daughters he has counseled, his business hasn't exactly taken off.
During dozens of interviews over the past few months, he insisted that he had stopped fixing classes. But according to text messages he has received over the past year or so, he is not entirely out of the game.
"I want to thank you again for all of your help," one high-profile basketball player texted him in October 2013, after White sent him through his Canadian proctor.
"You r my man no prob," White wrote back.
"Hey Coach White this is a.d.," wrote another player in September that same year. "Me and my homeboy Earl was looking into taking online classes and working out with you what all do we need?"
Excerpted from an article that originally appeared in The Chronicle of Higher Education. Reprinted with permission.
Continue reading for free
We hope you're enjoying The Week's refreshingly open-minded journalism.
Subscribed to The Week? Register your account with the same email as your subscription.
Sign up to our 10 Things You Need to Know Today newsletter
A free daily digest of the biggest news stories of the day - and the best features from our website