10 unjustly overlooked movie romances
Searching for a Valentine's Day movie that's a little off the beaten path? Look no further.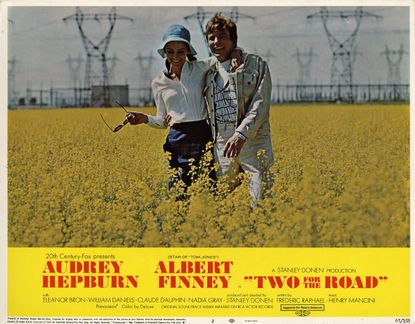 (Image credit: (Courtesy poster))
Sign up to our 10 Things You Need to Know Today newsletter
A free daily digest of the biggest news stories of the day - and the best features from our website
Thank you for signing up to TheWeek. You will receive a verification email shortly.
There was a problem. Please refresh the page and try again.
If you look only at the incessant lists of "must-see" romantic movies that get trotted out every Valentine's Day, cinema can feel very narrow and very boring. Time and time again, the same films are presented, creating the perception that rom-coms began with When Harry Met Sally and ended with Love Actually, or that dramatic romance belongs exclusively to Nicholas Sparks.
But the full history of cinematic romance offers a rich playground with something for everyone. Last year, Girls on Film focused on forgotten rom-coms that dealt with everything from the rise of computers in Desk Set to the alternative bubblegum love of Splendor. This year, I offer 10 more unjustly overlooked romances. Some are more well-known than others, but each and every one gets merely a fraction of the attention it should.
1. Love & Basketball
Subscribe to The Week
Escape your echo chamber. Get the facts behind the news, plus analysis from multiple perspectives.
SUBSCRIBE & SAVE
Sign up for The Week's Free Newsletters
From our morning news briefing to a weekly Good News Newsletter, get the best of The Week delivered directly to your inbox.
From our morning news briefing to a weekly Good News Newsletter, get the best of The Week delivered directly to your inbox.
Gina Prince-Bythewood's excellent Beyond the Lights hit discs just in time for Valentine's Day, but her 2000 debut feature Love & Basketball is also well worth the time. Sanaa Lathan and Omar Epps star as two basketball-obsessed neighbors entrenched in a love-hate relationship, as they grow up from pre-teens to adult pro-ball players. Like Lights, the film merges well-trodden romance tropes with genuine chemistry and thoughtful insights on being black in America. The result is an engaging, charming, and criminally undervalued romance that ended up on Entertainment Weekly's 50 Best Movies You've Never Seen.
2. Breezy
This early Clint Eastwood film from 1973 — and the first he directed but didn't star in — earned three Golden Globe nominations, but it's rarely mentioned in discussions of his work. William Holden stars as a solitary man who tries to avoid relationships until he meets a young, homeless hippie named Breezy. Though it's a May-December romance about love and maturity, Eastwood's film (with screenwriter Jo Heims) is remarkably thoughtful, eschewing the smarmy and hormonal treatments usually delivered by Hollywood.
3. Flirting with Disaster
Before David O. Russell was an Academy favorite, he was the man behind several quirky '90s comedies, including Flirting with Disaster. Ben Stiller and Patricia Arquette star as a couple who struggle to stay together while on a ridiculous road trip with a crappy case worker (Tea Leoni) to find his birth parents. The comedy is basically a blueprint for Stiller's comedic future, especially Meet the Parents, as the trio cross paths with the likes of Mary Tyler Moore, George Segal, Alan Alda, and Lily Tomlin.
4. Imagine Me & You
This 2005 rom-com is the perfect example of how old tropes can be rewarding if they're used judiciously. Piper Perabo stars as Rachel, a woman who meets the love of her life Luce (Lena Headey) at her wedding to Matthew Goode's Heck. As Luce becomes a fixture in her life, Rachel learns to differentiate feelings of familiar, comfortable love and strange, passionate love. Ol Parker's movie is infectiously warm-hearted, and surprisingly thoughtful even with its clichéd premise of a woman whose love is torn on her wedding day.
5. Innerspace
One of Meg Ryan's most electric on-screen partnerships wasn't with Tom Hanks, but with Dennis Quaid in Innerspace. The sci-fi rom-com tells the story of an on-again, off-again couple who reunite when Quaid's miniaturization experiment is hijacked, and he is injected into a hapless store clerk (Martin Short). It's patently absurd, but works due to Short's perfect casting, and the fact that Ryan and Quaid have enough chemistry to overcome rarely sharing the screen with each other. Though it never reached the heights of Ryan's work with Hanks, she would go on to star with Quaid in the thriller D.O.A. and the romance Flesh and Bone.
6. Manhattan Melodrama
When W.S. Van Dyke's Oscar-winning 1934 film Manhattan Melodrama does get mentioned, it's usually in reference to John Dillinger — it was the film he saw right before he was shot dead. But the film also has romantic importance: it's the first that coupled William Powell with Myrna Loy, kick-starting the partnership that would become famous in The Thin Man series. The film follows a life-long friendship between two orphans as they take divergent paths in adulthood. One becomes a loyal but deadly gangster (Clark Gable); the other becomes a powerful D.A. (Powell); and both pine for the woman caught between them (Loy). Powell and Loy's chemistry, however, was so wildly potent and scene-stealing that there is never a question of how the film will play out.
7. Double Happiness
Though we've grown accustomed to Sandra Oh as a wildly talented supporting actress in Hollywood, she started her film career starring in the 1994 Canadian dramedy Double Happiness. Oh plays Jade Li, a young woman torn between her strict Chinese family and life as a North American. She struggles with the demands of her parents, tries to be an actress in an industry that will only cast her in ethnic roles, and falls for a Caucasian man who is the opposite of who her parents want for her. Unlike many other films, the romance is only one part of her growing world.
8. Brief Encounter
David Lean's 1945 film hasn't exactly been forgotten; it lives on in film circles and among fans of the Criterion Collection. But Brief Encounter never gets the limelight of other European-inflected romances like Casablanca. Before Richard Linklater's Before series explored brief romantic interludes, Lean's drama focused on a man and woman whose chance encounter becomes a short but electric romance that emotionally upends their worlds.
9. Two for the Road
In talking about Audrey Hepburn, the discussion always circles around her romances in films like Breakfast at Tiffany's, but Two for the Road is Hepburn's most overlooked and effective love story. The 1967 film time-jumps between the past and present to explore the love of one couple (Hepburn and Albert Finney) who are trying to reconcile their happiest and saddest romantic moments. The movie is immediately familiar because it offers what people would become very familiar with in the romance genre — including awkward road trips, horrible families, bad luck, and a love that can't seem to quit.
10. Ira and Abby
If there is a director known for work that both embraces and upends the rom-com format, it's Jennifer Westfeldt. First, she explored a lesbian relationship in Kissing Jessica Stein, and most recently, two friends who decide to become parents without romance in Friends with Kids. Between these, however, she offered Ira & Abby. Starring herself and The Mindy Project star Chris Messina, the film follows an impetuous marriage between two strangers — her a free-spirited romantic, him a quintessential neurotic New Yorker. But instead of questioning the rapidity of their choices, Westfeldt challenges the institution of marriage, and how it can interfere with genuine romance.
Girls on Film is a weekly column focusing on women and cinema. It can be found at TheWeek.com every Friday morning. And be sure to follow the Girls on Film Twitter feed for additional femme-con.
Continue reading for free
We hope you're enjoying The Week's refreshingly open-minded journalism.
Subscribed to The Week? Register your account with the same email as your subscription.
Sign up to our 10 Things You Need to Know Today newsletter
A free daily digest of the biggest news stories of the day - and the best features from our website
Monika Bartyzel is a freelance writer and creator of Girls on Film, a weekly look at femme-centric film news and concerns, now appearing at TheWeek.com. Her work has been published on sites including The Atlantic, Movies.com, Moviefone, Collider, and the now-defunct Cinematical, where she was a lead writer and assignment editor.