Is Pope Francis a radical pope?
A new essay in The New Republic claims that conservative Catholics are blocking Francis' reformist tendencies. But that's not quite the case.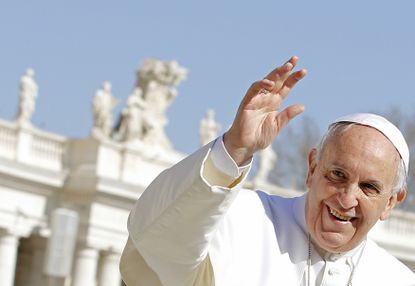 (Image credit: (REUTERS/Giampiero Sposito))
Sign up to our 10 Things You Need to Know Today newsletter
A free daily digest of the biggest news stories of the day - and the best features from our website
Thank you for signing up to TheWeek. You will receive a verification email shortly.
There was a problem. Please refresh the page and try again.
Have you read Elizabeth Stoker Bruenig's cover story on Pope Francis in the "new" New Republic? You should. It's a wide-ranging, thought-provoking essay — the most interesting thing I've read on the pope in quite a while.
Which isn't to say I agree with everything in it. Far from it, in fact.
Stoker Bruenig and I both think it's important to think critically about the crescendo of right-wing salvos aimed at the pope, and we both predict that more attacks are on the way. But we differ quite dramatically in how we understand the people making these criticisms.
Subscribe to The Week
Escape your echo chamber. Get the facts behind the news, plus analysis from multiple perspectives.
SUBSCRIBE & SAVE
Sign up for The Week's Free Newsletters
From our morning news briefing to a weekly Good News Newsletter, get the best of The Week delivered directly to your inbox.
From our morning news briefing to a weekly Good News Newsletter, get the best of The Week delivered directly to your inbox.
I see many of them as fighting to hold together the "theoconservative" ideology that a small group of right-wing Catholic intellectuals fashioned during the 1980s and '90s. This ideology treats the United States as a fundamentally Catholic-Christian nation and denies any significant difference between the moral and social teachings of the church and the platform of the Republican Party — on so-called "culture war" issues (abortion, gay marriage, euthanasia, stem-cell research, feminism), but also on economics and foreign policy. When the pope criticizes capitalism, promises to address climate change in a forthcoming encyclical, or says "Who's to judge?" about homosexuality, theocon Catholics throw a fit because it calls into question the viability of this syncretic ideological program.
Stoker Bruenig, by contrast, paints with a broader brush, quoting many of the theocons I've singled out in my own writing, but also adding others, like The Week's own Michael Brendan Dougherty, who isn't a theocon at all, and others, like The New York Times' Ross Douthat, whose position is similarly independent, showing that she takes issue with a more expansive list of the pope's conservative critics. Accordingly, long passages of her essay are concerned with developing a sweeping critique of conservatism as such, both politically and theologically, and in raising doubts about whether it's even possible to consistently resist "modernity" and uphold "tradition" in its place.
And that brings us to the biggest problem with Stoker Bruenig's essay — a problem nicely encapsulated in the headline splayed across the cover of the magazine: "Fear of a Radical Pope." I'd like to suggest that the pope isn't a radical at all; that if I'm wrong and he actually is a radical, then conservatives are perfectly capable of and justified in criticizing him; and that Stoker Bruenig's own analysis and critique of conservatism drains the term "radical" of ideological meaning, rendering it nonsensical to describe Francis in those terms.
In my own TNR cover story on the pope, written 18 months ago, I aimed to show that Francis is less of a radical than many of his admirers appear to believe. I argued that various institutional checks preclude this or any pope from making radical doctrinal changes, that any attempt to override those checks would risk sparking a schism in the church, and that fear of such an eventuality acts as an additional brake on any reformer's ambitions.
In the year and a half since I wrote my piece, Francis has set a consistently reformist tone, especially in his dogged efforts to clean up deeply entrenched corruption in the Vatican bureaucracy (the Curia) and the Vatican Bank. And yet, as Stoker Bruenig notes, Francis has yet to change a single doctrine of the church. Neither has he signaled an intent to make sweeping non-doctrinal changes — like, for example, permitting priests to marry. So far, in other words, the pope's reforms have been largely rhetorical and pastoral, which is exactly what I predicted in the conclusion of my essay.
But let's assume I'm wrong and that significant changes are coming soon. Let's imagine, for the sake of argument, that at the conclusion of the Synod on the Family this fall the pope declares a change in church doctrine, permitting divorced and remarried Catholics whose first marriages haven't been annulled to receive the sacrament of Communion. As Douthat and others have pointed out, this would be a genuinely radical reform, since it would break not only with many centuries of magisterial teaching but also with what seem to be Jesus Christ's explicit words, in all three synoptic gospels, denying the legitimacy of divorce.
It is the prospect of the pope making such a blatant break with tradition that led Douthat to warn on two occasions last year that such a move could well spark a schism in the church and justify grassroots efforts among Catholic clergy and lay people to "resist" the pope. Such warnings are presumably what led Stoker Bruenig to include Douthat among those conservatives who are fighting Pope Francis "every step of the way."
Now, I seriously doubt that the pope is going to make an unambiguous break with established church teaching about divorce. But if he does, I think Douthat and other conservatives would be perfectly justified in resisting the change, including entertaining the prospect of schism. The pope is supposed to preserve and pass on the unchanging "deposit of faith," after all, and the church's doctrines on marriage and divorce are some of its oldest teachings. To change any of those doctrines would thus raise legitimate questions about whether the pontiff who did so was truly doing his job — that is, whether he was a genuine pope at all. (As Douthat has also noted, the fact that there is currently another pope living within the walls of Vatican City would only add to these questions of legitimacy.)
But what would Stoker Bruenig think about Francis making such a change? She doesn't say. And neither does she state whether she'd like to see other "radical" doctrinal reforms — like, say, gay marriage accepted as a sacrament, or female priestly ordination. (Her essay mainly endorses the pope's non-doctrinal critiques of capitalism — which actually differ very little from statements made by nearly every pontiff from Leo XIII down to Benedict XVI — and preemptively defends his forthcoming encyclical on the environment, which no one outside the Vatican has yet seen but which is exceedingly unlikely to propose any doctrinal changes either.)
On the other hand, Stoker Bruenig does strongly imply that conservatives who oppose doctrinal changes by appealing to tradition are playing a fool's game, since tradition can never be simply appropriated. Instead, tradition must be engaged creatively, through "dialogue" with the past, which, she claims, is precisely Pope Francis' approach — and which is of course a big part of what makes him a "radical pope."
To me this looks like a backhanded endorsement of radical doctrinal reform — backhanded because the endorsement isn't made directly and explicitly but rather by way of denying the possibility of any legitimate resistance to it. Put somewhat differently, Stoker Bruenig doesn't say, "The pope should ordain women as priests"; she merely implies that if the pope declared (through a "dialogue" with the past) that the church will henceforth ordain women as priests, those who oppose such a reform would have no ground to stand on.
Which is just another way of saying that the pope can do whatever he wants, as long as he justifies it in terms of dialogue with some element of the Catholic past, and those who oppose him have no choice but to go along. That might be a sweeping assertion of ecclesiastical power, but it can't be called radical in any precise theological or ideological sense. When "tradition" ceases to be a fixed standard, something relatively static from which one can clearly break, "radical" loses its meaning, too. All that's left is change and willful self-assertion.
That's certainly one way of conceiving of papal power, one that has an awful lot in common, in the political sphere, with Progressive efforts early in the 20th century to enhance the authority of government power with an eye to enacting sweeping reforms — and to deny the legitimacy of criticizing or resisting such efforts.
I can see why this "dialogical" vision of change might appeal to a left-leaning believer like Stoker Bruenig — at least while a reform-minded pope sits on the Throne of St. Peter.
I'm just not sure she'd be so sanguine under a pontiff trying to take the conversation in a very different, more reactionary direction.
Continue reading for free
We hope you're enjoying The Week's refreshingly open-minded journalism.
Subscribed to The Week? Register your account with the same email as your subscription.
Sign up to our 10 Things You Need to Know Today newsletter
A free daily digest of the biggest news stories of the day - and the best features from our website
Damon Linker is a senior correspondent at TheWeek.com. He is also a former contributing editor at The New Republic and the author of The Theocons and The Religious Test.