Gerry Adams, and the burden of the living
Adams could easily have been a martyr. Instead he chose peace.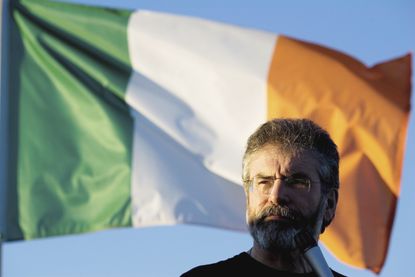 (Image credit: (Kimberly White/Getty Images))
Sign up to our 10 Things You Need to Know Today newsletter
A free daily digest of the biggest news stories of the day - and the best features from our website
Thank you for signing up to TheWeek. You will receive a verification email shortly.
There was a problem. Please refresh the page and try again.
If only more militant Irish nationalists had the decency to die. Get shot in the back by a Paddy more extreme, like Michael Collins did, and someday Liam Neeson could be playing you. Get executed by the Brits like James Connolly, and your aphorisms will be in Irish graffiti forever. Starve yourself to death like Bobby Sands did in the H-Block, and history will talk about how your vote totals for MP compare favorably to Thatcher's. Legends all.
Gerry Adams still lives, and no one will forgive him for it. Adams commanded killers, like Collins. He invokes the stern, almost utopian principles of 1916, which Connelly helped invent. And like Sands, he was tortured for his political aspirations by Northern Irish authorities.
We know what to do with killers who die: judge them on the merits of their cause. We know what to do with killers who win outright: celebrate them as national heroes. But people who put down the gun and muddle on in the ambiguous world of politics? We're not sure what to do with them.
Subscribe to The Week
Escape your echo chamber. Get the facts behind the news, plus analysis from multiple perspectives.
SUBSCRIBE & SAVE
Sign up for The Week's Free Newsletters
From our morning news briefing to a weekly Good News Newsletter, get the best of The Week delivered directly to your inbox.
From our morning news briefing to a weekly Good News Newsletter, get the best of The Week delivered directly to your inbox.
Even his enemies acknowledge how crucial Adams was to the peace process in Northern Ireland. Adams' leadership made the 1994 cease-fire and the 1998 Good Friday agreement possible. And today Adams' party, Sinn Fein (translated from Irish, "We, ourselves"), is on the rise in the Republic of Ireland, refashioned as an anti-austerity party that has tapped into dissatisfaction with the post-crisis financial deals Ireland made at home and abroad.
At the same time, Adams has been subject to a barrage for a year. The leaking of the "Belfast Project," a work of historical research, led to his brief arrest in connection with the 1972 death of Jean McConville, a mother of 10 who was assassinated as a "tout" by IRA Provos then commanded by Adams. Ever since there have been stories about Sinn Fein's fundraising, about its mishandling of a child abuser, and about Sinead O'Connor's capricious wish to kick Adams out of the driver's seat of the electoral force he built.
One can sense behind all of this the faint wish that, necessary as Adams was, he should have gone the way of the martyr after the peace accords. A dead Adams, as martyr for the peace process, would have simply made everyone's lives easier. It would have had a bit of the poetry of Irish history in it. Instead the Irish are stuck with the real Adams, a political firebrand whose charisma relies partly on the "whiff of cordite" and partly on his reputation for being a social-media weirdo. Here is a leader who talks about trampolining naked with your dogs and bubble baths.
Some people want Adams to just finally admit to his role in the Belfast IRA and the violence, as Martin McGuinness has. Would it make them feel better?
That Adams grates on people is easy to understand. He is a moralizer. His piety about the peace process only reminds everyone that he was a man of violence, or at least a man who oversaw it. He preaches about the rights of workers and of women, rights that the IRA abridged in their own way with bombs and bullets.
He also grates on people because he is serious about the principles that liberated the Republic of Ireland from Great Britain's grasp a century ago. The deeds of the IRA in the 70s, 80s, and 90s confronted a generation of people in the Republic with the actual costs of a nationalism, costs that they otherwise honored from a safe distance in the history books. It was easy to hate Adams from within a free country — but did they hate their grandfathers, too?
Adams simply doesn't fit. And so we have the odd spectacle of The New Yorker reminding readers of the IRA's foul deeds under Adams, while also amplifying the criticism of disgruntled nationalists. Like Dolours Price, whose beef is that Adams stopped the killing before a 32-county socialist Ireland could emerge from the smoke and fire and justify her own conscience.
Adams brings me up short, too, I must admit. I was raised on the periphery of American-Irish nationalism. For a time my mother set about learning the Irish language and took me to Gaeltacht weekends. She wore a bracelet for the hunger-strikers in the North. I happily bless the memories of Collins, Eamon De Valera, and Connolly. But like others, I tried to invent a standard that somehow lets those men remain heroes while delegating the Provos around Adams as turf-warring thugs.
When Ryan Turbidy, the host of Ireland's premiere late night talk show, tried to gain the moral high ground on Adams in 2010, informing Adams that people think he's terrible and that the bloodshed was avoidable, something odd happened. Adams switched out of his careful, passive voice. Instead of referring broadly to what "the Republican movement" did, he adopted the personal pronoun: "I was born into a state that didn't want me."
That state didn't allow his parents to vote. Their generation endured bombs thrown into their houses. Popular politicians, including men of the cloth, compared Adams and his kind to vermin, systematically denied them jobs, and let rioters burn down their houses without consequence. It was a state that arrested men and watched them starve themselves, for merely exercising what we would consider basic rights in America. When I think of that, the remarkable thing about Gerry Adams isn't that he did unjustifiable, evil things, or that he evades telling the truth about it now. It's that he ever stopped at all.
Adams has to answer to God and to everyone for Jean McConville. But his partners in the peace process haven't disclosed everything either, while Adams stands in front of the cameras and take the abuse for his history and his evasions. Perhaps others should do the same.
Continue reading for free
We hope you're enjoying The Week's refreshingly open-minded journalism.
Subscribed to The Week? Register your account with the same email as your subscription.
Sign up to our 10 Things You Need to Know Today newsletter
A free daily digest of the biggest news stories of the day - and the best features from our website
Michael Brendan Dougherty is senior correspondent at TheWeek.com. He is the founder and editor of The Slurve, a newsletter about baseball. His work has appeared in The New York Times Magazine, ESPN Magazine, Slate and The American Conservative.