Everyone, including Jay Z, is getting Tidal backwards
Instead of streaming services, why don't artists start their own record labels?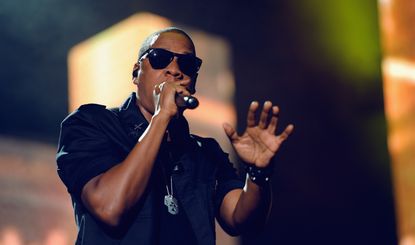 (Image credit: (Ian Gavan/Getty Images))
Sign up to our 10 Things You Need to Know Today newsletter
A free daily digest of the biggest news stories of the day - and the best features from our website
Thank you for signing up to TheWeek. You will receive a verification email shortly.
There was a problem. Please refresh the page and try again.
Tidal is here, and it aims "to forever change the course of music history."
That's how rapper and entertainment mogul Jay Z put it earlier this week, when he announced he'd bought the online music streaming service for a cool $56 million. The idea is for Tidal to be the answer to complaints that free music streaming services like Spotify cut musicians out of earning a return for their work.
A normal subscription will cost $9.99 a month, and premium access will cost $19.99. That's over twice what other services cost, and there will be no free option. But most strikingly, the majority of Tidal shareholders will be artists themselves, meaning they'll be getting a significant cut of the company's profits.
Subscribe to The Week
Escape your echo chamber. Get the facts behind the news, plus analysis from multiple perspectives.
SUBSCRIBE & SAVE
Sign up for The Week's Free Newsletters
From our morning news briefing to a weekly Good News Newsletter, get the best of The Week delivered directly to your inbox.
From our morning news briefing to a weekly Good News Newsletter, get the best of The Week delivered directly to your inbox.
So is Jay Z right? Will Tidal change music history? At the moment, highly doubtful. But there's a germ of an idea there. It's just that Jay Z and everyone else has it backwards: Tidal shouldn't be competing with other streaming services, it should be competing with record labels.
The economic basics are this: For an unknown band, creating an album is costly, but not insanely so. Probably a little over $8,000 for the equipment, studio time, and related expenses. Another $3,000 to $4,000 for a van to tour in.
Of course, that's for a band that drives itself days and nights to venues, gets $400 per gig, and sells its own tickets and merchandise — all while holding down day jobs. The big expenses kick in at Jay Z's echelon of the industry. Tens of thousands for producers and mixing, then hundreds of thousands, if not millions, for marketing, travel, promotions, CD printing, etc. All those costs get fronted by the record label, which recoups them before the artists see their cut. So the record labels effectively control the music, and call the shots on any deal between the artists and streaming services like Spotify or Tidal.
So it's no surprise that most of artists joining Jay Z on his Tidal venture are big names with clout, and in some cases are on Jay Z's own label, Roc Nation. Whether the Tidal model could expand beyond this inner circle is an open question.
More importantly, the big names don't need the Tidal model. Taylor Swift's stand against Spotify is understandable on principle, but it's hardly self-preservation. The people who need help are low- and middle-wage musicians; the ones playing at your local bar, and whose tours cover maybe three or four states.
All digital platforms do is massively cut transaction costs. It's a lot cheaper to push electrons around the internet than to print CDs and ship them. Streaming brings in way less revenue per user, but also expands the realm of potential users. That still comes out to a smaller revenue stream, but it's a manageable stream.
The question is who captures that revenue. And so far, record labels and the tech companies who provide the streaming have leveraged digital disruption to grab it for themselves. Tidal's worker ownership is crucial because it breaks that hold, and loops the revenue back around to the artists. But again, streaming is just distribution. Tidal doesn't need to be an artist-owned streaming service, it needs to be an artist-owned record label that happens to stream.
Then you need to take that model and move it down the income ladder. Imagine a group of local bands who share ownership of a small, worker-owned record label. The cooperative provides modest capital for album recording, touring, and advertising, so bands can build fan bases that will stream the music. It wouldn't be anything like the resources Roc Nation can bring to bear, but it would something. And whatever profits are generated, the bands would get.
There are some significant obstacles to this model, including the question of whether our theoretical industry of musician-owned streaming record labels can make enough money through advertising revenue. Tidal has a population of just 512,000 paying users, but that's nothing compared to Spotify's 15 million paying users and 45 million free users. Apple, another behemoth, has plans for its subscription streaming service this year. So there's also a lot of claimed market space they'd need to claw back.
Finally, there's a deeper possible problem. As Eric Harvey — who writes on music, technology, and marketing for Pitchfork — pointed out to ThinkProgress' Jessica Goldstein, the 20th century was really weird. Before then, music couldn't be printed on physical objects. That innovation is what created the big industrialized revenue streams of the music industry — and which is now being dismantled by digital. So our notion of "fair pay" for artists was probably set in the context of an unrepeatable historical blip. Ultimately, making music may just not pay well for a living.
But if you've ever fallen in love with a band that's unknown outside your town or local bars, you know how spartan their lifestyle is. They often accept low standards of living for the freedom to pursue their work. They put up with day jobs that often pay poorly and don't treat them well.
National policy could help here. Wage subsidies, a universal basic income, paid leave laws, and other reforms would be good for all workers. But combined with the musician-owned streaming record labels, those policies could also give artists the same modest standard of living they've already accepted, while allowing them to devote themselves completely to their music — and rely solely on it for their market income. Comedians, filmmakers, painters, sculptors, actors, and anyone else trying to hack it in media or cultural production industries that are rough on anyone but superstars could be in the same boat.
In return for the richness they bring to our lives, this doesn't seem like too much to ask.
Continue reading for free
We hope you're enjoying The Week's refreshingly open-minded journalism.
Subscribed to The Week? Register your account with the same email as your subscription.
Sign up to our 10 Things You Need to Know Today newsletter
A free daily digest of the biggest news stories of the day - and the best features from our website
Jeff Spross was the economics and business correspondent at TheWeek.com. He was previously a reporter at ThinkProgress.