The astonishing rationality of the Iran nuclear deal
This is the best way to prevent Iran from taking a fateful step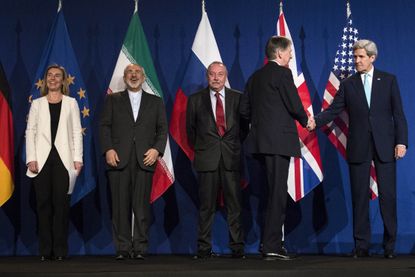 (Image credit: (AP Photo/Brendan Smialowski, Pool))
The deal reached between Iran and the West over nuclear proliferation is, in the words of one widely cited article, "astonishingly good." At first, I assumed that Max Fisher was writing for the headline (Vox's inflationary adverb policy is a useful way to draw in readers). But now I think he's right. What's astonishing about the deal is that it's exactly what you'd get if both Iran and the rest of the world asserted their interests to their apogees, and then compromised down to their core needs.
It's astonishing because it's so rational.
All along, as we've tried to understand the deal in terms of a binary approach to Iran (either Iran changes everything about itself, or the deal is crap), we've misunderstood the real opportunity that a temporary Joint Permanent Operating Agreement (JPAO) provides.
Subscribe to The Week
Escape your echo chamber. Get the facts behind the news, plus analysis from multiple perspectives.
SUBSCRIBE & SAVE
Sign up for The Week's Free Newsletters
From our morning news briefing to a weekly Good News Newsletter, get the best of The Week delivered directly to your inbox.
From our morning news briefing to a weekly Good News Newsletter, get the best of The Week delivered directly to your inbox.
Thinking in terms of interests: Iran wants its own, indigenous nuclear capacity to generate electrical power, as well as for reasons of national pride, for power projection, and to preserve regional influence. Undeniably, it wants to retain the ability to build a weapon maybe someday. This is clear.
Iran wants this because its regime would lose domestic legitimacy if it committed itself entirely to the peaceful use of nuclear power, and because Iran sees the potential for a breakout as a security hedge against Saudi Arabia, Israel, and the West. This hedge — and the fact that it's just a hedge — is very scary to think about, because it relies on the good judgment of radical clerics who see the world in apocalyptic terms. There is no good reason to simply trust Iran.
And so, because the JPAO does not seem to prevent Iran from ever actually beginning to break out and build a bomb, the main complaint of the JPAO's critics is entirely valid.
However, I don't think the U.S. and the EU ever assumed they'd get an agreement with Iran that actually did that; that destroyed centrifuges to the degree that they'd need to be destroyed, or prohibited dual-use technology from existing alongside non-nuclear apparatuses.
Nor do I think that Western negotiators assumed that they'd get a deal conditioned on Iranian good behavior, like not funding and supporting the Houthi revolution in Yemen (which panics Saudi Arabia) or stopping its long-burning proxy war against Israel. (Benjamin Netanyahu's biggest talking point is that lifting sanctions will give Iran more money to destabilize the Middle East. True enough; not at all pertinent to the purpose of the deal.)
Based on what Obama has said, American negotiators were charged with finding the best way to ensure for the longest possible period of time that Iran does not actually acquire or manufacture a nuclear weapon, and that if it decided to, that its decision will be noticed and then mitigated. By mitigated, I mean mitigated with force.
Briefly, to dispense with the easiest response: Ditching a deal and launching preemptive air strikes would not have the intended effect. If Israel decided to destroy Iran's current nuclear infrastructure, it would certainly shut down the threat, perhaps for as long as five years. But because such infrastructure is easily rebuildable (nuclear know-how is maintained on USB ports), the demolition of Iran's facilities would be temporary.
It would be as foolish to assume that Iran would not try to rebuild as it would to assume that Iran would somehow be deterred by unilateral Israeli action. The politics involved are intangibly complicated, but a surge in Sunni resentment against Israel, and sympathy for Iran, would alienate Israel's biggest (and quietest) allies against the regime: Saudi Arabia and the rest of the Sunni coalition.
From Iran's perspective, the best way to prevent Israel from preempting Iran's nuclear proliferation now is to retain some nuclear capacity. Why it wouldn't be in Iran's interest to do so after an Israeli strike is difficult for critics to explain.
A strike provides the Middle East with, at best, a delay of five years. No, Iran would not be able to build a bomb for those five years, but during those five years, as Iran rebuilds, and the Middle East re-equilibriates, you wouldn't want to gamble on peace, timidity, and security for Israel. The cross-pressures that brought Iran to the table today would simply vanish. The anti-Israeli regime that exists today would be even more anti-Israeli, if you can imagine that.
The best long-term deal has always been a temporary deal: Strong inspections coupled with ambiguity preserves Iran's interests just enough, and they give the rest of us the best chance of detecting, through the IAEA and intelligence, the decision to breakout.
A deal like this — one that requires strong inspections, that lasts for 10 years, that is not predicated on the fanciful notion that Iran's interests will somehow change dramatically, that promises to alleviate the economic pain caused by Western sanctions, and that preserves the status quo — is probably the best way to prevent Iran from taking the fateful step.

Continue reading for free
We hope you're enjoying The Week's refreshingly open-minded journalism.
Subscribed to The Week? Register your account with the same email as your subscription.