In defense of Walmart: Why corporations shouldn't be responsible for preventing poverty
That's the government's job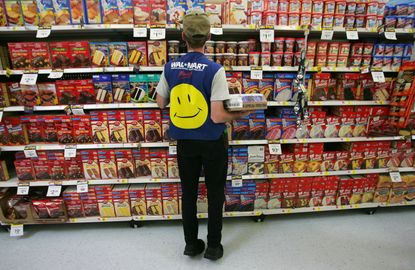 (Image credit: (Chris Hondros/Getty Images))
Fast food chains and low-wage retailers are as poorly regarded in pop culture as they are popular among the buying public. Walmart is the epitome: as beloved for its low prices as it is hated for its low wages. But as the largest single private employer in the country, is Walmart really responsible for keeping its workers out of poverty?
In a sort of ideological jujitsu, that's what many many left-leaning analysts argue. Walmart, like all low-wage corporations, tends to depend on public assistance for its very existence — both to keep its employees off the street and as a critical source of purchasing power for its target sales demographics. Last April, a report by Americans for Tax Fairness calculated that Walmart cost the U.S. $6.2 billion in public assistance, from food stamps — sometimes used by its own workers at its own stores — to Medicaid.
It is a pretty rich irony that low-wage retailers and fast food chains, often headed by revanchist gazillionaires, get much of their revenue from welfare programs. But it is a great error to conclude that they should be the ones responsible for preventing poverty in their workforce. Universal benefits are a far better way of ensuring material security, and do not play into conservative moral narratives.
Subscribe to The Week
Escape your echo chamber. Get the facts behind the news, plus analysis from multiple perspectives.
SUBSCRIBE & SAVE
Sign up for The Week's Free Newsletters
From our morning news briefing to a weekly Good News Newsletter, get the best of The Week delivered directly to your inbox.
From our morning news briefing to a weekly Good News Newsletter, get the best of The Week delivered directly to your inbox.
Here's Hannah Levintova with a classic of this genre, titled "Who Subsidizes Restaurant Workers' Pitiful Wages? You Do:"
There are two problems with this line of reasoning.
First, as Matt Bruenig explains in a very sharp post, the side effect of requiring "Corporate America to pull its weight" is the institution of a corporatist welfare state, i.e. a national benefits system that's funneled through your job. The problem is, such systems just don't work very well at ensuring broad material security, for the obvious reason that people need to be employed to get the benefits.
Indeed, America already has a fairly extensive suite of corporatist policies (such as the tax subsidies for employer-based health insurance), and the results are a sick joke by international standards. But even the better-performing corporatist welfare states, like Switzerland or Germany, are beaten handily by the social-democratic model of universal benefits found in Norway or Finland.
The second problem has to do with the ideology of ownership. Saying employers' low wages are illegitimate because they require "taxpayer money" implicitly buys into the right-wing case against the welfare state. The idea that government revenue is not actually the legal entitlement of the recipients, but instead remains taxpayers' money, is exactly how George W. Bush sold his massively regressive tax cuts. (On the contrary, EITC benefits are owned just like wages are.)
None of this is to say that Walmart should not be forced to pay higher wages if possible. Indeed, that brings up a key issue regarding low-wage employers and the welfare state — making sure poor people actually receive the subsidy. If employers simply lower wages in response to benefits, for instance, then employees will not have been helped much. Minimum wage laws, or legal protections for labor unions, are great complements to universal benefits for just this reason.
But preventing subsidies for the poor from being captured by big business is a very different thing from trying to make large corporations responsible for preventing poverty. That's simply not a problem they are equipped to handle.

Continue reading for free
We hope you're enjoying The Week's refreshingly open-minded journalism.
Subscribed to The Week? Register your account with the same email as your subscription.