Letting go of pop culture: Why our entertainments ultimately disappoint us
As we get older, it's difficult to escape the sense that most of our cherished entertainments are superfluous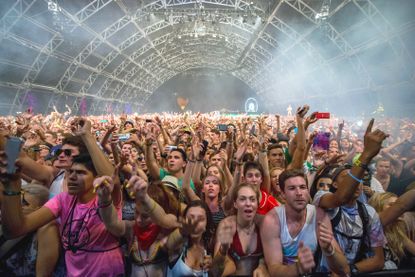 The voyeurs who titillate themselves with disconnected facts about the lives of others, otherwise known as big data analysts, have pinpointed the exact moment when a mid-life crisis begins. By spying on the listening habits of subscribers to Spotify, they have determined that at the age of 42, people ditch their moody singer-songwriters and start listening to the latest music that is marketed at teenagers.
But I'm not sure that day will come for me, for I've lately come to resent most pop music and the entire pop-culture industry.
That sounds dour, so let me clarify. I haven't cultivated an indie-label snobbery. My religious scruples haven't led to an outsized fear that pop culture will contaminate my soul. But as I approach mid-life, I've come to regret that the "culture industry" seduced me — that what was sold as diversions really did divert me.
Subscribe to The Week
Escape your echo chamber. Get the facts behind the news, plus analysis from multiple perspectives.
SUBSCRIBE & SAVE
Sign up for The Week's Free Newsletters
From our morning news briefing to a weekly Good News Newsletter, get the best of The Week delivered directly to your inbox.
From our morning news briefing to a weekly Good News Newsletter, get the best of The Week delivered directly to your inbox.
The regret started just before my infant daughter was born, when I realized that roughly 90 percent of the song lyrics I knew were to music that really had no plausible claim on her. It might be music that connected me to my teenage years, or the peers of my age to each other. But to her it would be completely inscrutable, and it would reveal itself later to be a self-regarding exercise in taste — which I always hated when the Boomer generation inflicted it on me.
I used to be obsessed with pop culture. I remember collecting the albums of my favorite artists and trying to decode the changes they had undergone since their last album, not only through their music, but through lyrics and artwork. What was the message the artist was trying to convey? What were they saying about the present moment?
By the time I went to college, this fascination started taking me backward through the canon. I developed complicated opinions about the superiority of Elvis Costello's Armed Forces over Imperial Bedroom. I still enjoy these albums, but am a little embarrassed about the weight of meaning I once impressed on them.
It's a truism that if you wanted to hear and enjoy music a century ago, you had to make it yourself. I so often substituted connoisseurship of entertainment products as my "love" for music, rather than the more difficult task of mastering an instrument myself.
And so much time wasted. I've likely seen every episode of The Fresh Prince of Bel-Air (148 episodes), Seinfeld (180), and Friends (236). Over the past two decades, I've probably caught half of them again in syndication through sheer boredom. As a kid I would practically make an appointment with the television for these and other shows far more embarrassing to admit.
As an adolescent I spent money on comic books and graphic novels, and even at a young age convinced myself that I was learning something because they sometimes riffed on 20th-century historical topics like genocide or civil rights. I spent whole weekends thinking about Paul Thomas Anderson's overwrought, overdone Magnolia, and for years inflicted it on others while I still thought it a "masterpiece." I then considered the fluency of Quentin Tarantino in everything pop culture to be a kind of genius, rather than a kind of autism.
The products of Viacom, Vivendi, and others generally have not aided me in really connecting with others, or in understanding myself. With apologies to friends and colleagues who write beautifully and evocatively about "prestige" television, I simply lost patience with most of it. If Don Draper can't learn a damn thing about life, then why was I spending so much time with him?
It would be embarrassing to call upon any of the cultural products I've consumed for comfort or consolation at death. Imagine someone asking to play a Radiohead song in his final throes, and then quoting lines from Magnolia.
And so in the months before my daughter's birth, I found myself doing cram sessions on old Irish folk and rebel songs. Some my mother sang to me during a burst of 1980s diaspora Irish nationalism, and some my paternal grandfather sang to his children. At least there was something there, connecting my daughter to her parents and great grandparents, and to their ancestors. I temporarily joined a choir at church that had me singing not just hymns, but the ancient chant that connects me to millennia of faithful preceding me, as well as the divine.
Finally admitting the superfluousness of much of pop culture has paradoxically aided me in enjoying it again. I still like the shimmering glitter of Tegan and Sara's album Monster, or the bitchy commentary of Elvis Costello, or the minor-key nerd-sarcasm of Ben Folds Five. I even found a weird comfort during a period of mourning by watching MacGruber with friends.
But I think I've finally put away the notion that an industry of storytelling tells the stories by which I can live. Finding a radio favorite now is like finding a particularly good flavor at Baskin Robbins. A little treat, not something that really nourishes my soul.

Continue reading for free
We hope you're enjoying The Week's refreshingly open-minded journalism.
Subscribed to The Week? Register your account with the same email as your subscription.