Avengers: Age of Ultron is surprisingly comprehensible — and actually kind of good
What can you say about the newest, biggest movie in Marvel's massive superheroic universe? Where to begin...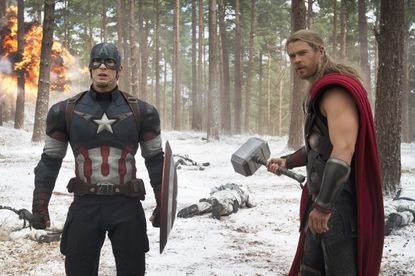 (Image credit: (Jay Maidment/Disney/Marvel via AP))
Sign up to our 10 Things You Need to Know Today newsletter
A free daily digest of the biggest news stories of the day - and the best features from our website
Thank you for signing up to TheWeek. You will receive a verification email shortly.
There was a problem. Please refresh the page and try again.
It's only May, but barring an upset from a little franchise called Star Wars in December, the year's highest-grossing movie probably just hit theaters. Avengers: Age of Ultron — the second big-screen team-up between popular blockbuster superheroes like Iron Man, Captain America, and Thor — is here. (And over the past week, before its American premiere, it already earned a whopping $200 million abroad.)
The genius of Marvel's approach to the summer blockbuster is that it lets you opt in as much as you want. Depending on your knowledge of the Marvel cinematic universe, Age of Ultron is either a pivotal chapter in a grand, universe-spanning story of good vs. evil, or a popcorn blockbuster about a bunch of superheroes fighting a crazy robot.
I've seen Age of Ultron — and engaged with it on both of those levels. But I'm still sorting out how I feel about it, and its larger place in Marvel's creative, absurdly lucrative scheme to redefine the summer blockbuster. Here are my 15 brief, unfiltered reactions to a first viewing of Avengers: Age of Ultron.
Subscribe to The Week
Escape your echo chamber. Get the facts behind the news, plus analysis from multiple perspectives.
SUBSCRIBE & SAVE
Sign up for The Week's Free Newsletters
From our morning news briefing to a weekly Good News Newsletter, get the best of The Week delivered directly to your inbox.
From our morning news briefing to a weekly Good News Newsletter, get the best of The Week delivered directly to your inbox.
1. It's good. Really! Especially if you're the kind of person who gets excited about an Avengers sequel, I'd be very surprised if you didn't walk out satisfied.
2. There's so much going on in Age of Ultron that it would have been easy for the whole thing to fall apart. But writer/director Joss Whedon keeps the movie zipping along for most of its 141-minute running time. I know "Surprisingly Comprehensible!" isn't the kind of pullquote you generally see on a movie poster, but it is impressive that a movie like this, beholden to so many masters and competing corporate interests, came out this strong.
3. The continuity between the story arcs of the Marvel franchises is what gets the most attention, but I'm increasingly impressed by the way the studio has evolved the character arcs over such a long period of time. The Tony Stark of Iron Man isn't the Tony Stark of The Avengers; the Tony Stark of The Avengers isn't the Tony Stark of Iron Man 3; the Tony Stark of Iron Man 3 isn't the Tony Stark of Age of Ultron. At one point in Age of Ultron, Tony Stark explicitly mentions that arms dealers aren't worth his time — the very same enemies that were a dramatic enough threat to make him invent Iron Man in the original film. This isn't Boyhood or anything, but we've followed many of these characters for the better part of a decade, and their continued evolution is reason enough to keep tuning in.
4. One of Joss Whedon's greatest gifts as a storyteller is his ability to rehabilitate a seemingly dead-end character. After two failed Hulk movies, Whedon finally cracked the code with Ruffalo's scene-stealing turn in The Avengers. In Age of Ultron, he pulls a similar trick with Hawkeye, turning the character's greatest liability — the fact that he's a regular dude fighting alongside a bunch of superhumans and demigods — into a running joke, and eventually an asset. "None of this makes sense," Hawkeye complains, as the audience surrogate, just when things stop making sense.
5. If only Whedon was going to be back to fix the new guys in the next Avengers movie. As great as each of the individual Avengers has turned out to be, I'm skeptical about adding any more superheroes to the roster. Age of Ultron bites off more than it can chew with all three of its new characters. In a single movie, we're formally introduced to Scarlet Witch (Elizabeth Olsen), Quicksilver (Aaron Taylor-Johnson), and The Vision (Paul Bettany). Each of them is weirder than any of the superheroes we've met before — yes, even Thor — and each of them is underdeveloped.
6. That brings us to Ultron, who is, unfortunately, a disappointment. It's not really anybody's fault; James Spader's growly, snarky baritone is perfect for a homicidal robot, and the special effects used to bring him to life are consistently terrific. But the downside of having a movie about an entire team of superheroes is that you have, you know, an entire team of superheroes to deal with any threat that arises. Ultron talks a good game, but compared to a massive team of heroes who have saved the world a bunch of times, he's never all that threatening; the Avengers need cannon fodder, which means the hundreds of robots Ultron controls have both the menace and the durability of an empty soda can.
7. These action scenes, which look so good in five-second bursts in the trailers, are invariably overlong and monotonous in the film itself. The best moments of Age of Ultron strain against the genre's conventions; the best scene in Age of Ultron, by far, is an early scene in which Tony Stark throws a party for his fellow Avengers and their friends. A later scene, in which the characters indulge in a friendly debate about the logistics of Thor's hammer, has the cheery geekiness of a thousand comic-book shop conversations. These may be superhero movies, but it's the smaller character-based moments that make the movie soar — not the expensive CGI pyrotechnics.
8. I suspect, if Joss Whedon were truly honest, that he'd say he feels the same way about his own film. Between Avengers and Age of Ultron, he directed a small, lovely adaptation of Much Ado About Nothing. Age of Ultron would have benefited from the intimacy of that film. Whedon's original cut for Age of Ultron was three and a half hours long, and you can sometimes see the seams: Ultron's evolution happens largely off-screen, and Julie Delpy was presumably cast for more than her roughly 15-second appearance. The final cut is a full hour shorter — and given the length of the battle scenes, it's like that the vast majority of cuts were smaller, more character-driven moments.
9. Whedon manages to infuse this thing with personality, but he's also coloring within the lines; when a talent as distinctive as Edgar Wright tackled Ant-Man, he eventually quit — reportedly over creative differences that included his unwillingness to include a bunch of Marvel's interconnected nonsense. In Age of Ultron, references to Infinity Stones — the all-powerful, boring connective tissue/MacGuffins of the Marvel universe — are mercifully brief, but they're definitely there. When the universe's big bad rears his ugly head for a quick cameo, it's totally perfunctory, like an accountant checking the box on a future investment.
10. The vague sense of compromise leads to a greater question about the future of Marvel movies. As a cog — albeit a pretty big cog — in Marvel's marketing machine, will any of these movies be allowed to take some real risks? My screening was preceded by two separate commercials for Age of Ultron toys: a bunch of action figures and a LEGO video game. The guy sitting next to me, wearing a Captain America-branded sweatshirt, drank soda from an Avengers-branded plastic cup. The movie grossed $27 million on a Thursday night. In places, the marketing overwhelms the effectiveness of the film; the introduction of Vision, which is structured to play like a surprise, has been completely spoiled by the deluge of PR spots touting Paul Bettany's physical introduction to the franchise.
11. The limits of the genre itself are beginning to show. Marvel heralded the release of Age of Ultron by screening all 11 movies in the Marvel cinematic universe. The world is saved from destruction in most of them. Marvel has wisely made some surface-level diversifications to the individual installments — Thor 2 as fantasy epic, Captain America 2 as Cold War thriller, Iron Man 3 as Shane Black flick. But these movies invariably end in a numbing climax of explosions and punches.
12. You can really only save the world so many times before even saving the world becomes passé, right? As I watched the explosion-filled third act of Age of Ultron, I started to think about all the ways I'd rather see a superhero movie end. Marvel built a universe and populated it with 11 variations on the same story. What if Ultron had never showed up, and the Avengers had spent the movie joking and sparring at Tony's party? Would that really have been less interesting?
13. What's the endgame for the Marvel cinematic universe, anyway? Age of Ultron ends with a scene that's clearly designed to expand what audiences can expect from the Avengers franchise — and, in theory, extend the length of the franchise indefinitely. Marvel may be on top right now, but they're not stupid; while the sun shines on their box-office today, they're stashing reserves for a hypothetical winter. As franchises continue, contracts get more expensive. Actors get older and more restless. Mythologies get saggier and harder to follow. But Marvel has invested way, way too much in the universe it has to reboot it anytime soon.
14. With so many balls in the air, it's hard to believe they'll manage to avoid dropping a few in the years to come. We already know that there are two more Avengers movies on the way, along with Captain America and Thor movies, and as-yet unintroduced characters like Doctor Strange, Black Panther, and the rebooted version of Spider-Man.
15. We're nearing the end of Marvel's "Phase Two"; after Ant-Man hits theaters in July, Phase Three will begin — a block of 10 more movies designed to expand the universe even more. Marvel has spent months building up buzz for Age of Ultron, but audiences will walk out teased, with the hype trigger already pulled for the next big Marvel thing. It's easy to get caught up in Marvel's grand scheme, which is fascinating, and unprecedented, and the envy of every other studio in Hollywood — and which, most importantly, has resulted in a string of very good blockbusters. After Age of Ultron, the Marvel universe holds more potential than ever. But let's not forget that Marvel reached these heights by taking some serious gambles, and Age of Ultron — a pivot point of the company has ever had one — marks the moment when they should take a few more.
Continue reading for free
We hope you're enjoying The Week's refreshingly open-minded journalism.
Subscribed to The Week? Register your account with the same email as your subscription.
Sign up to our 10 Things You Need to Know Today newsletter
A free daily digest of the biggest news stories of the day - and the best features from our website
Scott Meslow is the entertainment editor for TheWeek.com. He has written about film and television at publications including The Atlantic, POLITICO Magazine, and Vulture.