How modern capitalism killed self-reliance
Even for the richest man in America, money is worthless without our help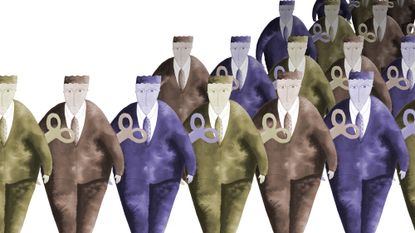 (Image credit: (Illustration by Lauren Hansen | Image courtesy iStock))
Move over, Bitcoin: There's a new electronic currency in town. And this one will actually be backed by gold. It's called "Hayek" (natch). Each Hayekian coin will be valued "at one gram of gold at the day's market price."
Economically speaking, this is a ridiculous idea. The gold standard is a niche enthusiasm rejected by most economists. But the broader instinct is arguably still widely shared: Lots of Republican politicians and activists favor hard money policies, and pegging the dollar to some concrete basket of goods. The point is to ward off inflation — which, as Paul Krugman aptly put it, seems to go "straight to the ids of certain people" — by anchoring the value of the dollar to something tangible.
There is an understandable moral instinct at play here. Inflation means the value of any individual dollar goes down — it can buy less. If you stored up beans or wheat to last your family through the winter, and then the amount or the nutritional value of what you'd stored magically shrunk, that would suck. In that sense, it's not hard to see why large swaths of the GOP and conservative voters react with fury to any monetary policy that threatens to raise the rate of inflation above an absolute minimum.
Subscribe to The Week
Escape your echo chamber. Get the facts behind the news, plus analysis from multiple perspectives.
SUBSCRIBE & SAVE
Sign up for The Week's Free Newsletters
From our morning news briefing to a weekly Good News Newsletter, get the best of The Week delivered directly to your inbox.
From our morning news briefing to a weekly Good News Newsletter, get the best of The Week delivered directly to your inbox.
This gets at a massive conceptual left turn that modern capitalism and markets have introduced into human affairs. And one that is wildly under-appreciated: Capitalism has killed self-reliance.
A few hundred years ago, many people grew their own food, made their own clothes, and built their own homes. And when they saved, they really were stocking up actual stuff that they would consume at a later date. Markets and currencies existed, as did collective schemes to stockpile goods for hard times, but the degree to which people relied on them to provide the day-to-day needs of life was relatively limited.
Today, our reliance on markets and currencies is all-encompassing. Almost no one grows their own food or makes their own clothes. Instead, we all do one particular thing — we have a job — and that gives us money to buy all those other things. So we don't "save" actual material goods. We save money.
And this is where things get weird. Because you can't eat money or wear it or shelter yourself with it. You can only spend it. Money is the legal ability to consume stuff that other people have produced. Saving money is just stocking up on the chance to take advantage of that legal ability at a later date. Similarly, your retirement savings allows you to legally live off what other people produce at whatever point in time you're retired.
But the money you "save" doesn't just sit there like wheat would. Instead, you give that money to other people — banks, investors, companies, whatever — to loan and spend in the here and now, on the condition that they'll give you money back later.
This is what makes calls for a "culture of saving" rather weird. A "culture of saving" can only exist and function if an equally potent "culture of spending" exists somewhere else in the economy at the same time. I save money by giving it to the bank. They spend it and pay me back, plus a little extra, later. I can't save unless they want to spend. And so on. Economists have a word for what happens when people stockpile money and other people don't spend it: a recession.
In modern capitalism, everyone's saving and spending, and everyone's production and consumption, exist in a grand ecological balance. We are inescapably dependent upon and intertwined with the cooperative ecology of the economy. Whether we "saved" by stocking up on financial instruments, or we "saved" by paying the government taxes on the understanding it will give us income back in retirement, we are dependent on our society and everyone else around us to take our savings in exchange for providing for our needs when we become old and retire.
This brings us back to inflation, which is also an ecological balancing act: You can't keep it low without also constraining wage and employment prospects for poorer workers. At its worst, this fixation on hard money can wreck the entire economy, as it did with the Great Depression. That same division between class interest also applies to the question of saving through private accounts or public policy: The latter option is much more stable and just for the most vulnerable Americans.
Now, a lot of people argue that the private route to retirement is better, because private savings are about husbandry and rootedness; the concrete connection you and yours have to maintaining the resources over time that will see you through.
While sympathetic in a way, this impulse chases a ghost; a way of living that died as soon as we introduced finance and currency into the act of trade, and then made this new form of trade the ubiquitous framework of human economic existence. In practice, both private and public forms of modern retirement boil down to massive systems of impersonal bureaucracies giving us an income when we need it. The difference between a 401(k) and a Social Security check is entirely performative; an abstraction; a distinction that doesn't exist outside of the relevant paperwork.
Modern capitalism, in a very real sense, has rendered self-reliance impossible.

Continue reading for free
We hope you're enjoying The Week's refreshingly open-minded journalism.
Subscribed to The Week? Register your account with the same email as your subscription.