Why being miserable in high school is good for you
It's the best bad experience of your life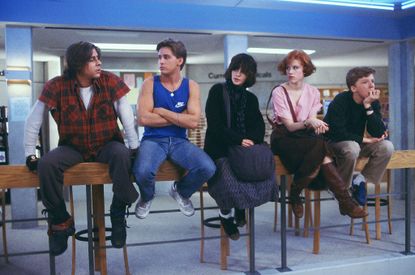 (Image credit: Facebook.com/The Breakfast Club)
I recommend keeping all your angsty teenagers away from Rebecca Solinit's seductive, persuasive column in Harper's Magazine calling for the abolishment of high school. If I had gotten my hands on it at age 16, I would have quickly become a devoted convert, relentlessly proselytizing my parents to get on board.
Thank goodness I didn't read it at 16.
As painful as high school was for me, it's an experience that I now view as, if not indispensable, incredibly useful in helping to understand myself and the world. Here's why that awkward, humiliating, and, above all, tedious passage to adulthood is good for us.
Subscribe to The Week
Escape your echo chamber. Get the facts behind the news, plus analysis from multiple perspectives.
SUBSCRIBE & SAVE
Sign up for The Week's Free Newsletters
From our morning news briefing to a weekly Good News Newsletter, get the best of The Week delivered directly to your inbox.
From our morning news briefing to a weekly Good News Newsletter, get the best of The Week delivered directly to your inbox.
Solinit begins the essay by explaining how she skipped high school herself and wonders what she missed. She argues that widespread bullying and an alarmingly high suicide rate are grounds to scrap our current education system for teenagers. But because her goal is to diagnose, not cure, she isn't too specific on how exactly we should educate those aged 14 to 18.
Her suggestions include less age-segregation, which "create[s] the conditions for competition, pressuring children to be as good as their peers." She also advocates for stripping schools down to "minimalist places in which people only study and learn. All the elaborate rites of dances and games could take place under other auspices."
It's a provocative idea, but can you truly separate learning from all "the elaborate rites of dances and games"? Ask anyone what they learned in high school, and the answer will probably reflect a social experience, not social studies.
For instance, my 11th grade American history class was taught by Mr. Roberts, our resident short-short wearing, muscular thighed, mom-flirting football coach. (Note: in the flirting department he had a rival in Mr. Spadero, the basketball coach/history teacher who once told my friend to stop eye-f**king him. This was 1996.) Mr. Roberts showed clear favoritism to the football players in our class, and would call on them far more often and let them speak far longer than the women. He even once marked me down for saying the Viet Cong were from south Vietnam. When I protested, he told me books can be wrong.
This guy was awful, a reason to panic about public schools, teacher tenure, and how broken our education system is. And yet, I learned a tremendous amount about gender discrimination by being subjected to the jockocracy of his classroom. This brings me to reason number one as to why high school is good for us outsider and radical types.
Going to high school allows us to intimately experience the dominant culture, including all that is in need of reform. Seeing sexism up close and personal, as I did in high school, from teachers and students, helped me understand what I need to fight against.
When we talk about diversity it is usually in a positive light: a harmonious coming together of races, cultures, and religions in which every individual is open-minded and curious about one another's heritages. In practice, diversity can be a total bummer. Yes, it means Muslims and Jews, gays and straights talking it all out, but it also can include rubbing elbows with bigots and homophobes. That's not to say the latter shouldn't be reined in — no one should be bullied, much less driven to suicide. But it is also true that the complicated social dynamics of high school are as important to our development as the books we read.
The explosion of the digital realm has given us an unprecedented capability to self-segregate, and surround ourselves exclusively by people who think and act like us. For now, high school remains pretty much the last time we are forced into a room with a mix of people that we have little control over. It's diverse, sometimes in the right ways, sometimes in the wrong.
The unexpected quality of social interactions in high school are invaluable. The jock might pick up a love of coding from the math geek or violin-playing from the band member — skills that might serve him well after high school. The geeks might in turn pick up basketball from the jock (stranger things have happened).
The proverbial catcalling bully might even get to know the sorts of people he judges from a distance, to be forced to reckon with the fact that he might actually have something in common with a woman of color or gay man. If you don't think it works that way, just look at the rising number of gay, lesbian, and even trans homecoming kings and queens in recent years. The number of teenagers who now accept queer culture likely far outnumbers the bullies.
It's the Breakfast Club effect, and sometimes it actually works.

Continue reading for free
We hope you're enjoying The Week's refreshingly open-minded journalism.
Subscribed to The Week? Register your account with the same email as your subscription.