Why Pam Geller's Muslim-baiting stunt in Garland was a big fat flop
What if you threw a big party and only two people showed up?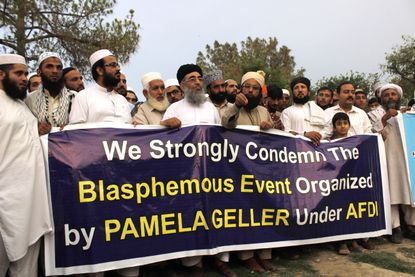 (Image credit: (AP Photo/Mohammad Sajjad))
It is unseemly to speak ill of the dead, but Elton Simpson and Nadir Soofi were useful idiots.
The two men — who drove to Garland, Texas, from their apartment in Phoenix to shoot up a contest where the $10,000 prize went to a cartoonist deemed to have drawn the best mocking picture of Islam's Prophet Mohammed — were the only Muslims who rose to the provocation of Pamela Geller and her organization, the American Freedom Defense Initiative.
Geller is trumpeting Sunday's foiled attack as a victory for herself, and "truth and freedom." It was neither. It was a victory for the Garland police force, and especially for the unidentified traffic cop who heroically shot dead two heavily armed, well-armored gunmen with a .45 caliber Glock pistol. For Geller's group, the event was a flop.
Subscribe to The Week
Escape your echo chamber. Get the facts behind the news, plus analysis from multiple perspectives.
SUBSCRIBE & SAVE
Sign up for The Week's Free Newsletters
From our morning news briefing to a weekly Good News Newsletter, get the best of The Week delivered directly to your inbox.
From our morning news briefing to a weekly Good News Newsletter, get the best of The Week delivered directly to your inbox.
The only reason to rent a giant convention center for a cartoon-drawing contest is publicity. If the subject of the contest is an image deemed blasphemous by large segments of a major world religion, well then you can add provocation to the list of motives. That fits with Geller: Muslim-baiting and publicity-chasing are sort of her things.
The Dallas area's sizable Muslim community reacted using the same strategy my mother advises when confronted with inflammatory idiocy: They ignored her. There were no protesters outside Garland's Curtis Culwell Center, no angry op-eds, no griping to the national news media, no trying to tap into the well-oiled outrage machine. Nobody outside of the Dallas Metroplex would have ever heard of the contest if not for Simpson, 31, and Soofi, 34.
Yes, people are talking about Geller now — including me, obviously — but the debate is over whether Pam Geller is a bigoted champion of free speech or just a bigot. That's not the conversation she wanted. You know you're not faring well when Donald Trump calls you an "obnoxious blowhard" whose "taunting" Mohammed-drawing event was "disgusting."
By haplessly dying, Simpson and Soofi deprived Geller of what she most wants, which is for us to be afraid of Muslims, like she is.
The murderous assault on French satirical weekly Charlie Hebdo sparked a heated discussion on the merits of free speech versus "hate speech," but not even Charlie Hebdo wants any part in Geller's "harsh" and "anti-Islamic movement," as Charlie Hebdo cartoonists Jean-Baptiste Thoret and Gerard Biard explained to Charlie Rose on Monday:
The Charlie Hebdo attack convinced France to enact a new surveillance law that curbs the liberté and arguably the fraternité parts of the French motto. What will the Garland attack change? Probably nothing — though if I were in charge of renting out space in convention centers, or sending police to guard events, I would probably be less inclined now to book any gathering sponsored by the American Freedom Defense Initiative.
Geller and her allies have the constitutional right to draw cartoons of whomever they want, or to pay other people to — just as the National Socialist Party of America had the right to march through the heavily Jewish Chicago suburb of Skokie in 1977 wearing swastika armbands. Or as artist Andres Serrano had the right to photograph a crucifix immersed in a jar of his urine and call it art (though, it should be noted, hammer-wielding Christian protesters in France vandalized Serrano's "Piss Christ" in 2011, rendering it "beyond repair").
You famously don't have the right to shout "fire" in a crowded theater, and Geller didn't. She tried to light a fire, and instead it rained. The Council on American-Islamic Relations isn't responsible for every Muslim in America any more than the Anti-Defamation League is responsible for Geller, or Geller is for every anti-Muslim attack in America (like the one in a suburb next to Garland on Monday). But CAIR has found the right reaction to Muslim-baiting stunts: Nothing.
It would be nice if all Muslims ignored Geller and her ally Robert Spencer. Few will be more pleased than Geller when they don't.

Continue reading for free
We hope you're enjoying The Week's refreshingly open-minded journalism.
Subscribed to The Week? Register your account with the same email as your subscription.