Here's a fix for rescuing Baltimore from its cycle of poverty
Cities like Baltimore are trapped by their budgets. It's time to give them a lifeline.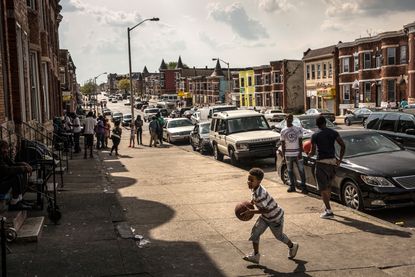 Sign up to our 10 Things You Need to Know Today newsletter
A free daily digest of the biggest news stories of the day - and the best features from our website
Thank you for signing up to TheWeek. You will receive a verification email shortly.
There was a problem. Please refresh the page and try again.
Over in The New Republic last week, Suzy Khimm had a rather poignant article about the fiscal bind the state government of Maryland and the city government of Baltimore find themselves in.
While the riots that rocked the city were sparked by the brutal death of Freddie Gray while in police custody, they also shined a light on the economic neglect of many of Baltimore's poorer areas. In Gray's community of Sandtown-Winchester and other neighborhoods in West Baltimore, four community recreation centers have been shut down since 2010, and another 10 have been handed over to the private sector, all thanks to budget constraints. Baltimore officials have coalesced around the idea of expanding a summer jobs program to take in 3,000 young people. But even the modest $4.5 million required for that idea does not appear to be in the offering of the city's budget.
Meanwhile, Maryland's state government is also facing a budget squeeze, and Republican Gov. Larry Hogan is balking at Democrats' demands to boost health care and education spending. "Not a single person" he met in Baltimore asked for more education money, Hogan claimed, but plenty asked for jobs and the recreation centers.
Subscribe to The Week
Escape your echo chamber. Get the facts behind the news, plus analysis from multiple perspectives.
SUBSCRIBE & SAVE
Sign up for The Week's Free Newsletters
From our morning news briefing to a weekly Good News Newsletter, get the best of The Week delivered directly to your inbox.
From our morning news briefing to a weekly Good News Newsletter, get the best of The Week delivered directly to your inbox.
To a very limited extent, Hogan has a point. Baltimore's population doesn't need a skills upgrade; it needs a city-wide economy that can actually produce enough jobs for everyone. Of people in the 16-to-64 age range in Baltimore's Sandtown-Winchester and Harlem Park areas, over half don't have jobs. For roughly the same age range at the national level, 32 percent don't have jobs.
But this situation also creates a perverse circular firing squad in terms of fiscal policy, as community activists, politicians, and others fight over city and state budgets that by definition cannot help everyone.
The basic problem is straightforward: State and local governments have a very hard time with deficit spending. Like most state governments, Maryland's constitution actually requires it to regularly balance its budget. It can borrow money by selling bonds to pay for specific infrastructure projects, as can Baltimore's city government. But generally, the way to make yourself attractive to private investors so they'll buy your bonds is to balance your general expenses and revenues.
In economics-speak, this makes state and local governments "pro-cyclical" — which just means they're tied to the ups and downs of the economy. If Baltimore's economy is doing well, it will produce more income and property value increases and such, which means tax revenue will go up, which means spending can go up. If the economy's in a slump, tax revenue will go down, and spending will have to be slashed.
And Baltimore's economy has been in a slump for a while. The city's been losing people for decades, as well-off citizens flee the economic blight, leaving the poorer residents behind. That has eroded the city's tax base, but more importantly it has eroded its economic base. Growth is a feedback loop between the businesses that hire people to produce goods and services, and the consumers who pay for those goods and services. If the well-off consumers leave, it's not hard to see what happens next.
The city has been able to arrest that trend recently: The depopulation trend appears to be leveling off, employment grew about 1.8 percent between September 2013 and September 2014, and Baltimore was able to close its immediate budget shortfall.
But according to projections, Baltimore still faces growing deficits in the coming years. And Maryland's position isn't much better: The education and health care fight is driven by the need to close a $1.2 billion budget hole, and the state's economic growth rate has been headed towards zero since the mid-2000s.
The perversity of the situation is that closing those budget shortfalls will inevitably make Baltimore's situation worse. If you raise tax rates, you're sucking money out of the economy. If you cut spending — the city's big expenses are utilities plus wages, pensions and health care for public employees — you're sucking money out of the economy. When a government that is pro-cyclical balances its budget, that's a drag on job creation and growth by definition.
The whole problem here is that Baltimore's government can only muster spending from resources within the city's economy. But many of Baltimore's residents are poor. That makes the city's economy poor. What you need is a government that can borrow and spend independent of the local economy — that can muster resources from outside the city and the state and bring them in.
Happily, the federal government can do just that. In fact, it can print money. Now, in theory, printing money risks inflation. But in practice, inflation can't happen until the new money is just being used to hike wages. As long as the money is going to employ people who aren't currently employed, those new jobs will soak up the excess dollars without creating inflation.
In fact, in the 1970s and 1980s, the federal government experimented with using those fiscal powers to close state and local budget gaps using a policy called revenue sharing — until Ronald Reagan killed it. Bringing revenue sharing back would be a good first step in getting cities like Baltimore and states like Maryland back on their feet.
Ideally it would go beyond closing budget gaps to actually providing new resources to rebuild devastated economies. Baltimore spent $130 million between 1989 and 1999 trying to revitalize housing and education in Sandtown-Winchester. Today there is little to show for the project, and there's been criticism over whether the money was properly handled. But the blunt reality is $130 million isn't nearly enough. The program was only able to renovate 1,000 houses — a paltry amount given that there's over 240,000 households in Baltimore City proper alone. As Rob English — supervising organizer for BUILD Baltimore, a community development group — pointed out to Khimm, Baltimore spent billions just on the economic revitalization of the city's Inner Harbor area.
America is the wealthiest economy in the world, and we could certainly afford the tax hikes necessary to pay for the program. But beyond that we also command an almost unrivaled ability to just borrow from the international markets. The resources are at our disposal, but they're just not currently in Baltimore. So we need to move them there.
Continue reading for free
We hope you're enjoying The Week's refreshingly open-minded journalism.
Subscribed to The Week? Register your account with the same email as your subscription.
Sign up to our 10 Things You Need to Know Today newsletter
A free daily digest of the biggest news stories of the day - and the best features from our website
Jeff Spross was the economics and business correspondent at TheWeek.com. He was previously a reporter at ThinkProgress.