3 simple tricks to save you from a life of miserable drudgery
What college grads need to do now to avoid a mid-life crisis later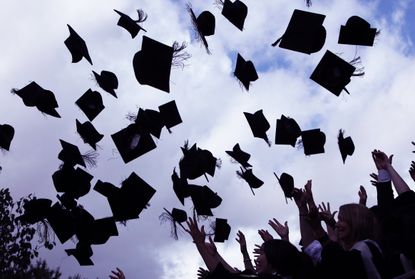 (Image credit: Christopher Furlong/Getty Images)
After four (or more) years of hard (or maybe not-so-hard) work, nearly two million college students recently walked across a stage and threw a tasseled hat into the air.
Many of them are surely wondering, "What now?"
Well, here's my advice to you college grads: Before throwing yourself at the first job that comes across your path, there are a few things you can do now to make sure you don't find yourself in a mid-life crisis later.
Subscribe to The Week
Escape your echo chamber. Get the facts behind the news, plus analysis from multiple perspectives.
SUBSCRIBE & SAVE
Sign up for The Week's Free Newsletters
From our morning news briefing to a weekly Good News Newsletter, get the best of The Week delivered directly to your inbox.
From our morning news briefing to a weekly Good News Newsletter, get the best of The Week delivered directly to your inbox.
Consider these two facts, which taken together are downright horrifying:
People don't like their jobs. But they have to do them for an extremely long time. These are terrible truths of this American life we lead.
But what's truly interesting about those two facts is how little we all do when confronted with them. It's easier to complain on a Sunday night about an impending Monday than it is to update your resume and legitimately search for a more satisfying job. It's easier to tear out of a work parking lot at the end of the week than it is to examine why you're only happy on Fridays. It's easier to commiserate socially with a group of other miserable factory cogs than it is to honestly analyze why you're still going to the factory in the first place.
But take heart, recent college graduates. This does not have to be your life. You can prevent these mistakes before you make them. You are not doomed to spend the next 40 years of your life doing something you dislike. You are not bound to accept that work must be miserable.
Here are three simple things you can do now to avoid mid-life misery later on:
1. Be deliberate about your relationships
I hate the very idea of "networking," but knowing the right people radically enlarges your job opportunities. Relationships get you the first gig. A friend will take a shot on you and open doors you didn't even know existed. Build your relationships on purpose. Take a mentor out for coffee. Reach out to a coworker from your last job. Go to an industry event in your town. Don't wait for great accidents to happen accidentally.
2. Learn a new skill or sharpen an old one
Relationships get you the first gig and skills get you the second. A friendship might open the door to a new opportunity, but once you get there, you have to perform. Be ruthless in your assessment of which old skills you need to improve. Be patient in your assessment of which new skills you need to learn. Skills get sharp slowly and dull quickly. Despite that, skills are critical to your long-term career. I don't know what job you'll have ten years from now and neither do you. What I do know is that you'll never have a boss who says to you, "I wish you had fewer skills."
3. Hustle, even if that word sounds like an Axe body spray flavor
Call it hard work if you prefer, but if you want to improve your career, you must have the fuel to propel you forward. And that means hustle. Relationships get you the first gig, skills get you the second, and hustle gets you every one after that. Spend an hour each week to work on your skills and your relationships. If that feels difficult, ask yourself, "Is the thing I'll spend 40 years doing worth an hour of focused time this week?" Steal the hour from your Netflix binge-watching if you must. Use the stopwatch on your smartphone to track it simply. It doesn't need to be perfect, just completed.
Look, this advice isn't exactly revolutionary. Build relationships. Hone skills. Work hard. You probably sighed "duh" while reading this. Most of us know the truth of these maxims. And yet, few of us follow them.
Don't be part of the unhappy majority. Smash the myth that work must be miserable.

Continue reading for free
We hope you're enjoying The Week's refreshingly open-minded journalism.
Subscribed to The Week? Register your account with the same email as your subscription.